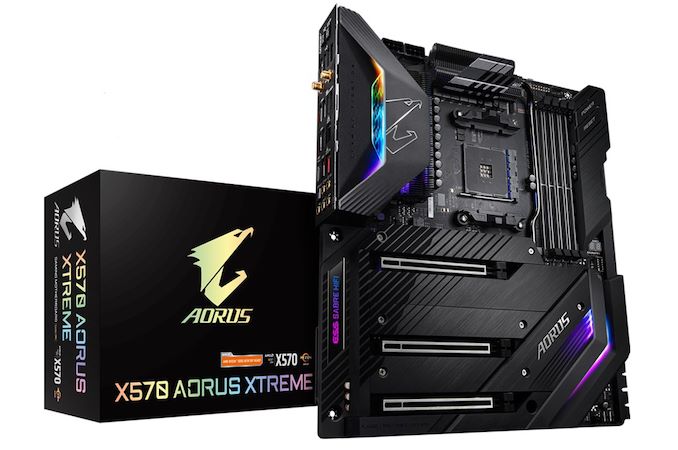 The introduction of the X570 chipset has heralded some of the most impressive and feature-rich desktop motherboards for an AMD platform in recent times. One prime example of this is the GIGABYTE X570 Aorus Xtreme which includes an Aquantia powered 10 G NIC, Intel's Wi-Fi 6 802.11ax wireless interface, and has support for up to three PCIe 4.0 x4 M.2 drives. Looking to live up to the Xtreme naming, there's a 16-phase power delivery with dual BIOS for the more extreme enthusiast, whereas users looking to create a clean looking RGB laden system will appreciate the right-angled 24-pin motherboard power input. The X570 Aorus Xtreme is also the only current motherboard to include a passively cooled chipset heatsink, with GIGABYTE looking to make its flagship model unique and to stand out from the crowd.
Taking Things to The Xtreme
One thing manufacturers have been good at in recent times is providing users with plenty of options which are segmented into multiple price segments. We typically consider boards one of three segments: the low-end which includes budget-focused boards, the mid-range which caters to users looking for a good mixture of good quality and useful features but at a somewhat affordable price point, and the high-end, which focuses on providing users with premium features with sometimes overkill componentry and accessory bundles that the majority of users aren't going to make the most of. At the high-end, there's usually a total disregard on the monetary value.
Motherboard such as the GIGABYTE X570 Aorus Xtreme, which we are reviewing today, are a prime example of a flagship model cramming as much function to give users a truly premium experience. Regardless of user requirements and price points, models such as this one aren't created with budget users in mind and look to set the standard in progressing motherboards to the point that in future chipsets, premium features such as upgraded networking, delivery, and more connectivity become the norm.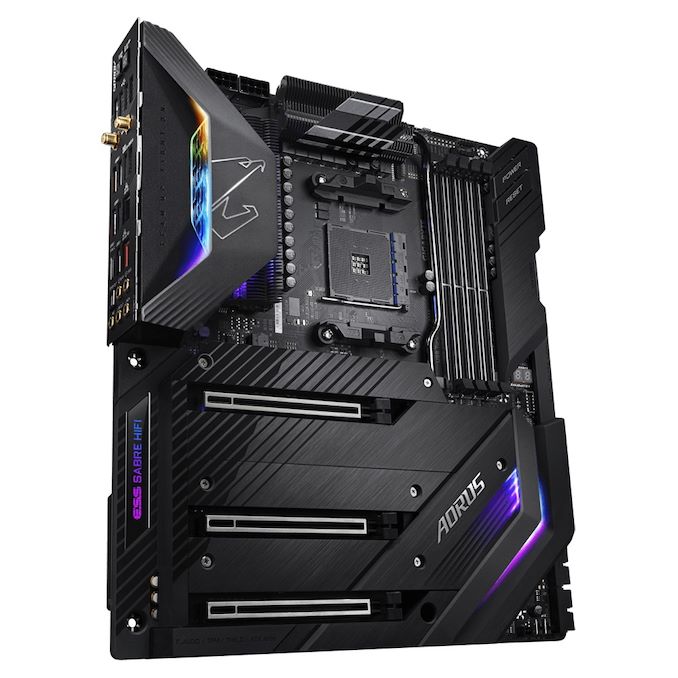 The X570 Aorus Xtreme as it stands is GIGABYTE's current flagship X570 model and looks to set the standard in a very crowded premium motherboard market. Each flagship model on the X570 chipset model can be judged on its own merits, but the X570 Aorus Xtreme is the only model in the entire X570 product stack to make use of a passively cooled chipset heatsink. That is, in itself, a big plus point for most users who want a high-end board. Most motherboard fans in the past are small and high-pitched, and GIGABYTE is leading the charge here.
Other impressive features include a 16-phase power delivery, which is operating in a 14+2 configuration. There are two 8-pin 12 V ATX CPU power inputs designed to input as much power to the CPU as possible. On the PCIe front there are two full-length PCIe 4.0 slots which operate at x16 or x8/x8, with the bottom-mounted third full-length slot locked down to PCIe 4.0 x4 from the chipset. Storage capabilities include three PCIe 4.0 x4 capable M.2 slots, while users of more wallet-friendly SATA drives can make use of six SATA ports with support for RAID 0, 1 and 10 arrays. It should be noted that using an M.2 drive in the bottom M.2 slot will disable two of the SATA ports.
Memory support is also impressive with support for up to DDR4-4400 and is capable of housing up to 128 GB across four RAM slots. Users can also use unbuffered ECC memory. For networking we have an Aquantia AQC107 10 GbE network controller alongside an Intel 1GbE controller, and an Intel AX200 802.11ax wireless interface that offers both Wi-Fi 6 and BT 5 connectivity. A Realtek ALC1220-VB HD audio codec and an assisting ESS Sabre 9218 DAC are designed to provide a good quality onboard audio solution.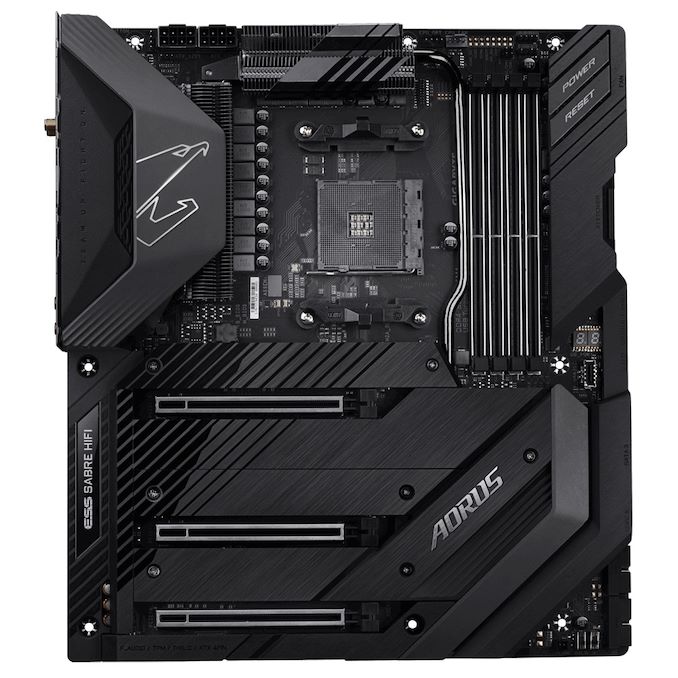 Focusing on the aesthetics, GIGABYTE is using black armor to cover the bottom half of the motherboard to provide a subtle, but unformed look. This subtle look stretches to the rear panel cover, as well as extending from the chipset heatsink cover up to the top right-hand side of the board which incorporates power and reset switches into its design. This is an interesting design trait, aside from oodles of RGB LEDs across the clean-cut all-black motherboard. The right-angled 24-pin motherboard power input is also hidden, which is designed to provide a cleaner aesthetic and help with cable management issues.
In our system tests, we did experience an anomaly in our long idle power testing with the highest power draw of any AM4 board tested with our Ryzen 7 3700X. When it comes to our OS idle testing and with a Prime95 blend test, the results are more in line with what's expected and despite the copious amounts of premium controllers and RGB LEDs, the power draw at full load is very favorable. Our non-UEFI POST time test was competitive and in our short form CPU suite, its performance is very likeable to the GIGABYTE X470 Gaming 7 in our Handbrake and 7-Zip testing but remains highly competitive against over X570 models tested so far too. Performance in our game testing shows that things look competitive from GIGABYTE.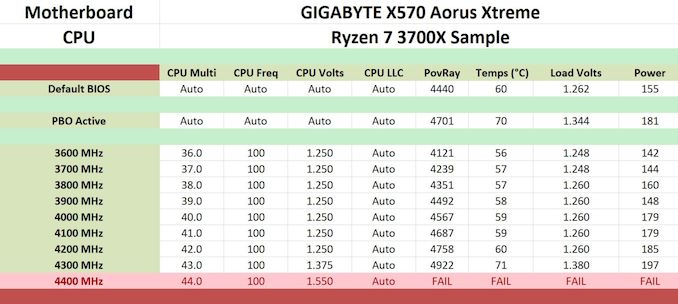 One of the primary aspects users will associate with an Xtreme branded motherboard is overclocking, and the GIGABYTE X570 Aorus Xtreme is one of the best suited AM4 boards tested so far. Not only does our thermal testing show the cooling solution equipped on the power delivery of the X570 Aorus Xtreme to be effective, but we saw no concerning temperature issues on the passively cooled X570 chipset heatsink. In our overclocking performance testing, we experienced very little VDroop on the CPU VCore with a slight 0.002 V drop at 3.6 GHz and 3.7 GHz, and a slight overcompensation of 0.01 V from 3.8 to 4.2 GHz. Even at our highest achievable clocks of 4.3 GHz on our Ryzen 7 3700X testbed CPU, and even then with default settings other than changing the CPU frequency and CPU VCore voltage yielded an extra 0.01 extra on top of our 1.375 CPU VCore value we set within the BIOS. Another interesting thing of note was when we activated Precision Boost Overdrive in the BIOS, we saw the improvement in our Pov Ray testing - making the Xtreme the first X570 motherboard we've tested so far to make a noticeable and positive difference with PBO enabled.
Looking at the market, each of the major vendors has a flagship model in a similar price bracket. The odd one out is the ASRock X570 Aqua, which is a limited edition model with a combined chipset and CPU heatsink. For the rest, the main competition to the GIGABYTE X570 Aorus Xtreme ($700) is the MSI MEG X570 Godlike ($700) which we have already reviewed, and the ASUS ROG Crosshair VIII Formula ($700). Each has its own merits to be judged on, and in the case of the X570 Aorus Xtreme, GIGABYTE has put real effort into standing out from the crowd with a passively cooled chipset heatsink which overall might seem insignificant, but it makes a bold statement that it has the capabilities to tame the hot X570 chipset without the need of a cooling fan. Other important inclusions are the upgraded networking capabilities with a 10 G NIC and Wi-Fi 6 802.11ax wireless interface pairing leading the charge, and the efficiently cooled and powerful 14+2 phase power delivery which is impressive.
Read on for our extended analysis.