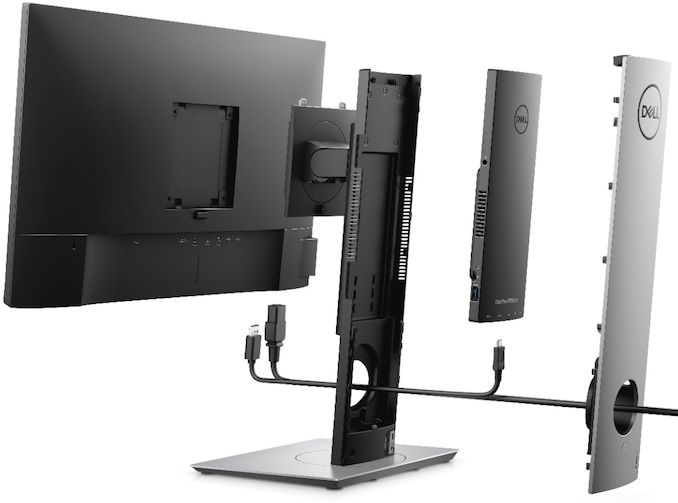 All-in-one desktop PCs have a number of advantages compared to regular desktop machines when it comes to dimensions, style, lack of cable clutter, and other. Their main drawbacks are tight integration that an AIO implies, particularly the need to fully embed a system behind a monitor or within the base of a monitor, resulting in AIO PCs living up the name. Dell, however, has decided to take a different approach with their new OptiPlex 7070 Ultra. The AIO system not only puts the "system" component in a new place – the "back" of a monitor stand – but Dell has made the system component modular, allowng system modules to be swapped in and out as needed, and has further done the same for the display panel as well.
Dell's modular AIO PC platform consists of several basic components: a compute module that packs CPU, memory, and storage; a display stand that can house the compute module; and a monitor with VESA 100 mounts. In fact, because the display stand is just a shell to hold and mount parts, the compute modules can be attached to any display even without a stand from Dell.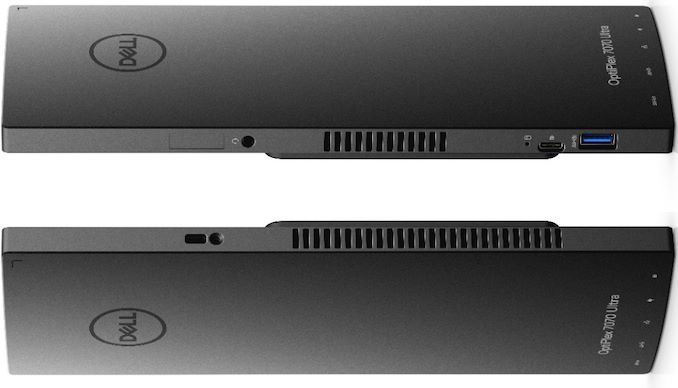 The first compute module that Dell intends to offer is the OptiPlex 7070 Ultra, a 0.5-liter brick that looks like an external battery pack for a laptop. The laptop-sized module is based on Intel's Whiskey Lake-U processor with up to four cores, UHD Graphics 620, and up to 25 W TDP that is cooled down using its own cooling system. The CPU is accompanied by up to 64 GB of DDR4 RAM (using two SO-DIMMs), an M.2-2230 SSD, and an optional 2.5-inch hard drive. The module has a GbE port, an optional Wi-Fi 6 adapter, and a side-accessible USB Type-C with DisplayPort, USB Type-A, and a 3.5-mm audio connector.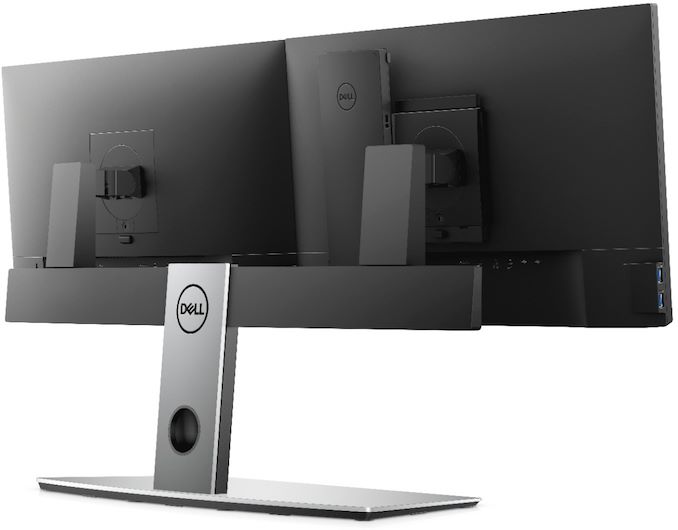 Dell plans to offer a variety of OptiPlex 7070 Ultra modules targeting customers with different requirements: there will be versions with vPro-supporting CPUs, models with support for up to three displays, and so on. Furthermore, every component inside the module except the CPU can be upgraded, which may not be that important for OptiPlex's target audience that buys directly from Dell, but which provides some additional flexibility for value-added resellers. One interesting thing to note is that some OptiPlex 7070 Ultra modules will come with proprietary power bricks (presumably due to power requirements), whereas the other will be powered via USB-C ports when attached to a display with power delivery.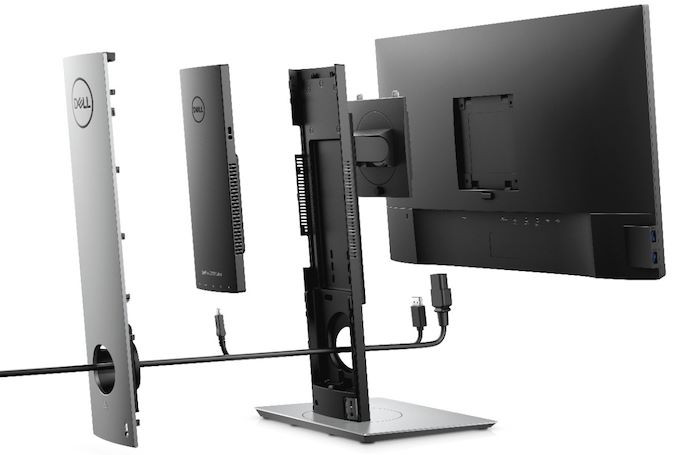 Other important parts of the modular AIO platform from Dell are display stands that can house the compute modules. Dell will offer two stands: one for entry-level machines with a display of up to 24-inch (e.g., Dell's E-series), another for premium machines with up to 27-inch monitors (e.g., Dell's U and P-series). The latter will be height adjustable, will be able to swivel the screens, and will feature a quick release button. Meanwhile, the stands are not vitally important for OptiPlex 7070 Ultra compute modules as the latter can be used separately with any displays.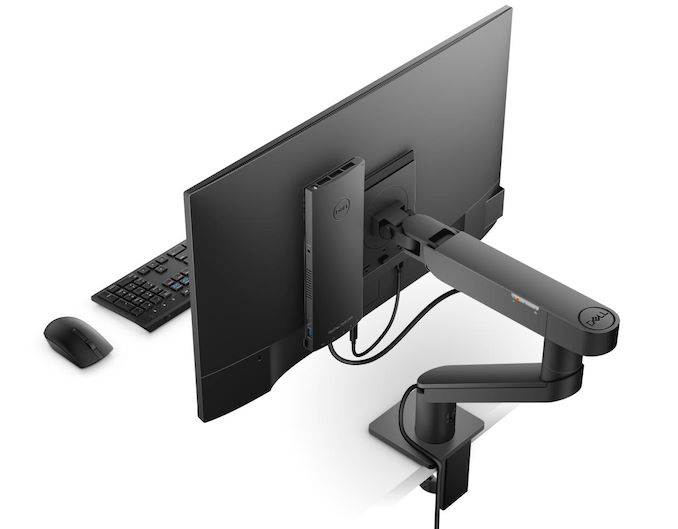 Being aimed primarily at corporate customers, Dell's OptiPlex 7070 Ultra lacks optional CPUs with higher-performance Intel Iris Pro graphics, Thunderbolt 3 ports, and other features required by consumers or users or workstations. Meanwhile, corporate customers will certainly take advantage of modularity of the platform. For example, companies could deploy the new modules with existing displays, keyboards, and other peripherals.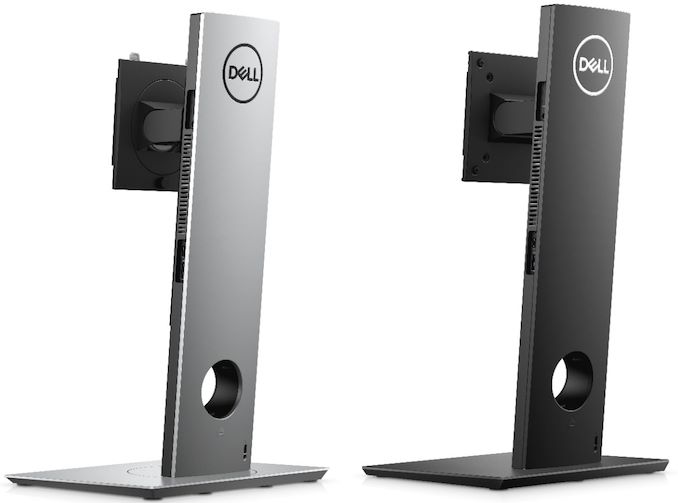 Dell's OptiPlex 7070 Ultra modules will be available in the near future starting at $749.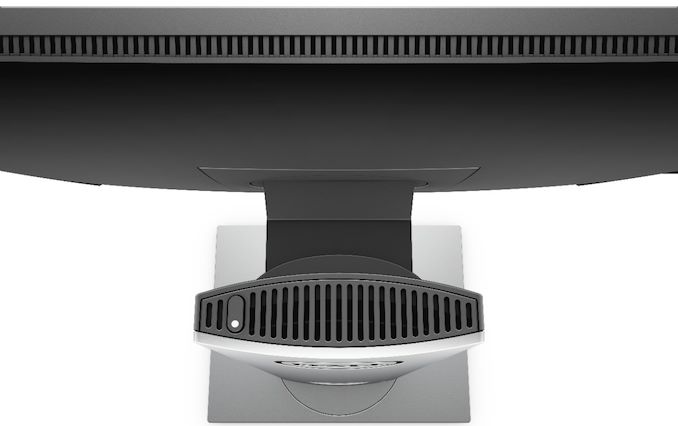 Related Reading:
Souce: Dell