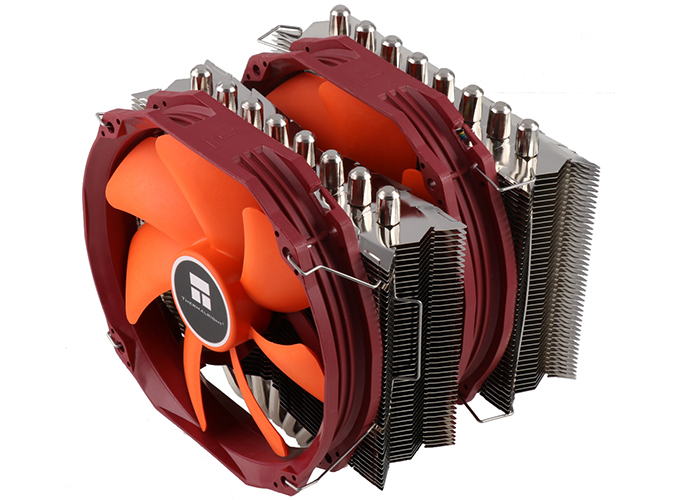 Announcements of new high-performance air CPU coolers tend to get rare these days. On the one hand, many enthusiasts switched to closed loop liquid coolers in the recent years, which is why the market of high-end air coolers shrank. On the other hand, existing models of 'mega coolers' are powerful enough for the vast majority of CPUs. Nonetheless, makers known primarily for oversized air coolers continue to perfect their offerings. This week Thermalright introduced its Silver Arrow IB-E Extreme Rev. B giant air cooler that can dissipate up to 320 W of heat.
The Thermalright Silver Arrow IB-E Extreme Rev. B is a giant symmetric twin-tower cooler made of aluminum with a nickel-plated copper base, 2×45 aluminum fins as well as eight U-shaped 6-mm nickel-plated heat pipes. The heatsink measures 155×103×163 mm and weighs 850 grams (100 grams more than the original one). When equipped with two Thermalright's 140-mm TY-143 PWM fans that spin at up to 2,500 RPM to create a 130 CFM air flow, the weight of the cooling system increases to 1170 grams. Given such weight, the company supplies custom retention plates with the device. (Ian: It still doesn't come close to my 2 kg Thermalright TRUE Copper heatsinks! :D)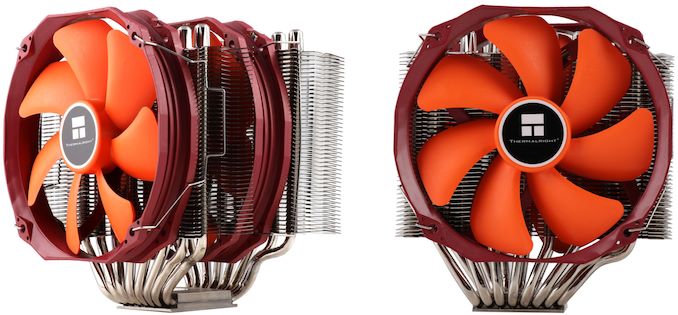 The manufacturer claims that the Silver Arrow IB-E Extreme Rev. B has a 44 mm clearance between the base and the fins, which maximizes compatibility with memory modules. Speaking of compatibility, it is necessary to note that the cooler comes with retention plates for AMD's AM4 as well as Intel's LGA 775/115x/1366/2011-3/2066 sockets. Essentially, the new version has gained support for HEDT processors that come in Intel's LGA2066 packaging, something that the previous-gen Silver Arrow IB-E Extreme cooler lacked.

As Thermalright positions its products primarily for performance-minded enthusiasts and overclockers generally not interested in 'extreme' modding, the Silver Arrow IB-E Extreme Rev. B does not feature any RGB lights. It still looks pretty cool with an orange fan.

The Thermalright Silver Arrow IB-E Extreme Rev. B
General Specifications
CPU Socket
AMD: AM4
Intel: 775/115X/1366/2011/-3/2066
Heat Sink Material
Dual tower heatsink, 2×45 aluminum fins, 8 heatpipes
Dimensions (heatsink)
155 × 103 × 163 mm
Fan Dimensions
152 × 140 × 26.5 mm
Fan Speed
600 ~ 2,500 RPM +/- 10%
Fan Air Flow
31.4 ~ 130 CFM
Fan Air Pressure
0.32 - 3 mm H20
Fan MTTF
?
Fan Connector
4-pin
Fan Power Consumption
7.2 W
Warranty
?
MSRP
$100 (?)
Thermalright did not touch upon pricing of the Silver Arrow IB-E Extreme Rev. B cooling system. Keeping in mind that the new cooler has many similarities with its direct predecessor, it is reasonable to expect it to carry a similar price tag of around $100+.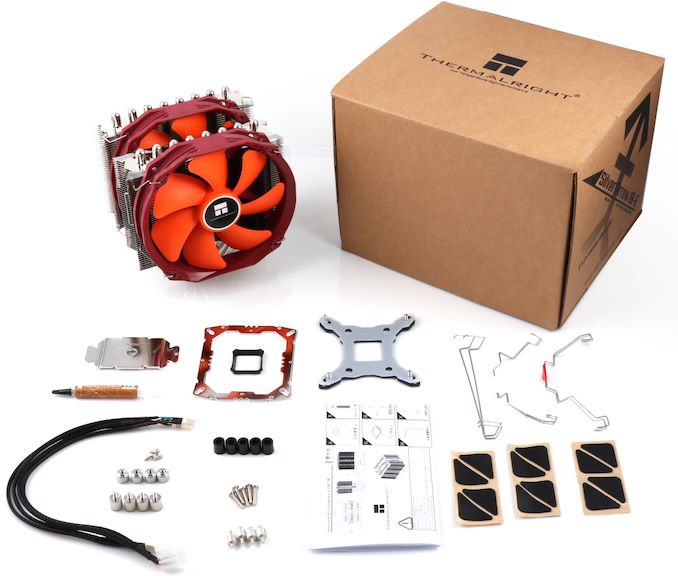 Related Reading:
Source: Thermalright