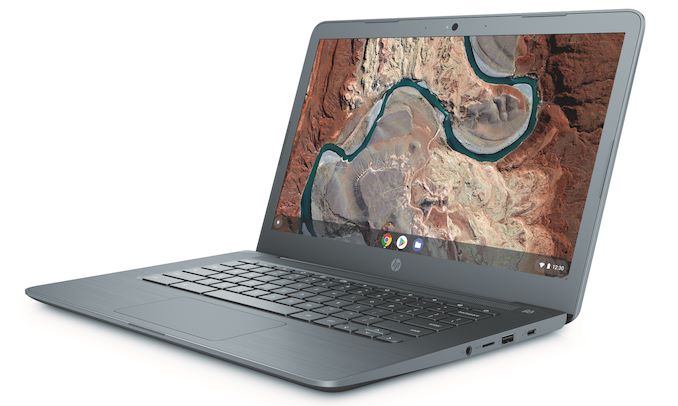 When the first Chromebooks were released in 2011, they were aimed at the lower end of the market and carried matching price tags. After Google launched its Pixel laptop in 2013 and proved that it was possible to address the premium segment, other makers of PCs followed on with more advanced Chromebooks that were more expensive. Eventually, Chromebooks somewhat moved away from being exclusively in the low end of the market, and towards a broader market covering multiple price ranges. With the low end market diminished by not forgotten, HP has announced that it's going to take another shot at this segment with its new Chromebook 14. Coincidentally, the Chromebook 14 is also the first ChromeOS-powered PC featuring an AMD processor.
As the name suggests, the HP Chromebook 14 features a 14-inch SVA display panel with a 1366×768 resolution and anti-glare coating. The notebook comes in a fine-looking chassis with a textured finish and a 1.8 cm (0.92-inch) z-height, though HP hasn't specified what kind of material it is made of. Given the thickness, it is reasonable to guess that some sort of a plastic was used (I would assume polycarbonate).
Moving on to the guts of the system. The HP Chromebook 14 is based on AMD's A4-9120C processor, a relatively unknown SoC featuring two Excavator cores running at 1.8 GHz and the GCN 1.2-based Radeon R4 iGPU with 128 SPs operating at 720 MHz (more information about the SoC is available in Ian's AMD at CES 2019 coverage). Being fabbed on a 28 nm process and a low-end chip overall, this SoC is cheap enough to that AMD and HP can still turn a profit even with the low-end pricing of the system. All told, do not expect too much from this APU (and therefore the Chromebook 14 as a whole): it can handle productivity apps, VP9/H.264/H.265 decode, play some games, but that is about it.
The Chromebook 14 is equipped 4 GB of DDR4 RAM and 32 GB of local eMMC storage, just like early Chromebooks. As for I/O, it has a Qualcomm 802.11ac Wi-Fi with Bluetooth 4.2 controller, two USB 3.1 Gen 1 Type-C ports, two USB 2.0 Type-A ports, a microSD card reader, a dual microphone array, B&O-badged speakers, a webcam, and so on. Overall, hardware wise the laptop looks pretty much okay.
As for battery life, HP says that its Chromebook 14 lasts for nine hours and 15 minutes on a single charge in their mixed use case workload. The company is using a fairly hefty 47.36 Wh battery here, driven in good part by the need to light up the relatively large 14-inch display.
Finally, while HP is announcing the laptop today, they aren't announcing pricing or an ETA for the device. We may find out more on AMD's Wednesday keynote; competing AMD-powered Chromebooks are due in February, so AMD is just about ready themselves.
Related Reading:
Source: HP