EVGA Z390 FTW
The second board we know that is in existence from EVGA is their slightly remodelled Z390 FTW. From a design point of view, all that seems to have changed aesthetically is the audio PCB now features a quintuplet of gold audio capacitors, the removal of some branding on the power delivery heatsink and the placement of the M.2 slots was moved around. The Z390 FTW has rather 'basic' look with an all-black PCB complemented with brushed aluminium styled VRM heatsinks and a black ridged chipset heatsink.
On the PCB of the Z390 FTW, the PCIe layout looks identical with two full-length PCIe 3.0 slots running at x16 and x8, with a PCIe 3.0 x4 slot located at the bottom. An additional two PCIe 3.0 x1 are featured and the board looks to feature two M.2 PCIe 3.0 x4 slots with a Key-E slot present which is more an inclusion for users looking to add Wi-Fi capability to the board. The Z390 FTW also features six SATA ports with native support for RAID 0, 1, 5 and 10 arrays.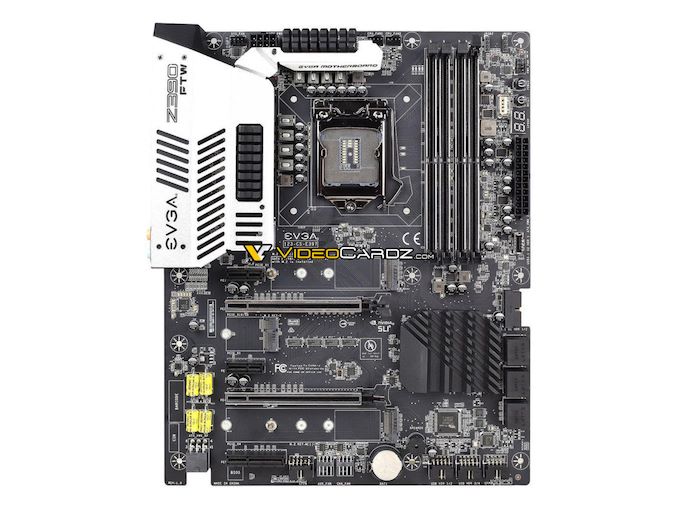 While the extent of the componentry and controller set is currently unknown due to a lack of specification from EVGA at present, from what we can see we know the rear panel includes a total of eight USB Type-A ports, a combo PS/2 port, a single LAN port, what looks like either a clear CMOS or BIOS Flashback button and a set of onboard audio connectors; most likely powered by a Realtek ALC1220 HD audio codec which the Z370 FTW features.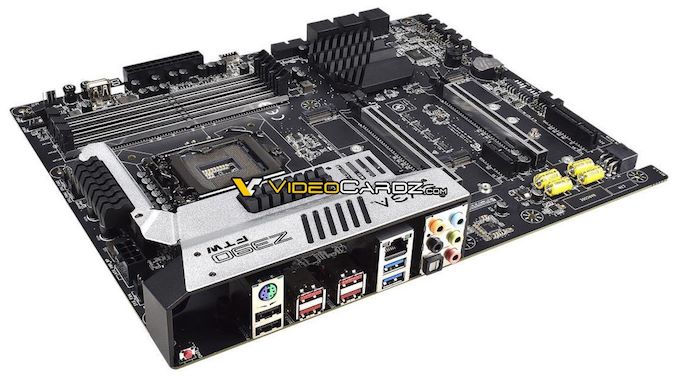 We do not currently know what EVGA plans with its Z390 FTW model or when it will be available if it's not already available at the time of reading. The Z390 has a near identical feature set to the previous Z370 FTW from a visual once-over, but once the official specifications and availability are known, we will update this section.
Update 10/09:
We now know the EVGA Z390 FTW has an 11-phase power delivery as stated by EVGA themselves and offers support for both Intel's 8th generation and 9th generation Core i3/i5/i7/i9 processors. The PCB includes an onboard clear CMOS switch, a power button, a reset switch and an onboard CPU temperature monitor. The Z390 FTW will have a 3-year warranty and will also include an SPI flashing port which allows users to flash the BIOS with a USB stick without requiring a CPU. The EVGA Z390 FTW also features a Realtek 7.1-channel HD audio codec with EVGA NU audio support and an Intel-based Gigabit NIC.