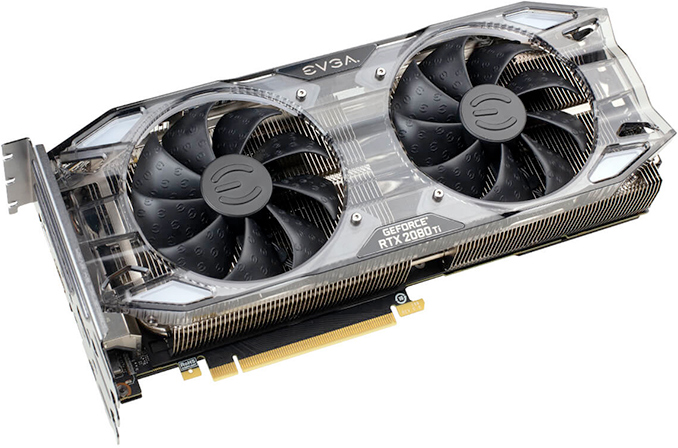 Following NVIDIA's announcement of its latest GeForce RTX 20-series GPUs on Monday, its board partners also introduced their custom-built offerings based on the new processors. As is usually the case, the first wave of products do not feature extreme frequencies or highly-custom designs – and indeed many of them look like they'll be using NVIDIA's reference PCB – but they still offer various customizations and cooling changes relative to NVIDA's own "reference" Founders Ediiton card. Today we are taking a look on these cards and briefly compare their characteristics.
NVIDIA's GeForce RTX 20-series lineup will initially consist of three models: the RTX 2080 Ti based on the TU102 GPU as well as the RTX 2070 and the RTX 2080 powered by the TU104 processor. The flagship GeForce RTX 2080 Ti GPU features 4352 CUDA cores, a 352-bit memory bus, and carries 11 GB of GDDR6 memory. Meanwhile, the GeForce RTX 2070 and 2080 boards have 2304 and 2944 cores (respectively), a 256-bit memory bus, and carry 8 GB of GDDR6.
Makers of graphics cards cannot activate any additional CUDA cores, but what they can do is increase default and boost frequencies of GPUs, or install high-performance cooling systems, thus altering and improving performance of their products compared to reference video cards designed by NVIDIA. Without further ado, let's jump right to custom-designed graphics cards based on the TU102 and TU104 GPUs.
Custom GeForce RTX 2080 Ti Graphics Cards
NVIDIA's reference PCB for the GeForce RTX 2080 Ti, which is being used in their own factory overclocked Founders Edition card, feature a 13-phase VRM and a double-wide dual-fan cooler. The chip developer's Founder's Edition will ship with the GPU clocked at 1350/1635 MHz (base/boost), but for its partners NVIDIA recommends maximum burst frequency of up to 1545 MHz. In a bid to differentiate themselves from NVIDIA's own design (while ideally fetching a similar price), they'll be implementing their own factory overclocks along with different (and usually larger) coolers..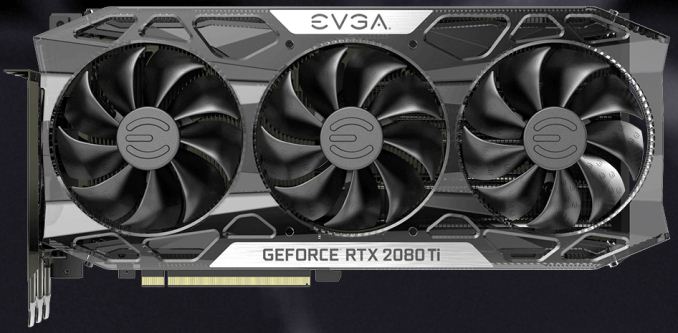 When it comes to power delivery, only EVGA has confirmed that its TU102-based GeForce RTX 2080 Ti FTW3 and GeForce RTX 2080 Ti FTW3 Ultra cards will feature a custom PCB, in this case implementing a 19-phase (16+3?) VRM. And while it is logical to expect at least some board partners to also do the same, for the moment only EVGA is claiming to do so. For more details, please see comparison of the cards in a table below.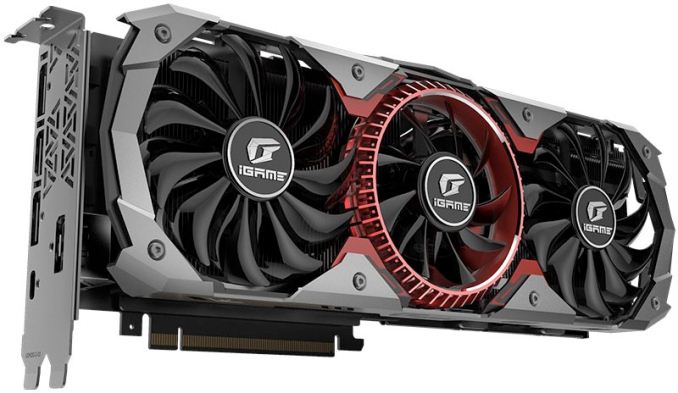 Moving on to cooling systems. ASUS, Colorful, EVGA, Palit, and ZOTAC all plan to offer triple-wide GeForce RTX 2080 Ti graphics cards with massive heatsinks and three cooling fans. Meaning all of these designs should offer very high cooling potentials. In the meantime, Colorful, GIGABYTE, Inno3D, KFA2/Galax, MSI, and PNY will offer slimmer RTX 2080 Ti products with similar triple fan coolers, which typically means good performance amid moderate noise levels.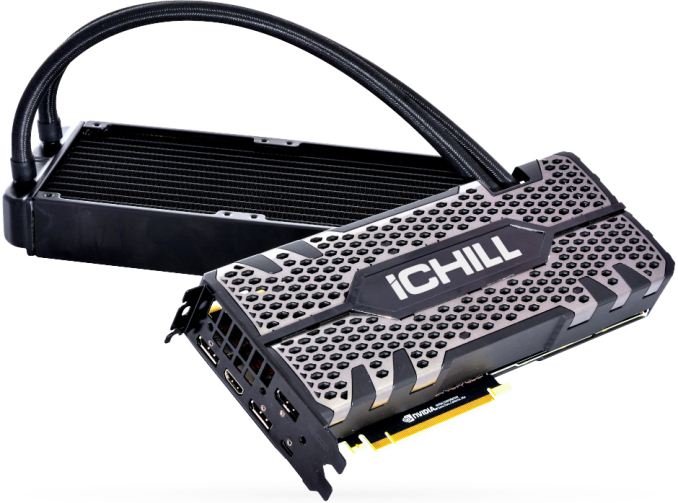 So far, only Inno3D and MSI have announced a GeForce RTX 2080 Ti board with a hybrid cooler, but expect makers of custom liquid cooling systems to offer specialized waterblocks for cards made by various AIB producers.
It is important that all manufacturers of graphics cards plan to offer 'inexpensive' versions of their GeForce RTX 2080 Ti products, often with simple blower cooling systems. Ideally these products will hit the streets at NVIDIA's official MSRPs, however given early demand the fact that launch cards frequently sell out, we're not seriously expecting to see cards at MSRP in September.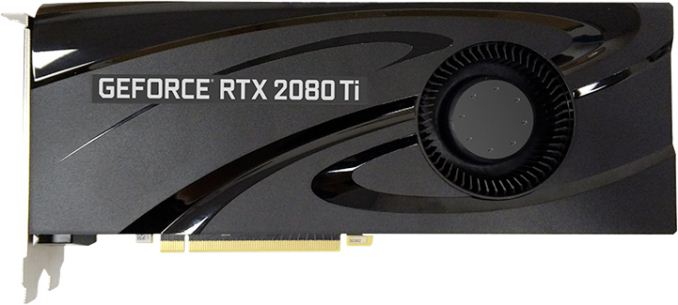 Speaking of clocks, it is noteworthy that all of the AIB makers that have disclosed base and boost frequencies of their GeForce RTX 2080 Ti cards decided to stick to clocks of Founder's Edition cards. It is unclear whether this is a precaution on board partners' part, or a requirement of NVIDIA. However, if all AIB producers stick to this strategy, at least initially there will be no custom adapters that will offer higher performance than NVIDIA's FE boards.
Custom GeForce RTX 2080 Graphics Cards
Next up are graphics cards based on NVIDIA's TU104 GPUs — the GeForce RTX 2070 and the GeForce RTX 2080. With the 2080 shipping on September 20th, all of NVIDIA's allies have introduced their RTX 2080 boards. By comparison, only a handful of designs for the 2070, which ships in October, have been shown off. So we likely won't see the bulk of those until much closer to when they ship.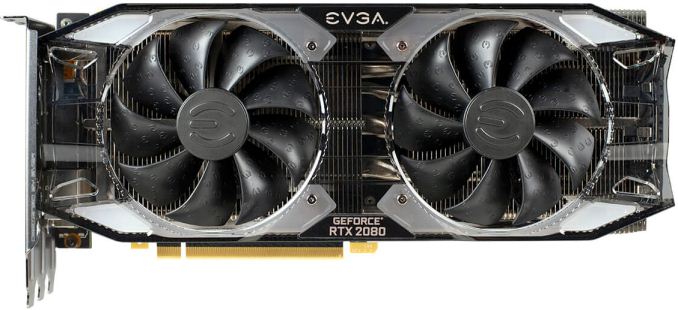 NVIDIA's GeForce RTX 2080 Founder's Edition cards are outfitted with a 10-phase VRM and are clocked at 1515/1800 MHz (base/boost). In fact, NVIDIA's own RTX 2070 cards also use the same power delivery circuity, so it looks like the GPU designer is fond of that VRM configuration for its TU104 chip.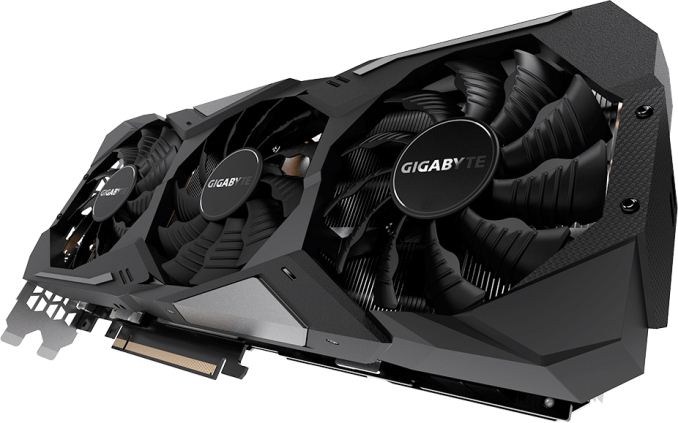 Again, so far only EVGA has announced two GeForce RTX 2080 graphics cards featuring a 14-phase VRM. Other makers may also offer cards with an enhanced VRM setup, but they remain quiet about this fact right now.
As for massive cooling systems, ASUS, Colorful, EVGA, and Palit intend to offer triple-wide GeForce RTX 2080s with three fans. And Colorful, GIGABYTE, Inno3D, KFA2/Galax, MSI, PNY, and ZOTAC will offer more traditional two-wide 2080s with triple-fan coolers.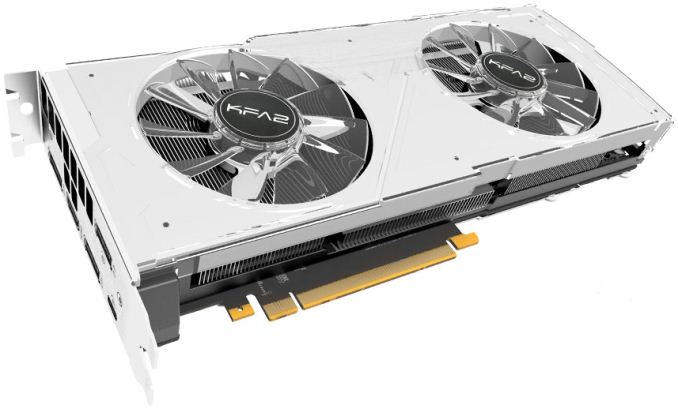 MSI plans to release an RTX 2080 card with hybrid cooling, but expect makers of high-end LCS to launch waterblocks for the latest graphics cards too.
Meanwhile, for those who prefer cheaper boards, AIB makers will offer GeForce RTX 2070/2080 products with blower coolers.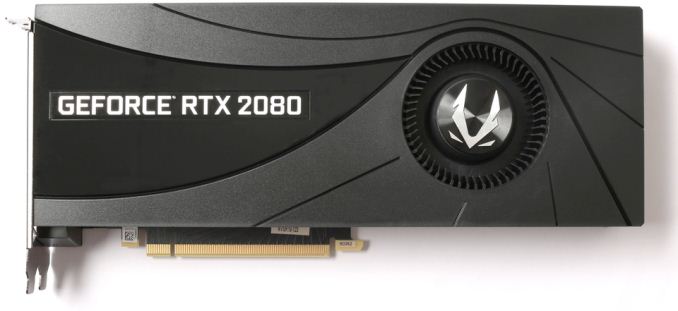 When it comes to clocks of custom GeForce RTX 2080 graphics adapters, the situation is identical to the 2080 Ti. None of the board partners have announced cards with any kind of base clock overclock, and meanwhile no one is offering an overclocked boost clock higher than NVIDIA's own Founders Edition cards.
A Preliminary Conclusion
In the coming weeks over a dozen of brands are going to start selling their customized versions of NVIDIA's GeForce RTX 20-series graphics cards. These boards are equipped with enhanced cooling systems, and while the fundamental designs are frequently similar – commonly using two and three fan open air coolers – there's still a surprising amount of room for innovation (or at least variation) in the space. So it'll be interesting to see which designs end up being the strongest out of the gate.
However it's notable that if the board partners ship their cards with their currently published frequencies – and it's worth noting that we have on occasion seen the clocks change on 3rd party cards ahead of their release – then all of these boards will offer similar performance out of box and users will have to rely on overclocking to gain any benefits over NVIDIA's own Founders Edition cards.
Related Reading: