BIOS
MSI's B360 motherboards come with the latest version of its UEFI BIOS, Click BIOS 5. We have seen this BIOS in all of our recent MSI reviews (such as their X299 and Z370 boards) and there are few differences here outside of the absent overclocking capabilities. The Click BIOS 5 comes in an EZ Mode (pictured directly below) designed to be informative and change a few high-level options, as well as an advanced mode which exposes all BIOS functionality. We had zero issues navigating through the BIOS and is one of the more well laid out designs.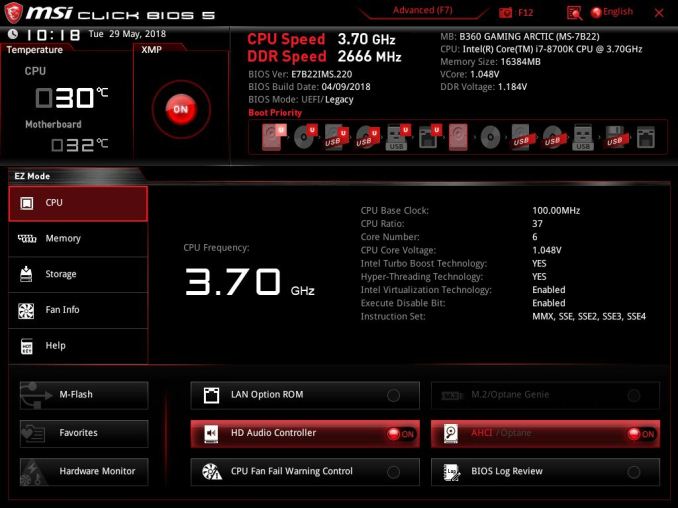 Above is a capture of EZ Mode. From this image we are able to see the top third listing higher-level information regarding the system from CPU and RAM speeds, to BIOS version, and voltage. The screen also displays current information on Vcore and DDR voltage, CPU and motherboard temperatures, as well as a button to enable XMP. What is missing here is the Game Boost button which is reserved for boards that can overclock. The bottom two-thirds displays more information with the very bottom showing options to enable/disable HD Audio controller, LAN Option ROM, and more.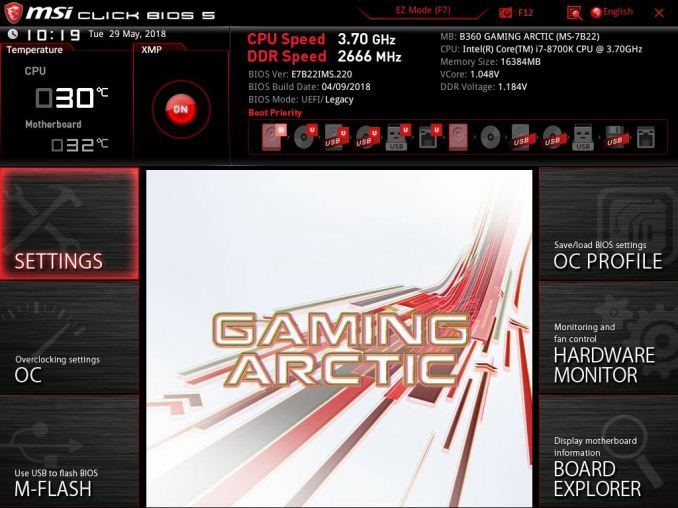 When switching over to advanced mode, users are greeted by the screen above. As you can see we used the Gaming Arctic to capture the BIOS images from. The Gaming Plus has a different image in the middle. Otherwise, everything is the same between them from a BIOS perspective. MSI has the BIOS divided up into different sections each with different functionality.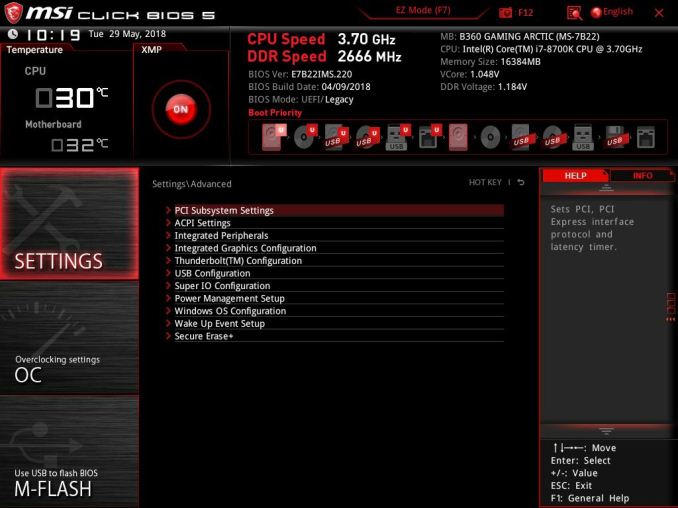 Inside the settings section is where we can find options to change several low-level system functions. Users can find sections for peripherals, integrated graphics, USB, and Super IO configurations sections among others. The BIOS also gives the ability to Secure Erase drives in the Secure Erase+ section.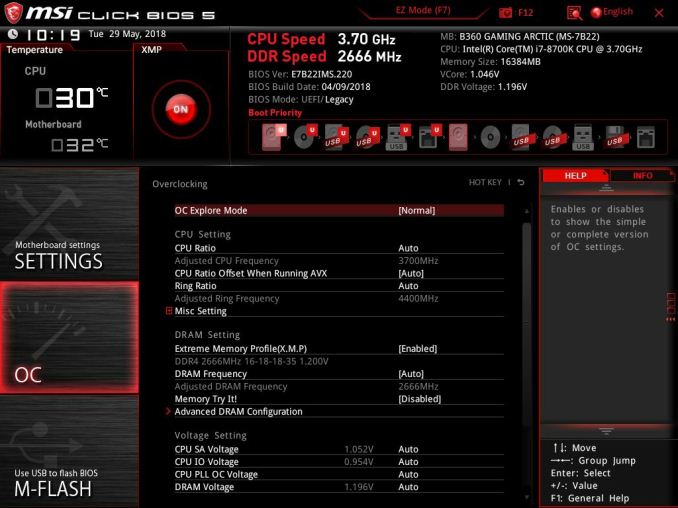 The OC section contains everything a user would need to overclock...wait, we can't really overclock on the B360 chipset, but everything is still there. We are able to adjust memory frequency and all the voltages. The CPU Ratio option can be changed and goes up to 47x which is the fastest turbo on the card. Users are able to have all cores run at 4.7 GHz, but anything past that is not possible. If tweaking memory is your thing, that can also be done here as the MSI board and its Click BIOS 5 has a lot of memory timings to tweak.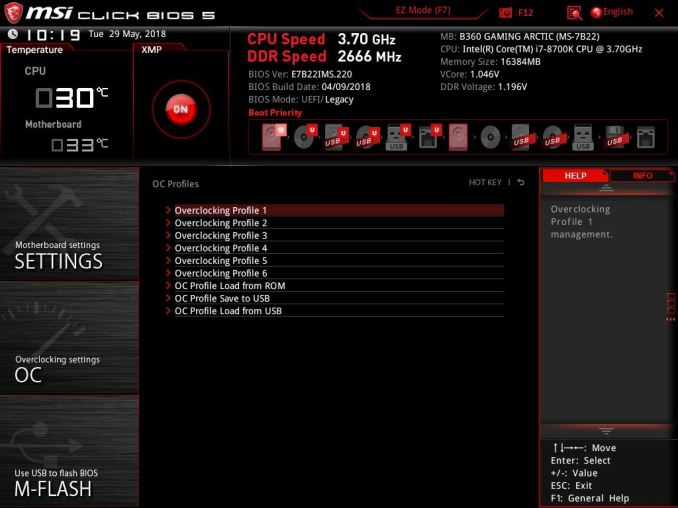 The OC Profile section exists on this board to save a specific configuration. While users will not be overclocking, some may have adjusted settings and would like to save that setup for easy application in case things go wrong with other tweaks.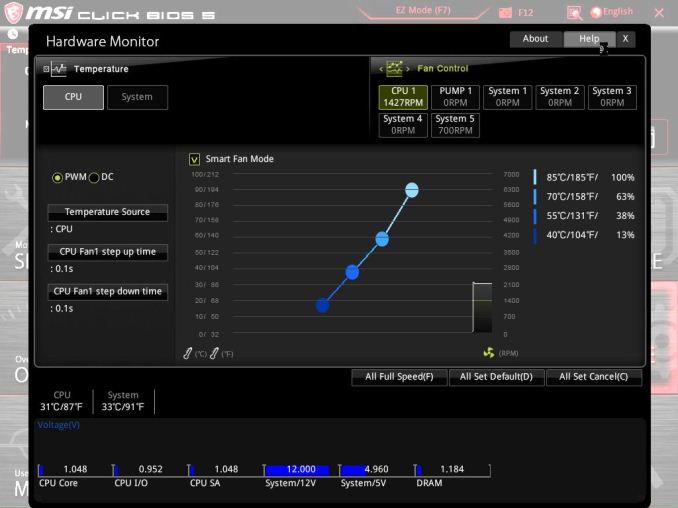 The Hardware Monitor section is where fan control functionality is found. The headers can be configured as either PWM or DC control and custom curves from each can be setup within this section. Users are able to adjust the temperature source as well as hysteresis/delays to ramp up/down the fans.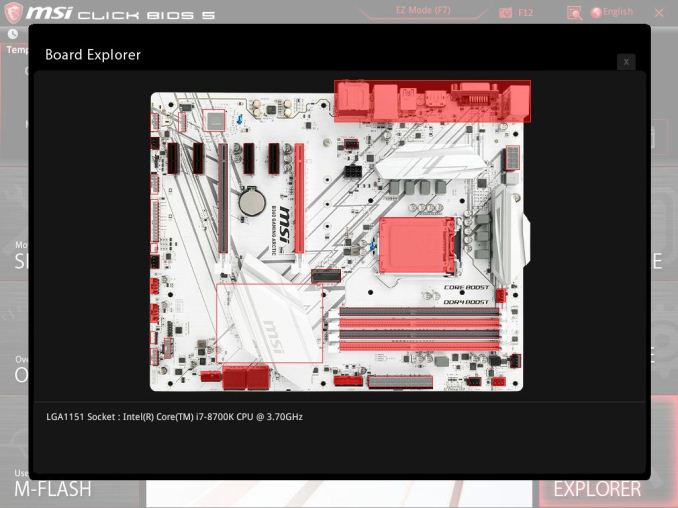 MSI's Board Explorer option is a simple GUI which displays what is installed/attached to the board. Items on the back panel IO, DRAM slots, SATA ports, fan headers, and more, are found here. Simply hover over the component and across the bottom it will display what is attached.
Software
An overwhelming majority of motherboards include a software disk in the box to get started. The disk typically contains drivers, utilities, and other included software from the board partner.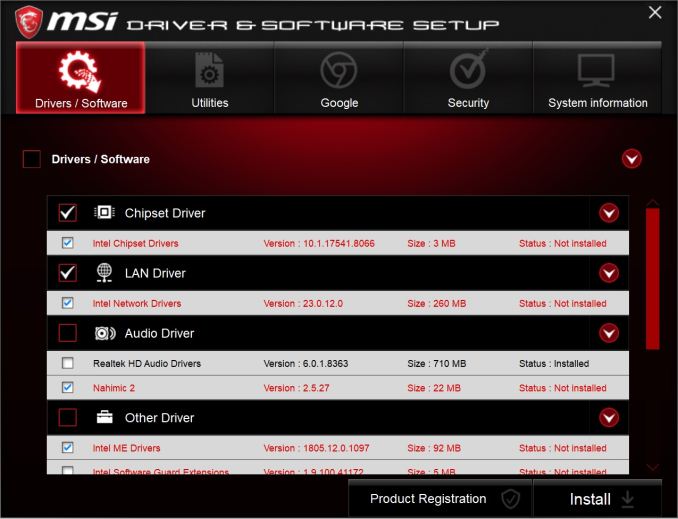 Our screenshot of the driver disk shows the drivers/software screen where basic drivers are installed. This includes Intel chipset and management engine drivers, Realtek and Nahimic audio, and many others. Depending on the build date, these drivers may be a bit outdated but will still certainly get the system up and running. The Utilities section is where users will find bundled software for the system. It is here where users will find the Command Center, Live Update 6, Mystic Light, and the Gaming LAN Manager among several others.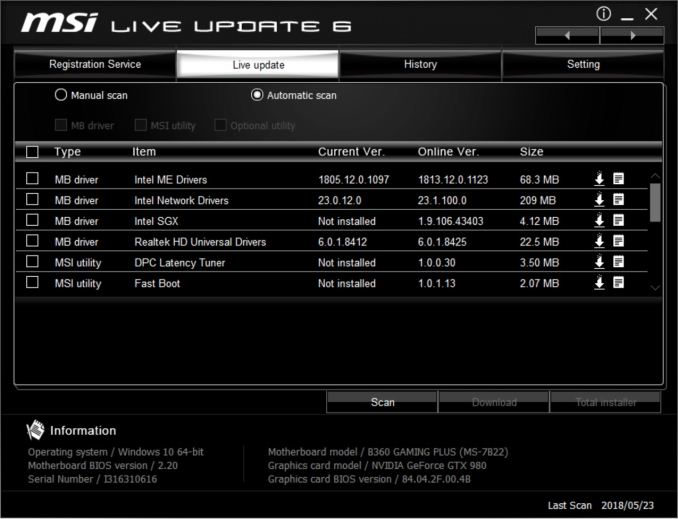 The Live Update 6 software is used to keep the motherboard up to date on the software it has installed. Live Update 6 will cover updating driver software as well as installed utilities. If keeping up to date on the latest and greatest is your thing, Live Update 6 will keep tabs on things and did a fine job updating when needed.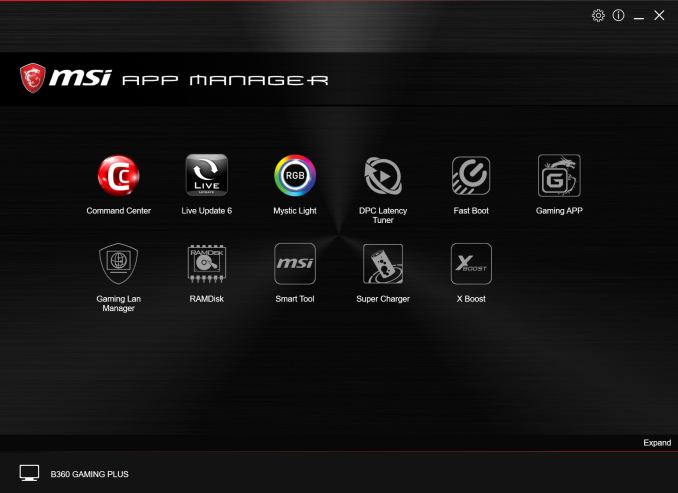 MSI's App Manager is a nifty piece of software designed to keep many of the included utilities in one location. Users are able to install, update, and launch applications from the App Manager. This can cut down on the number of icons on the desktop and save time when looking for MSI applications.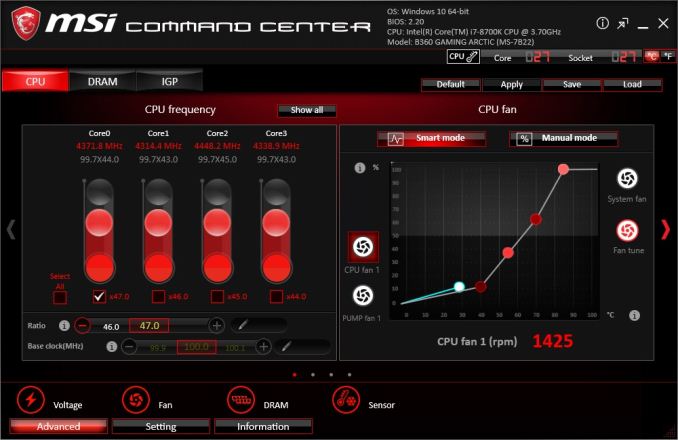 MSI's Command Center is a one-stop shop for monitoring the system and making adjustments to cooling as well as included overclocking options. While the overclocking side of things is obviously limited on B360, the application is able to change any voltage as well as customize fan curves or set them manually. Still, plenty of use even if overclocking is not in the cards.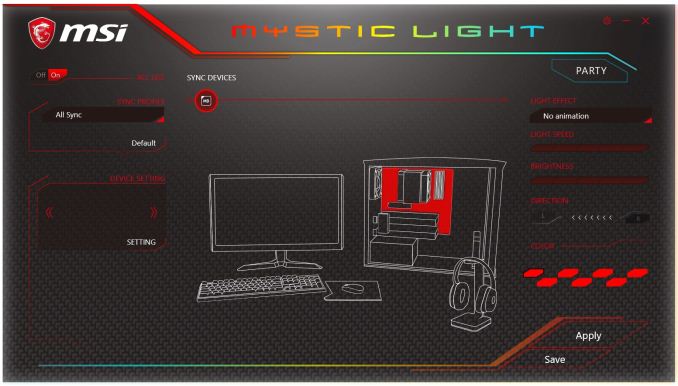 Both boards have the same RGB LED lighting configuration with multiple LEDs sitting on the bottom side of the board underneath where the audio section is. The Mystic Light application is able to control those RGB LEDs as well as those which are connected to the onboard header. The app includes several light effects as well as being able to adjust each individually allowing users to set up their lighting schemes to whatever is desired.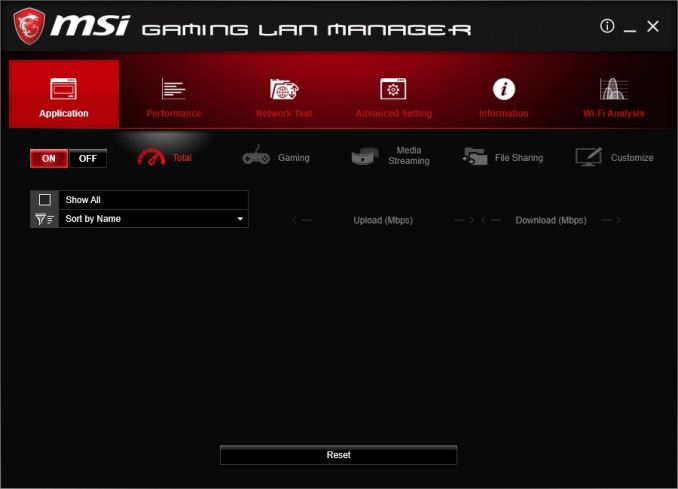 MSI also includes a Gaming LAN Manager application used to prioritize and monitor network traffic. Users are able to prioritize specific network traffic be it from games, streaming, or file sharing, each can have its own priorities.
As far as the audio goes, both boards use the Realtek ALC892 codecs. This codec is not the latest and greatest from Realtek but will still provide quality audio good enough for most users. The boards both support the Nahimic software for additional audio tweaks from the Realtek Audio software.