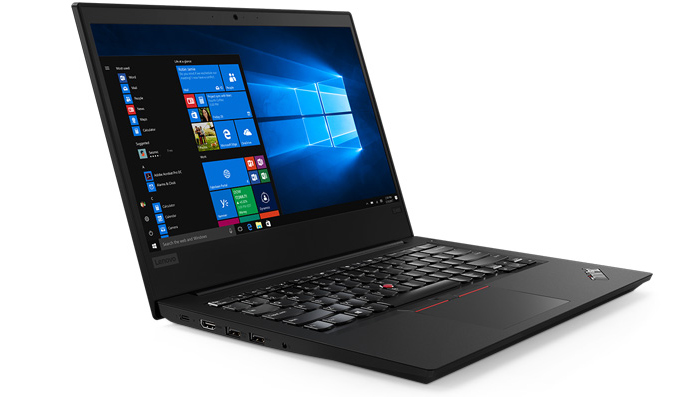 Lenovo has quietly published specifications of its ThinkPad E485 and ThinkPad E585 laptops based on AMD's Ryzen Mobile processors on its website. Coming in classic black chassis and featuring ergonomic keyboards, the new notebooks are the first Ryzen Mobile-powered PCs aimed at the SMB market segment. The new ThinkPads are equipped with a dTPM 2.0 chip and are offered with various Lenovo services not available with consumer computers.
Lenovo's ThinkPad E485 and ThinkPad E585 notebooks will be offered in various configurations targeting different a wide range of price points. Different configs will be based on AMD's Ryzen 7 2700U with the Radeon Vega 10, Ryzen 5 2500U with the Radeon Vega 8 or Ryzen 3 2200U with the Radeon Vega 3 APUs. The laptops can be equipped with up to 32 GB of DDR4 memory using two SO-DIMMs likely running at 2400 MT/s. As for storage, the systems may feature a 512 GB PCIe/NVMe M.2 SSD, a 500 GB HDD, a 1 TB HDD or a combination of an SSD and a hard drive.

The new AMD Ryzen Mobile-based ThinkPads are generally identical, but as their model numbers suggest, the model E485 has a 14-inch screen, whereas the model E585 features a 15.6-inch display. Speaking of displays, the manufacturer plans to offer two antiglare LCD options with its ThinkPad E485 and E585 laptops: one with a 1366×768 resolution, another with a 1920×1080 resolution. Apart from monitors, the laptops feature slightly different keyboards. The 15.6-inch versions feature a full-sized keyboard with a numpad, whereas the 14-inchers come with a classic notebook keyboard layout. Like other ThinkPads, the new models E485 and E585 are equipped with ergonomic keyboards featuring trackpoints and trackpads.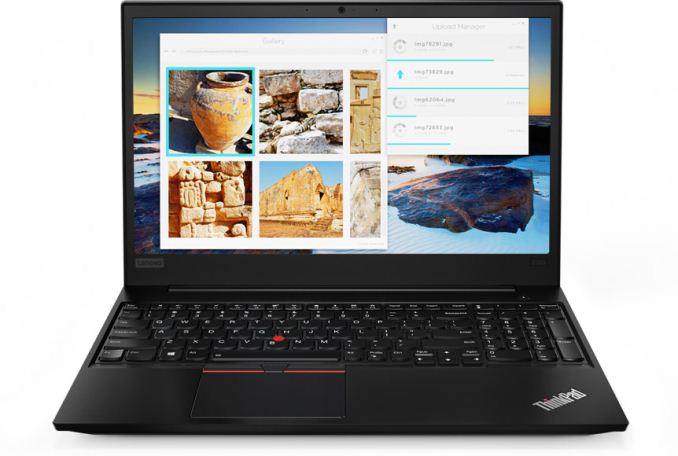 Moving on to connectivity of Lenovo's ThinkPad E485/E585 notebooks. The notebooks are outfitted with a 1×1 802.11ac + Bluetooth 4.1 controller, a GbE port, a USB 3.1 Type-C header (that is used for data, power, display, and docking connectivity), two USB Type-A (3.0 and 2.0) headers, an HDMI output, a micro SD card reader, a 720p webcam, a TRRS audio jack for headsets, Dolby Advanced Audio-badged speakers, a microphone array, and so on. The systems are outfitted with a discrete TPM 2.0 chip to enable support for various security applications. Meanwhile, only select ThinkPad E485/E585 SKUs will feature fingerprint readers, so biometric security will not be pervasive across the whole range of these laptops.

Lenovo says that both AMD Ryzen Mobile-based laptops come equipped with a 45 Wh battery rated for 9-hour operation. With its larger display I would expect the E585 to consume more power than the E485 and therefore offer a shorter battery life, but interestingly Lenovo rates both at 9 hours. The good news is that the E585 can accommodate a larger battery pack and therefore offer a longer battery life.
Next up are dimensions and weight. At 21.9 mm z-height, the 14-inch ThinkPad E485 appears to be slightly thicker than the 15.6-inch ThinkPad E585 that has a 19.95 mm z-height. As for the weight, the smaller E485 weighs 1.75 kg and is noticeably lighter than the E585 that weighs 2.1 kg. Neither of the Ryzen Mobile-based ThinkPads can be called thin-and-light, yet keep in mind that these systems feature metallic skeletons and come in chassis made of thick plastics, so they are pretty rugged (not ThinkPad X1 kind of rugged though).
If you want to get a thin-and-light laptop featuring an AMD Ryzen Mobile, you should probably take a look at the Ideapad 720S that comes in a 13.6-mm thick aluminum chassis and weighs around 1.14 kilograms (since this is a consumer model it comes with Windows 10 Home and without dTPM 2.0 though).
General Specifications of Lenovo's ThinkPad E485 and E585 Laptops
ThinkPad E485
ThinkPad E585
Display
Diagonal
14"
15.6"
Resolution
1366×768 or 1920×1080
Type
IPS
CPU
AMD Ryzen 3 2200U
2C/4T
2.5 - 3.4 GHz
mXFR Support
1 MB L2 + 4 MB L3
Vega 3 iGPU
15 W
AMD Ryzen 5 2500U
4C/8T
2.0 - 3.8 GHz
mXFR Support
2 MB L2 + 4 MB L3
Vega 8 iGPU
15 W
AMD Ryzen 7 2700U
4C/8T
2.2 - 3.8 GHz
mXFR Support
2 MB L2 + 4 MB L3
Vega 10 iGPU
15 W
GPU
AMD Vega 3
192 stream processors
1100 MHz
AMD Vega 8
512 stream processors
1100 MHz
AMD Vega 10
640 stream processors
1300MHz
RAM
Capacity
up to 32 GB
Type
DDR4
Storage
SSD
up to 512 GB PCIe/NVMe SSD
HDD
500 GB HDD (7200 RPM) or 1 TB HDD
Hybrid
SSD and HDD on select SKUs
Wi-Fi
1×1 802.11ac Wi-Fi module (unknown vendor)
Bluetooth
4.1
USB
2 × USB 3.0 Type-A
1 × USB 2.0 Type-A
1 × USB 3.0 Type-C (power, data, DP 1.2)
Ethernet
GbE
Other I/O
HDMI, 720p webcam, TRRS connector for audio, speakers, microphone, microSD card reader
Figerprint Reader
on select SKUs
Security
discrete TPM 2.0 chip
Dimensions
Width
329.3 mm | 12.96 inches
369 mm | 14.53 inches
Length
242 mm | 9.53 inches
252 mm | 9.92 inches
Thickness
21.9 mm | 0.83 inches
19.95 mm | 0.78 inches
Weight
1.75 kg
2.1 kg
Battery Capacity
45 Wh
45 Wh
Operating System
Microsoft Windows 10 Pro
Support & Services

Premier Support by 'advanced-level technicians with the expertise' by phone.
Accidental Damage Protection (ADP) - a fixed-cost, fixed-term protection plan.
Warranty extensions.

Price
?
?
The new Lenovo ThinkPad E485 and ThinkPad E585 notebooks are expected to be available in the coming weeks. When it comes to pricing, it is set to vary greatly. There will be very affordable laptops powered by AMD's Ryzen 3 2200U APU and featuring hard drives along with 'HD' displays that will probably retail for ~$600 or less, whereas the premium machines based on AMD's Ryzen 7 2700U and accompanied by UHD panels and dual-drive storage subsystems will cost considerably higher.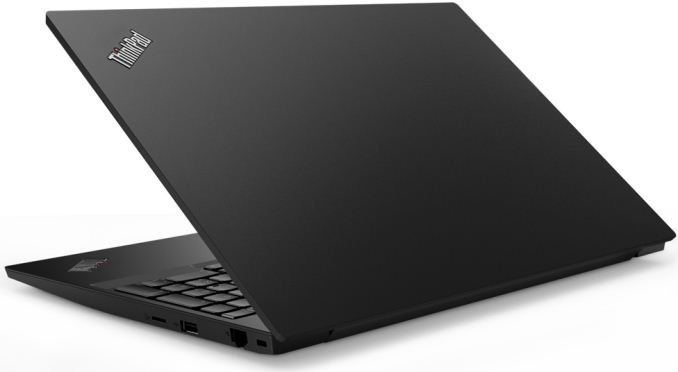 Related Reading:
Source: Lenovo