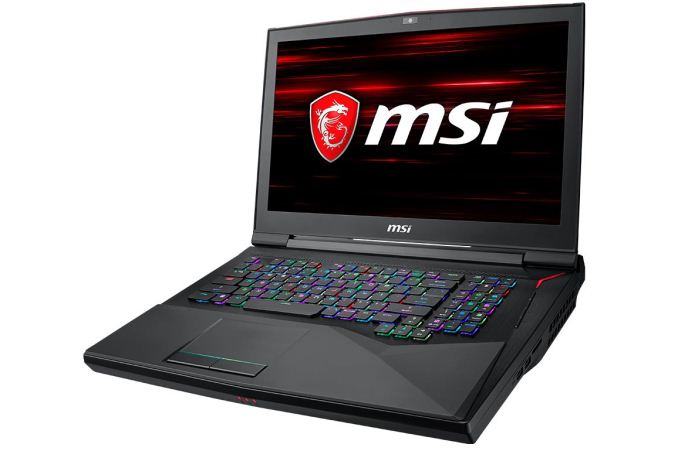 MSI has updated their GT series of gaming laptops (GT63, GT75, and GT83) all receiving an upgrade to the 8th generation Intel CPUs. The GT75 will now support up to an i9-8950HK processor, the first (at this time only) MSI laptop running an i9 processor. The hex-core i9-8950HK is overclockable and is complemented by a choice of NVIDIA GTX 1070 or GTX 1080 graphics along with two screen choices – an FHD 3ms IPS or a 4K UHD 60 Hz IPS panel. A base configuration of the beast will start around $2399 and comes with an i7-8850H, GTX 1070, 16GB of RAM and a 1 TB hard drive with the i9 SKU starting at $3299 with the same specs.
The GT Titan lineup is where MSI keeps their high-end laptops. The laptops include aggressive styling and high-end hardware rivaling and surpassing some desktops. The GT75's updates all come internally with no exterior changes. The laptop uses a brushed look on top along with the MSI name and 'MSI Gaming red' accent pieces on either side. If the sheer size of the laptop doesn't tell you it's packing some performance under there, then the large intake vents on the side and exhaust on the rear will surely give it away. Opening up the lid reveals a Steel Series per-key RGB backlit low-profile mechanical keyboard, where RGB LED dreams (nightmares?) come true. Customization of the keyboard and other lights on the machine can be changed through the Steel Series Engine software.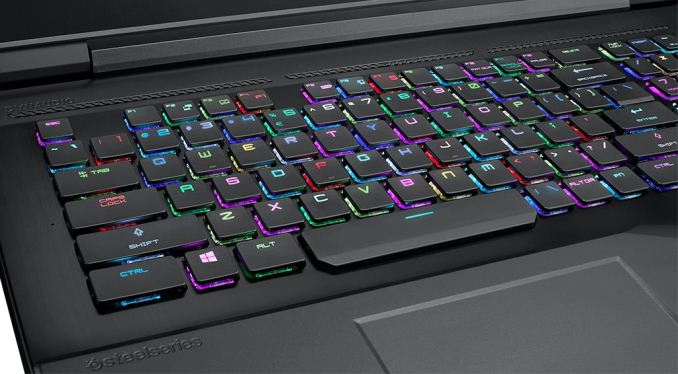 The big change here is the update to 8th generation Coffee Lake CPUs bringing one of the most powerful CPUs inside a laptop with the i9-8950HK. The overclockable processor has 6C/12T with clock speeds reaching up to 4.8 GHz maximum Turbo. Other CPU options include an i7-8750H (6C/12T 4.1 GHz Turbo), and a slightly faster i7-8850H (6C/12T 4.3 GHz Turbo). The base Memory configuration is 16 GB DDR4-2400 (single channel), while the only dual-channel configuration is in 32 GB DDR4-2666 form on the higher SKUs. The GT series offers two video card options with the NVIDIA GeForce TX 1070 8GB GDDR5 and the GTX 1080 8 GB GDDR5X.
The GT75 includes two monitor options, a 17.3-inch FHD (1920x1080) TN panel running at 120 Hz, 3ms GTG, covering 94% NTSC color gamut, or a 4K UHD eDP IPS 60 Hz. The GPUs will utilize the FHD 120 Hz well with either graphics card offering.
For storage and connectivity, the GT75 offers a range of options from a single 1 TB 7200 RPM hard drive, all the way up to 1 TB (256 GB x 2) PCIe NVMe drives in RAID0 plus a 1 TB hard drive as the fastest configuration. The GT75 includes five USB 3.1 Type-A ports along with a single Type-C port that supports Thunderbolt 3. Video outputs are plentiful with an HDMI (2.0) port, mini-DisplayPort (1.2) and Thunderbolt 3 (Type-C) options.
For networking functionality, the GT75 uses either the Aquantia AQC107 10 Gigabit or Killer e2500 Gigabit NICs. Wireless duties are handled by Killer N1550 Wireless-AC networking adapter boasting speeds up to 1.73 Gbps, and Wave 2 technology including 160 Mhz channel support and Bluetooth 5.0.


Pricing on the GT75 starts off at $2399 with the base configuration for the flagship SKU starting at a wallet-crushing $4499. They are available for purchase now.
MSI GT75 Titan (055/056/057/058/071/093/094)
Type
Gaming Laptop (DTR)
Processors
i7-8750H (6C / 12T - 4.1 GHz Turbo)


i7-8850H (6C / 12T - 4.3 GHz Turbo)


i9-8950HK (6C / 12T - 4.8 GHz Turbo)
Maximum Memory

32GB (2x16GB) DDR4 2666

Network Connectivity
Killer Networks e2500 GbE
Killer 1550 802.11ac Dual Band (2T/2R) Up to 1.73 Gbps, Bluetooth 5.0 (Optnl)
Internal Storage
SSD
256 GB - 512 GB SATA M.2
512 GB PCIe NVMe M.2 (Up to 2 in RAID0)
HDD
1 TB 7200RPM
Graphics
NVIDIA GeForce GTX 1070 8GB GDDR5
NVIDIA GeForce GTX 1080 8GB GDDR5X
Expansion Slots
SD Card reader
Display
17.3" FHD (1920x1080) TN panel, 120 Hz, 3ms GTG, 94% NTSC
17.3" 4K UHD (3840x2160) eDP IPS panel, 60 Hz
Ports and Connectors
5 x USB 3.1 (Type-A)
1 x Thunderbolt 3 (Type-C)
1 x HDMI (2.0)
1 x mini-DisplayPort (1.2)
1 x headphone/SPDIF (ESS Sabre HiFi)
1 x Line in
1 x Line out
1 x Microphone
Input Device
Steelseries RGB indiv. lit) Mechanical Gaming Keyboard
Camera
FHD @ 30 FPS
Power
75Wh 8-Cell Lithium Ion
230W AC Adapter (GTX 1070 models)
330W AC Adapter (GTX 1080 models)
Dimensions
(H x W x D)
16.85" x 12.36" x 2.28"
Weight
9.92+ lbs
Price (Starting)
$2399
Related Reading: