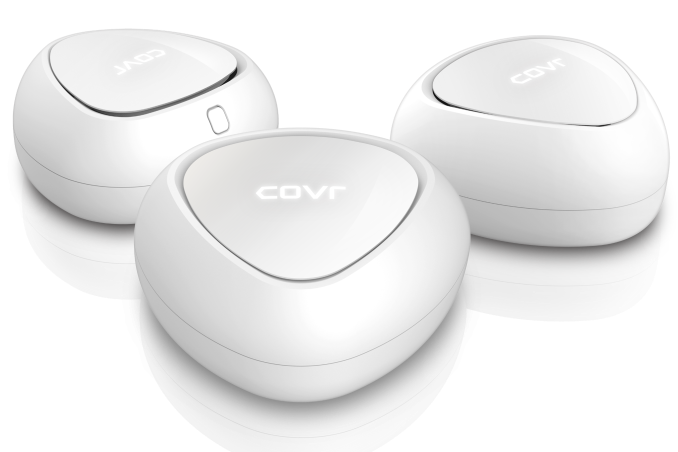 LAS VEGAS, NV — D-Link entered the mesh networking market with its Covr lineup of devices last year. Most vendors had launched their mesh platforms with a kit comprised of multiple units of very similar hardware and industrial design. Instead, D-Link opted to put firmware with mesh networking features (based on Qualcomm's Wi-Fi SON) into devices with traditional form factors. The end-point hardware was different based on the backhaul scenario (powerline or Wi-Fi). At CES 2018, D-Link is adding new members to the Covr lineup. This time around, they are adopting the same playbook as other whole-home Wi-Fi systems / mesh kits.
The Covr C1203 is a dual-band dual-concurrent AC1200 mesh system similar to the one launched by Linksys under the Velop brand a few days back. Essentially, it is an approach to bring down the price of mesh systems in order to broaden adoption. The Google Wi-Fi system is one of the top-selling kits in the market, and we now see both Linksys and D-Link target the same AC1200 specifications to compete better in that market segment. That said, D-Link is also introducing the Covr 2202 tri-band system with a dedicated backhaul channel. The Covr 2202, despite being tri-band, is still an AC2200 kit. It does not adopt the high-end 4x4 backhaul channel used in the Netgear RBK50 Orbi kit. Its units are taller than the members of the dual-band Covr C1203 to optimize the antenna positioning. The Covr kits also support Alexa. It is important to note that the mesh systems coming out at CES 2018 from different vendors are still using the old Qualcomm Wi-Fi SON platform (IPQ 40x8/9) with different options. The AC2200 2-pack COVR-2202 will become available in Q2 2018 for $320. The AC1200 COVR-C1203 will come in a 3-pack later this quarter for $250.
802.11ax Sneak Peek
D-Link also took the opportunity at CES 2018 to give a sneak peek at their plans for the 802.11ax. The main silicon vendors have launched both client and access point silicon over the last year (Qualcomm in February 2017, Broadcom in August 2017, and Intel earlier this week).
D-Link plans to release two 802.11ax routers in the second half of 2018 - the dual-band DIR-X6060 is an AX6000 router, and the tri-band DIR-X9000 is an AX11000 router. Both routers support MU-MIMO (4x4). The WAN port is NBASE-T (with 2.5 Gbps support) and there are four 1Gbps ports. Pricing was not announced. Given the fact that D-Link's CEO lent a quote for Broadcom's 802.11ax press release, we assume that both the AX11000 and AX6000 are using Broadcom's chipsets.
DIR-2680 McAfee Secure Home Router with an Intel Chipset
D-Link also released a standalone AC2600 router (the DIR-2680) with an interesting form factor. The cube-shaped router is powered by the Intel Home Wi-Fi Chipset WAV500, something of a rarity in retail routers sold in the North American market. On the firmware side, we have the McAfee Secure Home Platform for managing Internet security across all the local network devices.
The router will come to market in Q2 2018. Pricing was not announced.
IP Cameras
D-Link also announced a host of cameras. Market trends are showing a clear consumer preference for wire-free cameras (ease of installation being the primary advantage). D-Link has recognized this and come out with the IP65-rated DCS-2802KIT with two-way audio, 16ft. night vision, and 1080p recording capabilities. Both cloud and local storage are supported, and Google Assistant, Alexa, and IFTTT are available as third-party integration capabilities. D-Link claims that the rechargeable battery can last up to 11 months, but that obviously depends on how often the camera detects motion or sound and triggers recording. There is also a LTE camera with similar capabilities (DCS-1820LH) that uses Verizon's network. The only difference compared to the DCS-2802KT is the 113 degree FoV (compared to 140 degrees in the wire-free version) and external power.
The wire-free camera comes with a base station that can support multiple cameras (similar to the Netgear Arlo). Both SKUs are expected to ship in Q2 2018. The LTE camera will be priced at $300, while the DCS-2802KT is priced at $250 for a single camera and the base station. A 2-camera kit is available for $350, and each additional camera will cost $220.
D-Link also introduced new Wi-Fi cameras in the traditional form factors. They are set to go on sale this quarter. The DCS-8010LH is a 720p camera priced at $60, while the DCS-8300LH (1080p) is priced at $90, and the DCS-8525LH (1080p, with pan and tilt) is priced at $120. All of them come with the option to record to local and/or cloud storage. It integrates with popular smart home services (Alexa, Google Assistant, and IFTTT). The mydlink app can be used to monitor the feeds. Cloud recording will also be available. The pricing for the subscription plans will become available closer to launch.