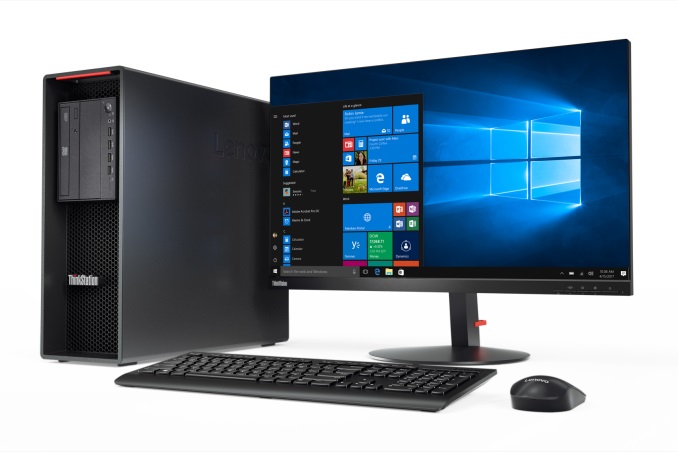 Today, Lenovo is announcing a new line of workstations under the ThinkStation P520 banner. Dubbed the ThinkStation P520 and ThinkStation P520C, the new workstations support Intel's new Xeon-W series processors from the quad-core Xeon W-2123, up to the 18 Core behemoth W-2195, and and paired with NVIDIA's Quadro professional graphics. The flagship P520 is geared towards creative professionals working with 3D animation and visual effects, while the P520c is a more cost-effective unit designed for educators and students.
Meanwhile, along with the two desktop workstation, Lenovo is also releasing the ThinkPad 52s, their first quad-core Ultrabook mobile workstation. The 52s offers 8th Generation Intel Core i5/i7 processors as well as NVIDIA's Quadro graphics.
The ThinkStation P520 is able to support the 18 core flagship Xeon W-Series processor W-2123 on the C422 chipset with support up to 256GB of DDR4 memory using its eight DRAM slots. For Graphics, the P520 supports up to 2x NVIDIA Quadro P6000 cards able to deliver high-performance in demanding 3D applications. The chassis supports a total of eight drives, up to four internal bays, with either six 2.5(up to 12TB) or 3.5-inch (up to 36TB) and M.2(up to 2TB). Intel VROC is supported for NVMe SSDs, while RAID 0, 1,5, and 10 are options for SATA based storage. Connectivity wise, there are four USB 3.1 (5 Gbps) Type-A connectors an optional Thunderbolt 3 Type-C connector (via FLEX Module for front bay) as well as Microphone and Headphone jacks for front port connectivity.
The back consists of four USB 3.1 (5 Gbps) Type-A ports, two USB 2.0 ports, two PS/2 ports for keyboard and mouse, Gigabit Ethernet, Audio, eSATA and Firewire connectivity. Wireless duties are managed by Intel Dual Band Wireless AC8265 device offering 2T/2R 2.4/5GHz and Bluetooth 4.2. The 520 has an optional 15-in-1 card reader (9-in-1 included), as well as a 9mm slim ODD.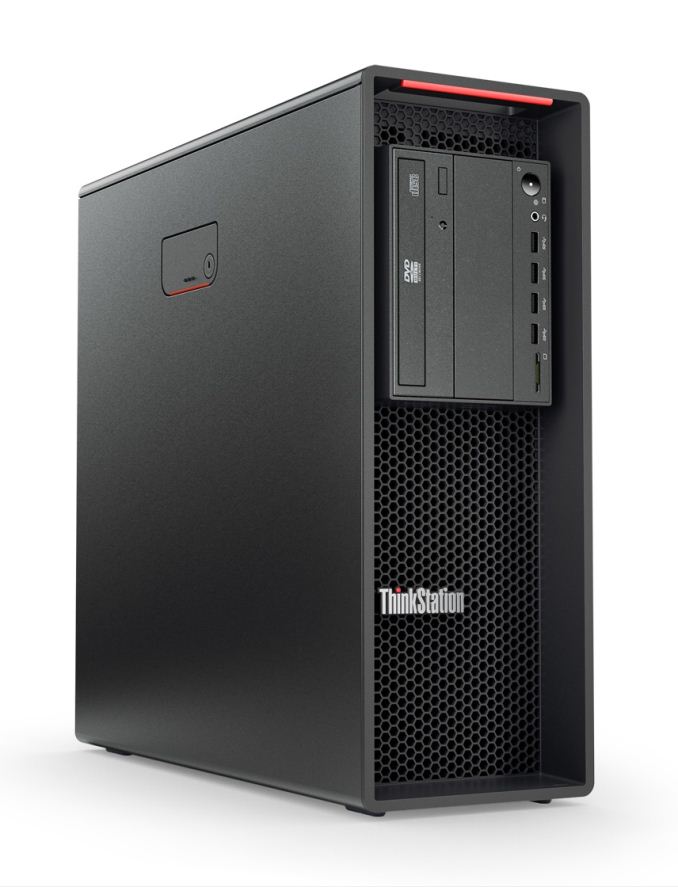 The ThinkStation P520c supports the same Xeon W series CPUs, up to the 18 core W-2123, but instead of 256GB DRAM support, it offers 128GB DDR4 2666 with four DRAM slots. The Graphics are different as well with the P520c supporting up to a single NVIDIA Quadro P5000 graphics card. Storage capacity is a bit less on here with the P520c supporting a total of six drives; four 3.5-inch (up to 16TB) or four 2.5" (up to 8TB). It supports RAID 0, 1, 5, and 10 on SATA as well as VROC support for NVMe drives. Connectivity for 520c front ports are two USB 3.1 (5 Gbps) Type-A ports, Microphone/Headphone jacks, as well as optional Thunderbolt 3 Support via the FLEX module in the front bay.
The back panel has four USB 3.1 (5 Gbps) ports, two USB 2.0 ports, Gigabit Ethernet, Audio connections, eSATA, and Firewire connectivity. Wireless functionality is also handled by the Intel Dual Band Wireless AC8265 device. Optional removable storage for the 520c consists of either a 9-in-1 or 15-in-1 media card readers a 9mm ODD, or front accessible drive tray.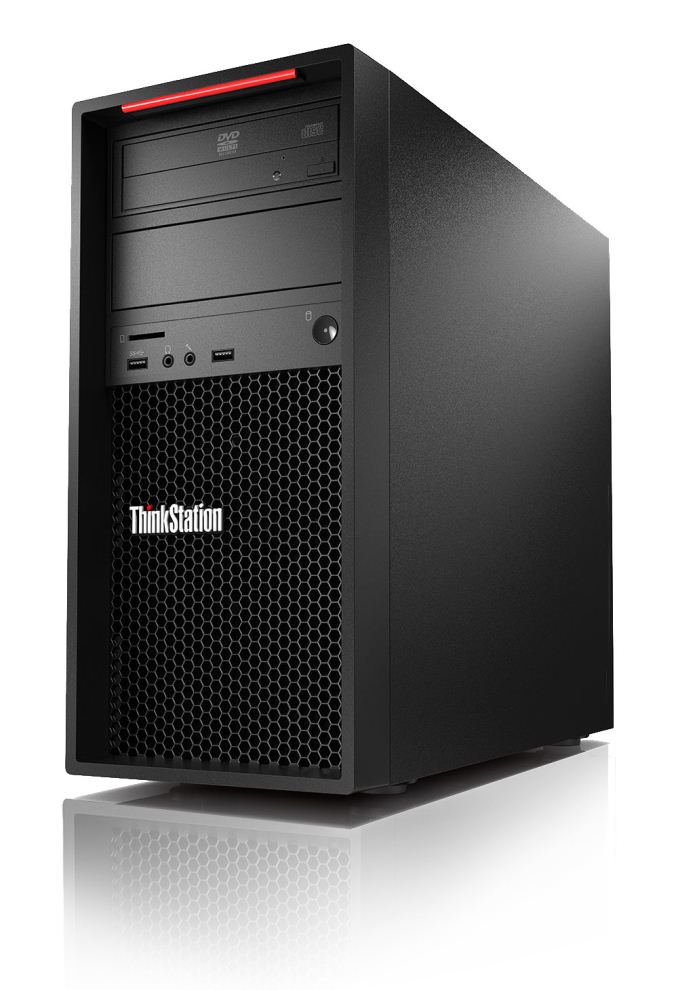 The overall aesthetics of the P520/P520C has not changed at all from its predecessors. The 520 is a rack-mountable tower measuring 6.5" x 18" x 17.3" while the 520c is a (6.9" x 16.8" X 14.8") without a designation for being rack mountable. The cases are black with hexagon grills in front along with a red line at the top for some color.
Lenovo ThinkStation P520 and P520c
P520
P520c
Warranty Period
1-4 Year Warranty
Product Page
N/A
Price ($US)
N/A
Type
Workstation
Processor Family
Intel Xeon W Series Processors (up to 18c 4.5 GHz)
Processors
W-2123 to W-2195
Memory
Up to 256GB DDR4-2666
Up to 128GB DDR4 2666
Network Connectivity
Gigabit Ethernet
Intel Dual Band Wireless AC-8265 - 2T/2R + Bluetooth 4.2
Internal Storage
Up to 8 Total Drives
Max 3.5" = 6 (36TB)
Max 2.5" = 6 (12TB)
Max M.2 = 2 (2TB)
Up to 4 Total Drives
Max 3.5" = 4 (16TB)
Max 2.5" = 4 (8TB)
Max M.2 = 2 (2TB)
Graphics
Up to 2x NVIDIA Quadro P6000
Up to NVIDIA Quadro P5000
Expansion Slots
2 x PCIe x16 Gen 3
1 x PCIe x8 Gen 3
2 x PCIe x4 Gen 3
1 x PCI
2 x PCIe x16 Gen 3
1 x PCIe x8 Gen 3
2 x PCIe x4 Gen 3
Display
N/A
Ports and Connectors (Back)
4 x USB 3.0
2 x USB 2.0
2 x PS/2
1 x Gigabit Ethernet
1 x Audio Line-In
1 x Audio Line-Out
1 x Microphone-In
1 x eSATA
1 x Firewire
Ports and Connectors
(Front)
4 x USB 3.0
1 x Mic/Headphone Combo
1 x Thunderbolt 3 (Type-C)
2 x USB 3.0
1 x Microphone
1 x Headphone
1 x Thunderbolt 3 (Type-C)
Dimensions
18" x 6.5" x 17.3"
(Rack Mountable)
16.8" x 6.9" x 14.8
Lenovo ThinkPad P52s
The P52s, like the desktop workstations above, are a generational upgrade in that the internals have been updated to the latest hardware. In this case, Lenovo is offering increased core count and storage, while in true Lenovo business laptop fashion, the looks essentially stay the same.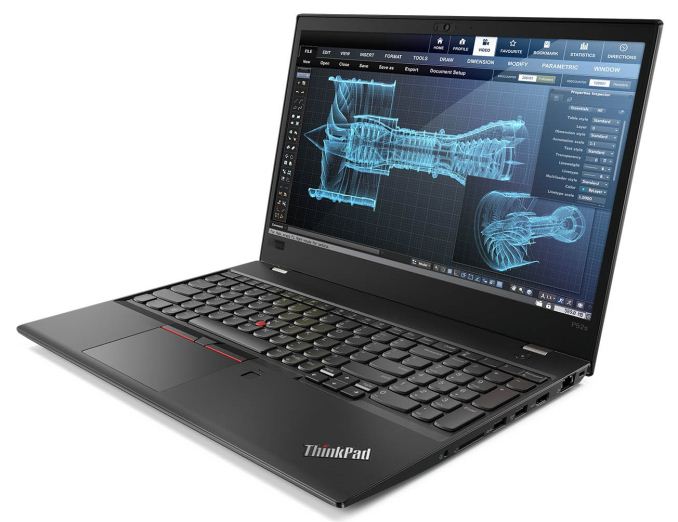 The P52s laptop uses the latest 8th Generation Intel Core i5/i7 processors, likely from the U-series processors which the P51s used, upgraded to the 8th generation i5-8250U up to i7-8650U. For graphics, it will use a NVIDIA Quadro P500 video card versus the M520 for graphics in the P51s. There are three 15.6" monitor options an available; a 1080p IPS, a 1080p IPS touchscreen, or a 4K UHD is also available. It supports up to 32GB of DDR4 2400 MHz DRAM in two SODIMM slots. Mass storage options include a single 5400 RPM HDD up to 2TB or up to a 1TB NVMe SSD. Battery options include a fixed 4-Cell 32WHr front battery with an upgradeable rear batter location. The options for the removable battery are 3-Cell (24WHr), 6-Cell (48WHR), or 6-Cell (72WHr). The included power supply is 65W.
Connectivity on the P52s consists of two USB 3.0 ports (one always-on charging), USB-C, Thunderbolt 3 support, HDMI 1.4, Gigabit Ethernet, mic/headphone combo jack, and an (optional) smart card reader. Wireless duties are handled by the Dual Band Intel 8265 2T/2R with Bluetooth 4.1. WWAN duties are handled through Sierra EM7565, a 4G LTE-A embedded device, and the Fibocom L831-EAU. Also integrated is a 720p camera and optional IR camera. Overall, the P52s improves upon the P51s in storage options, the addition of integrated 4G capabilities, along with a nice bump in core count - doubling that of the P51s. Like the workstations above, there doesn't appear to be any obvious aesthetic changes here either. Just a hardware upgrade.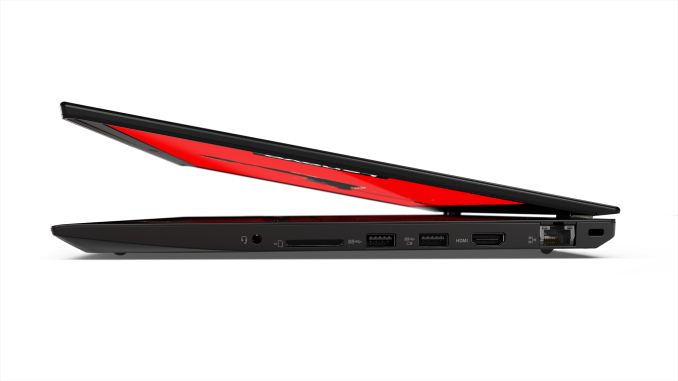 The P520 and P520c have ISV certifications for Adobe, Autodesk, AVID, Altair, AVEVA, Bentley, Dassault, Nemetschek, PTX, Siemens, Barxo, Eizo, and Mckesson software. The P52s is ISV certified for Autodesk, AVID, Bentley, Dassault, PTC, and Siemens software.
The ThinkPad 51s, the previous generation model, is currently starting at $962 so we expect the pricing around there, if not a bit higher. Pricing nor availability was mentioned in the documentation for the P52s or the P520/P520c Lenovo provided, but we expect to see these updated ThinkStations and ThinkPad on the market soon.
Lenovo ThinkPad P52s
P52s
Warranty Period
1-4 Year Warranty
Product Page
N/A
Price ($US)
N/A
Type
Ultrabook
Processor Family
8th Generation Intel Core i5/i7 Processor
Processors
i5-8250U - i7-8650U
Memory
Up to 32GB DDR4-2400
Network Connectivity
Gigabit Ethernet
Intel Dual Band Wireless AC-8265 - 2T/2R + Bluetooth 4.1
Intel vPro 8265 2T/2R + Bluetooth 4.1
WWAN - Sierra EM7564 (4G LTE) / Fibocom L831-EAU
Internal Storage
HDD: Up to 2TB (5400RPM)
SSD: Up to 1TB NVMe SSD
Graphics
NVIDIA Quadro P500
Expansion Slots
N/A
Display
15.6"
FHD (1920x1080) IPS
FHD Touch (1920x1080) IPS
4K UHD (3840x2160) IPS
Ports and Connectors (Back)
2 x USB 3.0 (1 Always-on Charging)
1 x USB-C
1 x Intel Thunderbolt 3
1 x RJ45 Gigabit Ethernet
1 x HDMI 1.4
1 x Side Docking Connector
1 x Mic/Headphone Combo Jack
1 x Smart Card Reader
Dimensions / Weight
0.79" x 14.4" x 9.95" / From 4.3 lbs (1.95kg)

Related Articles:
Source: Lenovo