The ASRock Z270 Gaming-ITX/ac Review
Visual Inspection
ASRock's engineers did the best they could to combine aesthetics and functionality on the small surface of the Mini ITX motherboard. There is no LED lighting on the Z270 Gaming-ITX/ac but it is a visually pleasing motherboard, with an all-black PCB and red heatsinks/DIMM slots. A heatpipe connects the VRM and chipset heatsinks. The heatsinks are good for a Mini ITX motherboard but ASRock had to keep them fairly small in order to ensure compatibility with low-profile systems. The many stickers on the I/O ports may be a visual dissonance for some, especially for users that understand that a "Fatal1ty mouse port" offers no practical gaming advantage and that Nichicon makes capacitors, not audio devices. The sole PCIe ×16 slot features a metallic shield that is serving both as additional mechanical support and as an aesthetic upgrade.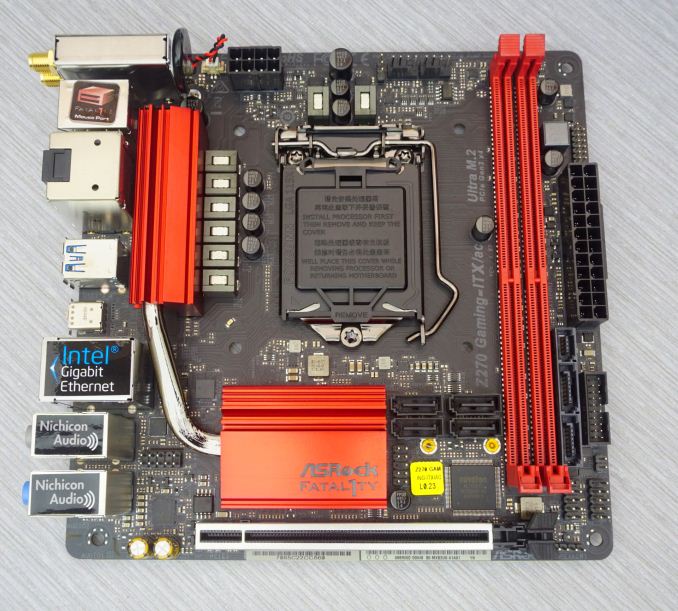 In terms of functionality, there are a few quirks regarding the placement of some ports and headers but that hardly is the designer's fault - with a motherboard so small and with so many features onboard, there is little flexibility in terms of design. With no space beneath the single PCIe ×16 slot, the designer is forced to find other places to place the ports and headers. We can see the front panel audio header right behind the 3.5 mm audio jacks and, naturally, most of the other ports and headers are placed across the right side of the motherboard. A small quirk here is that the USB 2.0 header is placed right next to the case LED/switch header at the bottom right corner of the PCB and, as the connectors are similar, could cause confusion to amateur or careless users.
Right above those two headers we can see the USB 3.0 header surrounded by its plastic frame and the SATA Express connector sandwiched between the USB 3.0 header and DIMM slots. Considering the currently extremely limited market penetration of SATA Express devices, ASRock probably decided to install a SATA Express connector on their Mini ITX motherboard in order to entice potential users that believe it could gain traction sometime in the near future. Anyhow, for those that have no use for SATA Express support, the SATA Express connector does double as two normal SATA ports using typical SATA cables and is fully compatible with any SATA device. The other four SATA ports are between the DIMM slots and the chipset, making access to them very difficult if a large cooler and/or a discrete GPU are installed. We strongly suggest all-in-one liquid cooling solutions to users that are planning to use these SATA ports and need seamless access to them.
There are three fan headers on the Z270 Gaming-ITX/ac. Two of them are clearly visible above the CPU socket, near the DIMM slots. The third header is at the top left corner of the motherboard, hidden behind the antenna connectors. All three headers support PWM fan control.
Turning the motherboard over, we can find the single M.2 slot of the Z270 Gaming-ITX/ac. It supports 2260/2280 PCIe and SATA M.2 devices, 2242 42 mm devices are not supported. If a SATA M.2 device is installed, one of the SATA 6 Gb/s ports at the front of the motherboard will be disabled.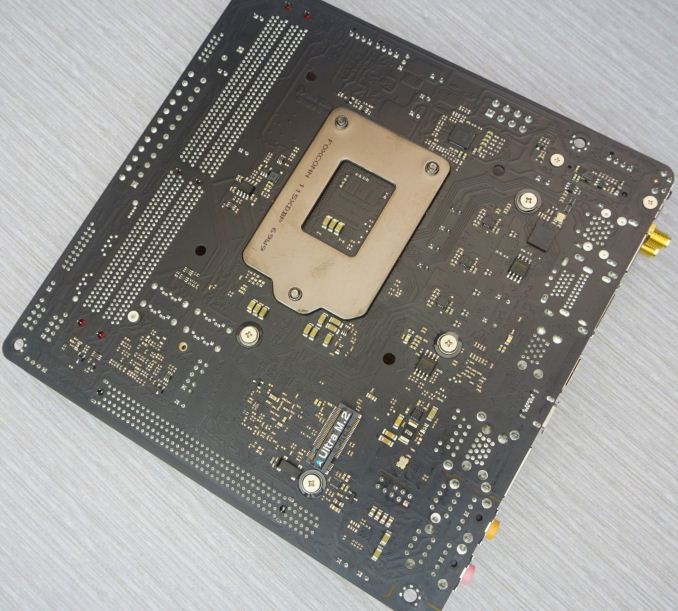 The rear panel of the Z270 Gaming-ITX/ac is interesting. Starting from the top of the board, we can see a tiny button right at the corner of the board. This can be used to clear the CMOS if overclocking or other BIOS settings go awry. The gold-plated threaded connectors are for the WiFi/Bluetooth antenna. Right next to them we can see a block with two USB 3.0 (USB 3.1 Gen1) connectors and a combo PS/2 port, followed by a block with an HDMI 2.0 port, a DisplayPort 1.2 port and an optical SPDIF port.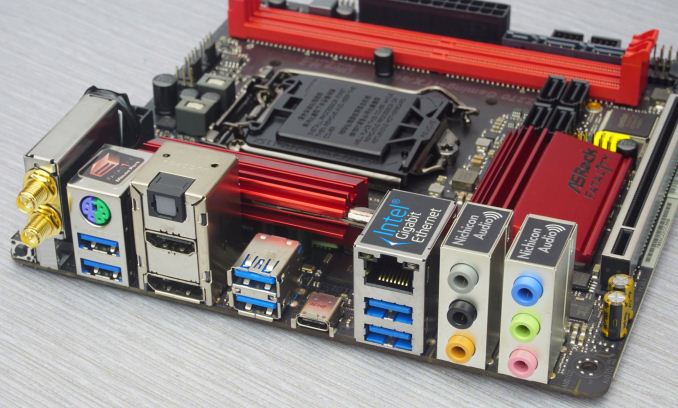 As the integrated graphics of the current Intel GPUs are limited to HDMI 1.4a, ASRock implemented a Megachips MCDP2800 Displayport 1.2a to HDMI 2.0 converter. As a result, the HDMI 2.0 port is capable of 4K @ 60 Hz and it worked great driving a 4K TV for movies and casual usage, which should please HTPC enthusiasts and users that want to use it to drive a very high-resolution monitor. Gaming without a discrete GPU at a resolution of 3840 × 2160 is entirely out of the question, as the IGP will be unable to provide playable framerates even with games that are a decade old at this resolution.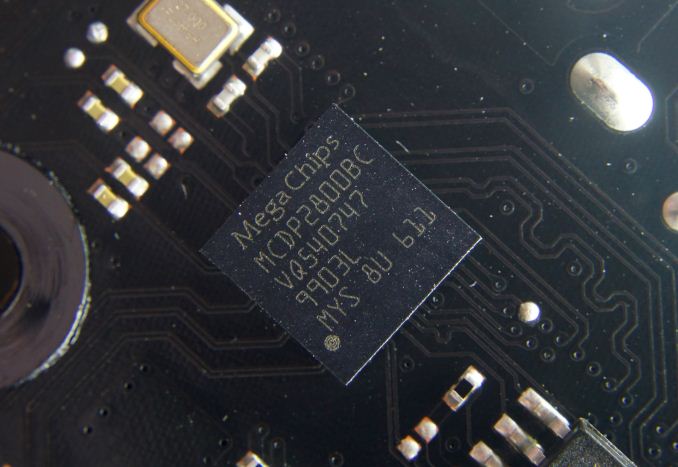 Moving downwards from the HDMI port, we can see two more USB 3.0 (5 Gbps) connectors and then the tiny Intel Thunderbolt 3 connector that is driven by an Intel JHL6240 chip. Note that this chip is not a PCIe ×4 but a PCIe ×2 interface device, with more than enough bandwidth for most devices but it will be a noticeable bottleneck if an external high-performance GPU device is used. Continuing downwards we can see another two USB 3.0 (5 Gbps) connectors and a LAN port. Finally, there are six 3.5 mm analog audio jacks for up to a 7.1 audio output.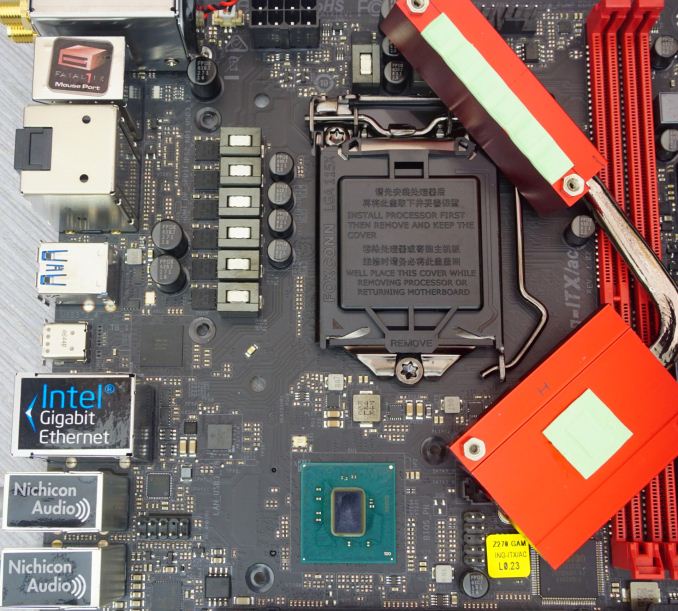 ASRock implemented an interesting eight phase VRM design, with six phases dedicated to the CPU core and two for the CPU's integrated GPU. The controller can be found on the rear side of the motherboard and is an International Rectifier IR35201 chip. This controller has a maximum of two outputs and eight phases that, in this case, are connected in 6+2 mode. NexFET supplies the 87350D MOSFETs and Nichicon the solid-state capacitors of the power circuitry. This is a configuration that we would expect to find on a high-quality motherboard that is designed with extensive overclocking in mind.