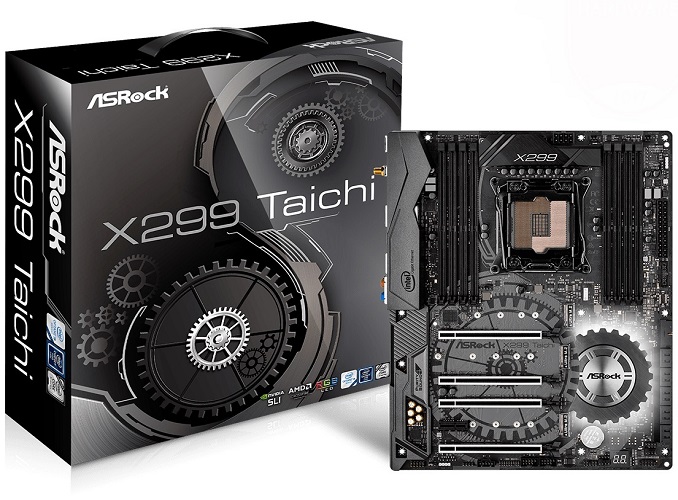 ASRock's X299 product stack is varied. Next up on the test bench is the X299 Taichi, sitting in the middle of the range. ASRock is looking to touch more of the market with the Taichi with a less expensive motherboard while still offering a comprehensive feature set, such as 10 SATA ports, 3-way SLI, Intel Ethernet and three PCIe 3.0 x4-based M.2 slots for high-end storage.
ASRock X299 Taichi Overview
The Taichi is a bit of a loner in the world of motherboards today - there is no obvious 'search engine optimization' in the same: there is no 'gaming', 'professional', or 'overclocking' keywords slicing out the consumer space it might fit in. Though it has some of the features which can be found on boards with those keywords, it still fits into its namesake, which is an ancient form of Chinese discipline of meditative movements practiced as a system of exercises. T'ai chi, at its roots, is said to be an ultimate of state infinite potential: 'A oneness before duality from which the Yin and Yang come from' [citation abused]. Deep Chinese philosophy aside, the Taichi first made an appearance in the previous generation X99 platform as a mid-range offering and has since spread its wings to other chipsets including the X299 we see here, and on the AMD side with X399 for Threadripper and X370 for Ryzen based CPUs. Rather than rely on SEO buzzwords like some other products (including ASRock's own), the Taichi is trying to make its own brand name.
The X299 Taichi is currently priced at $289, which places it just below the middle of ASRock's product stack. There are two boards priced below it as entry level, the X299 Killer SLI/ac ($230) and the Fatal1ty Gaming X299 Gaming K6 ($270), and three/four above in the X299 Taichi XE ($325), the X299 Professional Gaming i9 ($400, $425 for XE version) and the X299 OC Formula ($400). The Taichi still uses the more formidable power delivery solution found on the Gaming i9 and OC Formula, while the boards below the Taichi make some cuts in this area.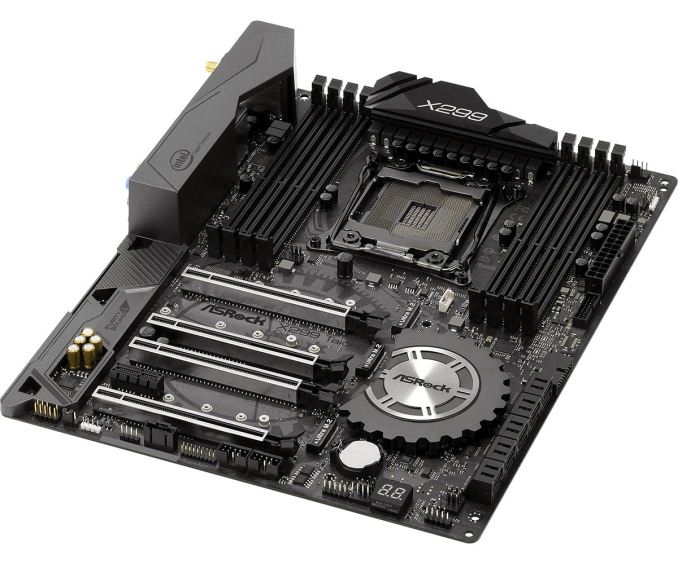 Like its bigger brothers, the first (of three) PCIe M.2 slots bypasses the DMI3.0 and is directly connected to the CPU, eliminating any potential bottlenecks with that interface. Be conscious when using SATA based M.2 drives as that will take away from the available SATA ports. There are also 10 SATA ports found on the board; eight being fed from Intel/chipset and the other two from an ASMedia 1061 PCIe controller. The system has the two USB 3.1 10 Gbps Type-A and Type-C ports are handled by the ASMedia 3142 controller, with some USB 3.0 Gbps ports are driven by the ASMedia 1074 hub.
Overall there is plenty of connectivity and options on this board to take care of most users, be it gaming, overclocking, or for professional/workstation uses. That isn't to say some options are missing to make them more complete gaming, professional, or overclocking boards, but it can do the job admirably assuming you aren't in need of 10 GbE or something similar. This board topped out at 4.5 GHz as well before running into our testing temperature limit. This was an expected outcome considering the board uses the same power delivery as the Gaming i9. Performance overall on the X299 Taichi was about average winning some and losing some battles with the other boards we currently have data on. This board manages to boot a couple of seconds faster than the Professional Gaming i9 but also uses a bit more power.
Information on Intel's X299 and our other Reviews
With Intel's release of the Basin Falls platform, encompassing the new X299 chipset and LGA2066 socket, a new generation of CPUs called Skylake-X and Kaby Lake-X were also released. The Skylake-X CPUs range from the 7800X, a hex-core part, all the way up to an 18-core 7980XE multitasking behemoth. Between the bookend CPUs are five others increasing in core count, as in the table below. The latter HCC models are set to be launched over 2H of 2017.
Skylake-X Processors
7800X
7820X
7900X
7920X
7940X
7960X
7980XE
Silicon
LCC
HCC
Cores / Threads
6/12
8/16
10/20
12/24
14/28
16/32
18/36
Base Clock / GHz
3.5
3.6
3.3
2.9
3.1
2.8
2.6
Turbo Clock / GHz
4.0
4.3
4.3
4.3
4.3
4.3
4.2
Turbo Max Clock
N/A
4.5
4.5
4.4
4.4
4.4
4.4
L3
1.375 MB/core
1.375 MB/core
PCIe Lanes
28
44
44
Memory Channels
4
4
Memory Freq DDR4
2400
2666
2666
TDP
140W
140W
165W
Price
$389
$599
$999
$1199
$1399
$1699
$1999
Board partners have launched dozens of motherboards on this platform already, several of which we will have an opportunity to look over in the coming weeks and months. This specific review will cover the ASRock X299 Taichi.
Other AnandTech Reviews for Intel's Basin Falls CPUs and X299
The Intel Skylake-X Review:

Core i9-7900X, i7-7820X and i7-7800X Tested

The Intel Kaby Lake-X Review: Core i7-7740X and i5-7640X Tested
Intel Announces Basin Falls: The New High-End Desktop Platform and X299 Chipset

($289) The ASRock X299 Taichi Review (this review)

($510) The ASRock X299E-ITX/ac Review (running benchmarks)
($500) The GIGABYTE X299 Gaming 9 Review (planned)
($400) The GIGABYTE X299 Gaming 7 Review (planned)
($350) The ASUS Strix X299-E Gaming Review (awaiting sample)
($337) The ASUS X299 TUF Mark 1 Review (awaiting sample)
($300) The MSI X299 Tomahawk Arctic Review (being edited)
($260) The MSI X299 SLI Plus Review (being edited)
To read specifically about the X299 chip/platform and the specifications therein, our deep dive into what it is can be found at this link.
X299 Motherboard Review Notice
If you've been following the minutiae of the saga of X299 motherboards, you might have heard some issues regarding power delivery, overclocking, and the ability to cool these processors down given the power consumption. In a nutshell, it comes down to this:
Skylake-X consumes a lot of power at peak (150W+),
The thermal interface inside the CPU doesn't do much requiring a powerful CPU cooler,
Some motherboard vendors apply Multi-Core Turbo which raises the power consumption and voltage, exacerbating the issue
The VRMs have to deal with more power, and due to losses, raise in temperature
Some motherboards do not have sufficient VRM cooling without an active cooler
This causes the CPU to declock or hit thermal power states as to not degrade components
This causes a performance drop, and overclocked systems are affected even more than usual
There has been some excellent work done by Igor Wallossek over at Tom's Hardware, with thermal probes, thermal cameras, and performance analysis. The bottom line is that motherboard vendors need to be careful when it comes to default settings (if MCT is enabled by default) and provide sufficient VRM cooling in all scenarios – either larger and heavier heatsinks or moving back to active cooling.
This means there are going to be some X299 boards that perform normally, and some that underperform based on BIOS versions or design decisions. We are in the process of quantifying exactly how to represent this outside of basic benchmarking, so stay tuned.