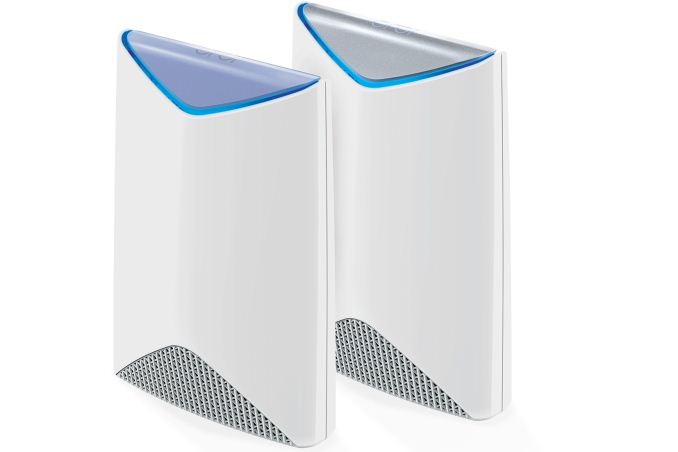 Netgear's Orbi Wi-Fi system has emerged as one of the leading mesh / Wi-Fi systems in the market in terms of performance. The platform, with its FastLane 3 marketing moniker, was recently introduced into the range extender market also (with the Nighthawk X6S EX8000). Today, Netgear is bringing tri-band Wi-Fi to the SMB market in the form of the Orbi Pro.
The Orbi Pro (SRK60) is essentially the same as the high-end Orbi (RBK50) for the consumer market - That implies an AC3000-class router, with a 4x4 dedicated backhaul link, and one 2x2 5 GHz and one 2x2 2.4 GHz radios at each node. The target market is small businesses that don't have dedicated IT staff. The setup process, like that for the consumer version, has been made simple enough for DIY installs (unlike most other business-targeted solutions). Managementis through an app, though, a web server is also available as part of the traditional router management model.
In order to better serve the target market, the Orbi Pro makes the following changes compared to the high-end Orbi for consumers:
Altered industrial design to blend in with business surroundings, with the ability to mount on the wall or ceiling (no PoE support, though).
Removal of the USB port from the system, as it doesn't make much sense for business use-cases
Tweaked firmware with specific features for business use-cases.
The primary difference in the firmware compared to the RBK50 is the presentation of three different SSIDs out of the box - one for administration, one for employees, and another for guests. The LAN ports (3 on the router, and 4 on the satellite) are part of the administration network. The networks are isolated from each other, with the guest network carrying typical options such as restricted time allotment for clients, a captive portal for allowing access etc.
Netgear intends the system to be used for scenarios with up to 40 simultaneous devices. The SRK60 will become available next month and have a MSRP of $500.
Source: Netgear