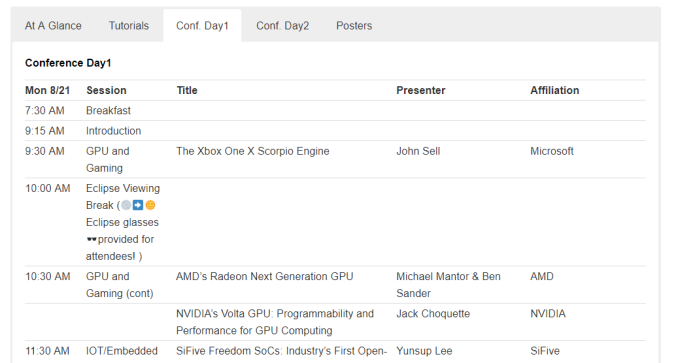 12:10PM EDT - This week it's the Hot Chips conference in Cupertino. We're sat nice and early, with the first talk today from Microsoft. John Sell, a Microsoft hardware veteran, is set to talk about the Scorpio Engine, found in the Xbox One X. It's practically the only talk this week where the slides were not given out early, so I wonder what will be discussed, especially given the large amount of interest in what the Scorpio Engine is. So never mind the eclipse, let's talk consoles.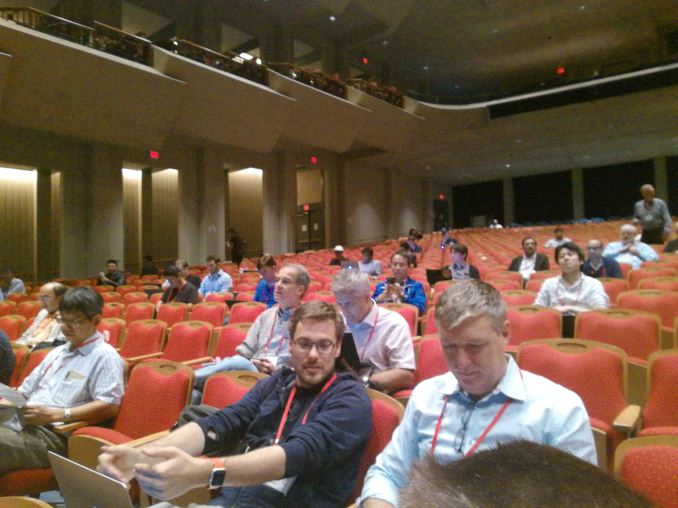 12:12PM EDT - Despite the big hall booked, there's a few hundred people here
12:13PM EDT - Hot Chips is a specialised conference, after all. Most people here are from tech companies, not press
12:13PM EDT - A number of familiar faces in the crowd, however. Talks later today from AMD, NVIDIA and Intel. Talks tomorrow on Server hardware too
12:13PM EDT - Just me on text and images today, it might get a bit fast paced
12:19PM EDT - Now starting with an intro to the conference
12:19PM EDT - 10% more attendees this year, 20% more paper submissions
12:23PM EDT - Had to restart my laptop, keeps freezing with intermittent wifi which is odd
12:24PM EDT - Eclipse viewing in 35 minutes - the conference were going to provide glasses, but they got stuck at customs
12:29PM EDT - Moving to mobile data
12:30PM EDT - Scorpio engine, 7b transistors, 359mm2 die, 50mm module
12:30PM EDT - Yellow areas on die shot is GPU
12:30PM EDT - 4 shader arrays, contain 11 CUs
12:30PM EDT - 10 active, 1 spare
12:31PM EDT - Spares are for reliability and yield
12:31PM EDT - dark green are clusters of CPU
12:31PM EDT - Green around the outside are the 12 GDDR5 controllers
12:32PM EDT - photos don't seem to be uploading
12:32PM EDT - 326GB/s mem bandwidth
12:33PM EDT - 6.8 GHz memory data rate
12:33PM EDT - 12 GB of main memory, dev systems have 24GB
12:33PM EDT - GPU core at 1.172 GHz
12:34PM EDT - 285 GB/s peak in the lab for mem bandiwdth
12:35PM EDT - Pairs of channels can be cache coherent
12:35PM EDT - Coherent traffic is vertical to the crossbar
12:36PM EDT - 8x 256KB render caches
12:36PM EDT - 64 outbound and 40 inbound 256-bit data paths for drawing
12:37PM EDT - raw performance is a hair over 6 TF
12:37PM EDT - 4.688G primitives/second
12:37PM EDT - 128 FLOPS * 40 CUs * 1.172 GHz
12:37PM EDT - 187.5 G bilinear texels/second
12:37PM EDT - 2MB L2 cache with bypass and index buffer access
12:38PM EDT - out of order rasterization, 1MB parameter cache, delta color compression, depth compression, compressed texture access
12:39PM EDT - Xbox One S and 360 compatibility
12:39PM EDT - 8 CPU cores, 2.3 GHz
12:40PM EDT - 32 KB L1-I, 32 KB L1-D per core
12:40PM EDT - 4 MB shared L2 (2MB per quad cluster), lower main memory average latency (up to 20%)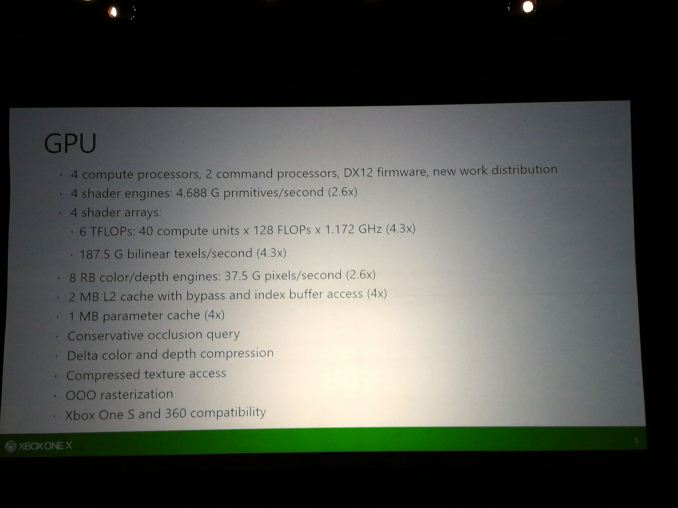 12:40PM EDT - 12 channels and 192 banks of main memory (3x and 6x)
12:41PM EDT - 2048 entry L2I TLB and L2D TLB for 4KB pages
12:41PM EDT - 32 entry L1I TLB for 4KB pages, 8 entry L1I TLB for 2MB pages
12:41PM EDT - Hypervisor based system
12:41PM EDT - 40 entry L1D TLB for 4KB pages, 8 entry L1D TLB for 2MB pages, 256 entry L2D TLB for 2MB pages
12:42PM EDT - Page Descriptor Cache of nested translations (up to 4.3% perf over last gen)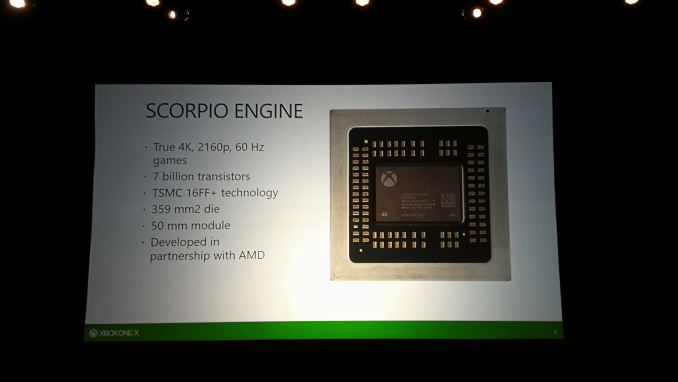 12:43PM EDT - 4K p60 HEVC, VP9, AVC
12:43PM EDT - 10-bit HDR for HEVC and VP9
12:44PM EDT - 4k60 HEVC video encoding for DVR and streaming
12:44PM EDT - Support for 4K display, 3-surface resize/blending, pre-multiplied FP alpha
12:44PM EDT - DP 1.2a, HDMI 2.0b, HDCP 2.2, two stream MST
12:45PM EDT - Audio with new firmware features, such as spatial surround (will come avail for Xbox One S)
12:46PM EDT - 1TB HDD, 4K UHD Bluray player
12:46PM EDT - Coming November 7 2017
12:46PM EDT - Video showing now, rendered on the system
12:48PM EDT - Looks like Forza
12:48PM EDT - 'in-game 4K footage'
12:48PM EDT - Will upload pictures when we can, something just isn't working properly here with either my devices or the data
12:49PM EDT - So only a 20 minute talk, some Q&A
12:49PM EDT - No 32 MB SRAM
12:50PM EDT - Same CPU caches as before
12:50PM EDT - 'Any problems with backwards compatibility?'
12:51PM EDT - 'No, the additional bandwidth will help and the previous will be emulated'
12:52PM EDT - 'While there is added latency, there's no compatibility issue. The GPU used to consider the SRAM just as another part of the main memory'
12:53PM EDT - 'Q: Page descriptor cache was giving +4.5% perf in SPEC. Was that running in a VM?' 'Yes, the benefit we get negates the VM loss'
12:54PM EDT - 'Does designing the SoC give better options for power management?'
12:56PM EDT - 'Yes, to a significant degree with Scorpio but since the original Xbox One - we want every system to give the same perf, and we don't want to give people an unfair advantage in MP games (like in PCs), so we strive we don't have variation which makes power management more challenging, and we don't want to through chips way. Every chip is married to its circuit board, variations in the power supply, and trying to tune out all the margin possible'
12:57PM EDT - 'Shader power gating?' 'We have clock gating throughout the design, but for power gating, we do not do any power gating within the shader array. We change to operate at lower frequencies in certain modes, e.g. BluRay discs can go through fixed function hardware we clock gate the shaders'
12:57PM EDT - That's all for the talk, let me upload the pictures if I can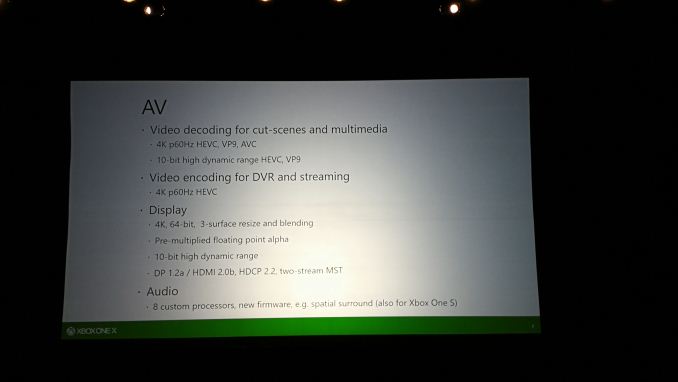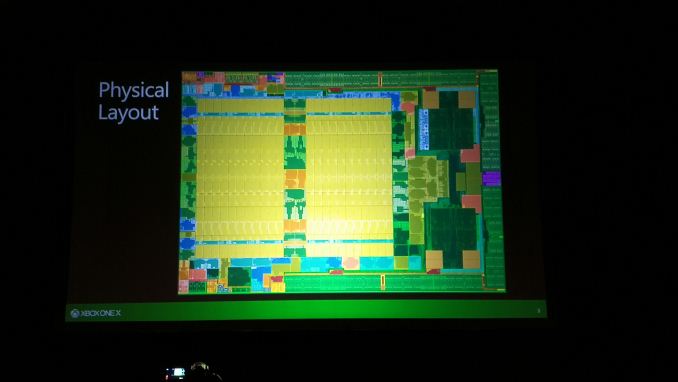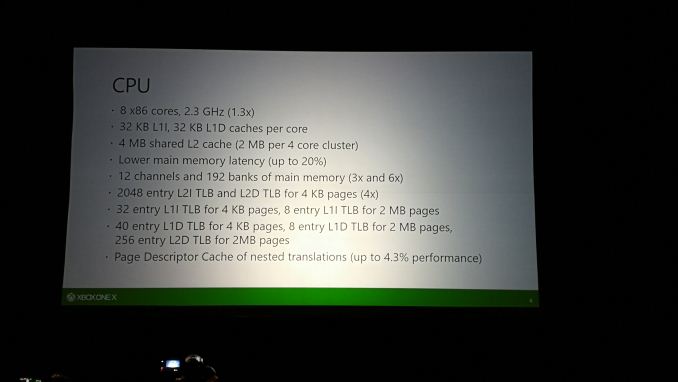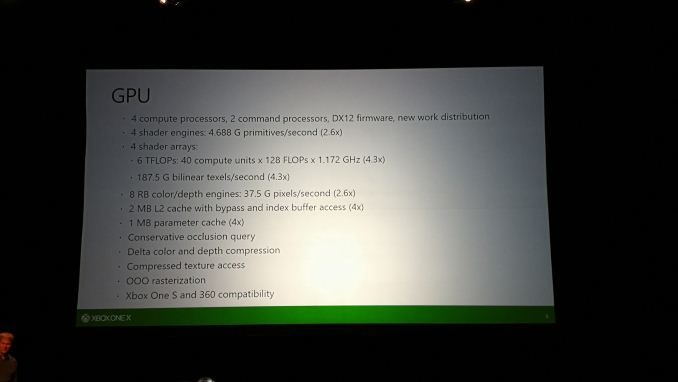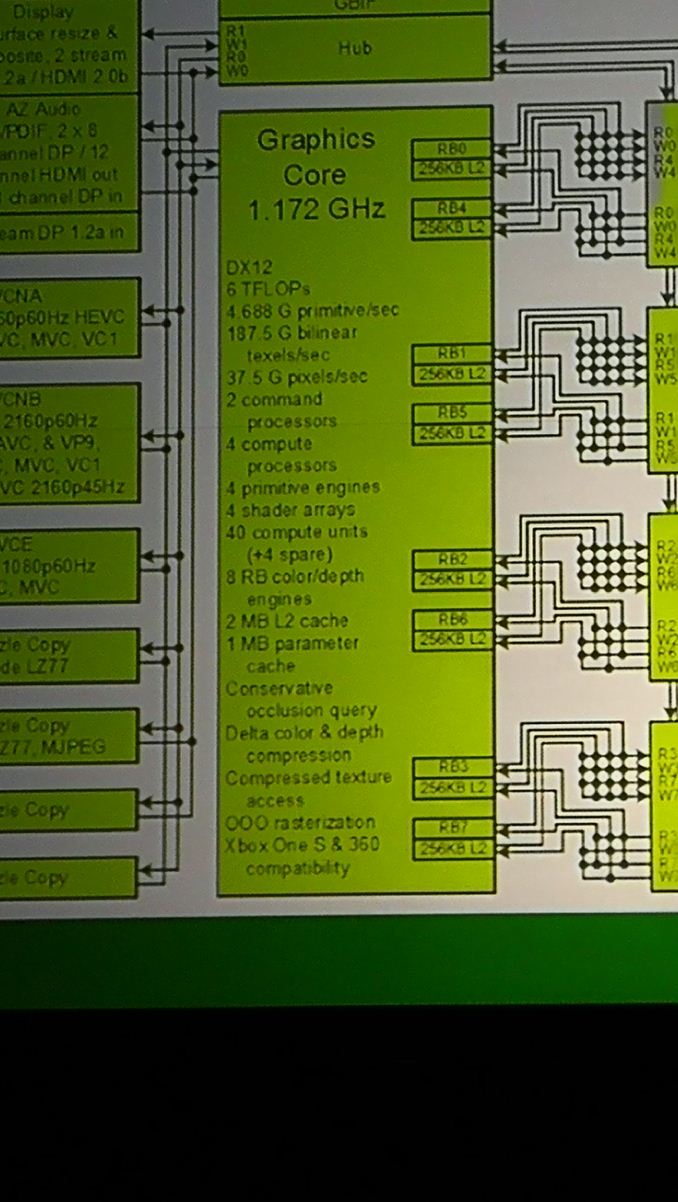 01:07PM EDT - Now that everyone in the hall has left to watch the eclipse, some photos are going through. Of course, photos that were sent straight to upload aren't saved on my devices. I'm waiting for the slide deck and we'll do a proper analysis on this.
01:07PM EDT - That's all for the live blog. There's a Knights Mill talk later today that we'll try and get a better experience for :)