GPU & Gaming Performance
The Redmi Note 4's Helio X20 SoC includes a Mali-T880MP4 GPU running at up to 700MHz. Based on ARM's now last-generation Midgard architecture, it still supports all of the latest graphics APIs, including OpenGL ES 3.1 + Android Extension Pack (AEP). The T880 is the highest performing Midgard GPU, with 3 ALUs/core, but MediaTek is using a modest four-core configuration.
We've seen this same configuration in HiSilicon's Kirin 950/955 (Mali-T880MP4) that's used in Huawei's Honor 8, Mate 8, and P9. The only difference is the Kirins' Mali ramps up to 900MHz. The Redmi Note 4's lower peak frequency limits FP32 throughput to a theoretical 84 GFLOPS compared to 108 GFLOPS in the three Huawei phones, and because each GPU core contains a single texture unit, along with supporting hardware for triangle setup, tiling, rasterization, etc., it's not just ALU performance that's limited by using fewer cores; even workloads that are not shader bound take a performance hit.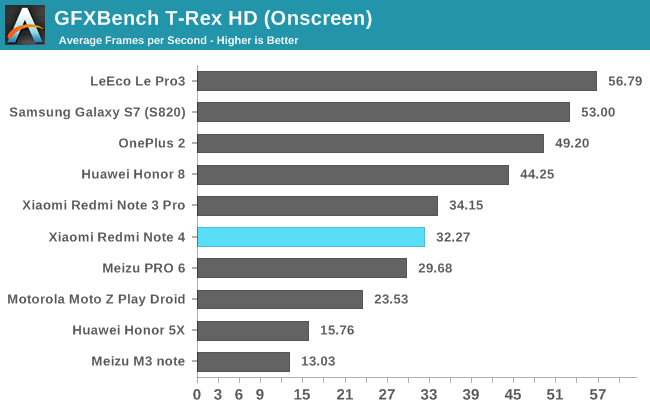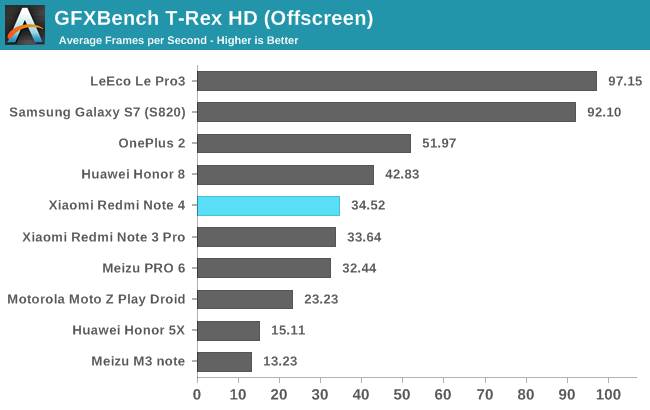 In the older OpenGL ES 2.0-based GFXBench T-Rex game simulation, both the Redmi Note 4 and Meizu Pro 6 essentially match the Redmi Note 3 Pro's performance. Their T880MP4 GPUs readily outpace the Adreno 506 GPU in the Moto Z Play's Snapdragon 625 SoC and the T860MP2 GPU in Meizu's M3 note. As expected, the Honor 8 performs 24% faster than the Redmi Note 4 based on its frequency advantage.
The Adreno 530 GPU in LeEco's Le Pro3 and Samsung's Galaxy S7 is the only one in these charts capable of hitting vsync when rendering onscreen. Because all of these phones except for the 1440p Galaxy S7 have 1080p displays, there's no appreciable difference between offscreen and onscreen results.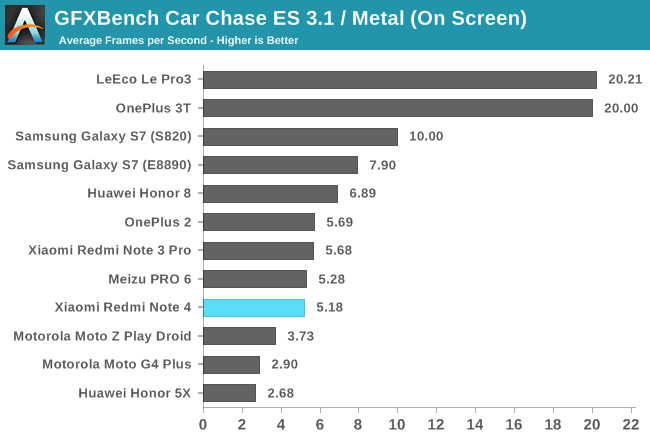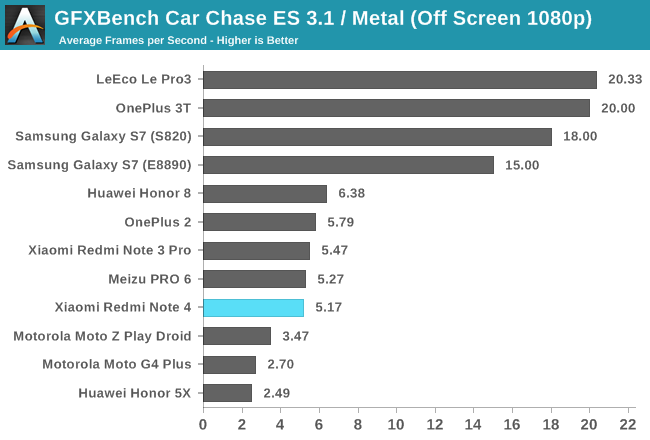 GFXBench Car Chase uses a game engine based on OpenGL ES 3.1 + Android Extension Pack (AEP) and employs several modern features, such as tessellation and compute shaders, that stress ALU performance.
Despite the difference in workload, the results are largely the same. The Honor 8 maintains a nearly 24% advantage over the Redmi Note 4, while the latter still holds the advantage over the lower-end Adreno GPUs in the Moto Z Play and Moto G4 Plus.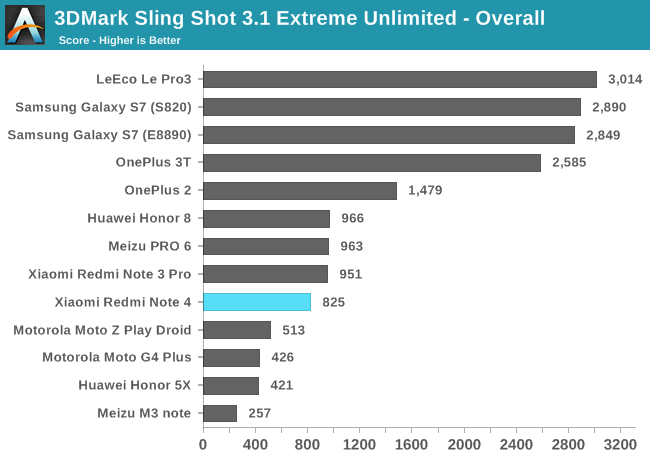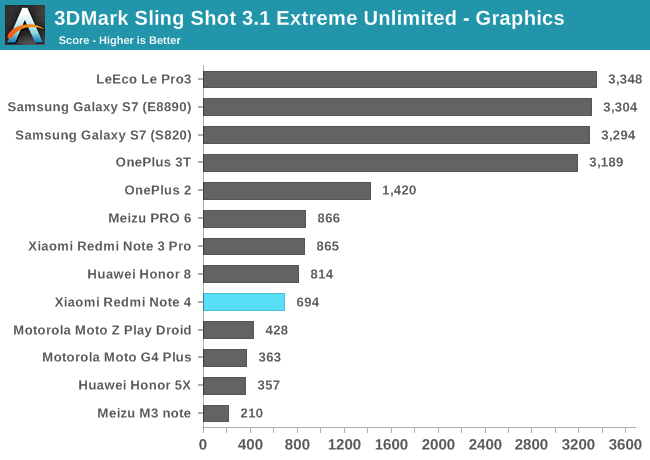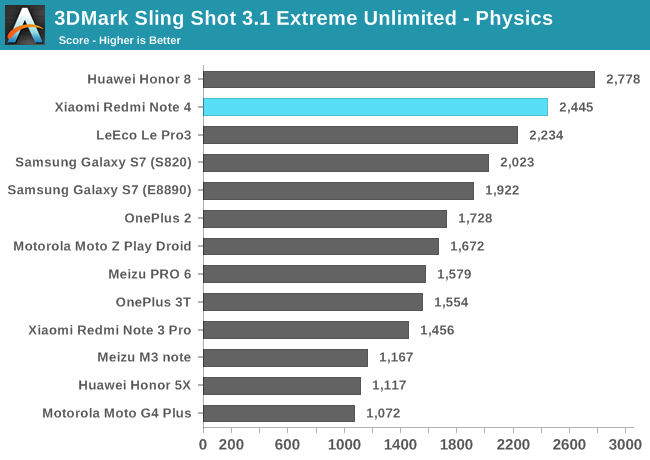 3DMark Sling Shot Extreme uses OpenGL ES 3.1 on Android and stresses the GPU and memory subsystems by rendering offscreen at 1440p (instead of 1080p like our other tests).
With so many pixels to process it's no surprise to see the flagship devices using Snapdragon 820/821 or Exynos 8890 SoCs perform at least 4.6x faster than the Redmi Note 4 and the other less-expensive phones, whose GPUs were never intended to drive 1440p displays. While the Note 4, Note 3 Pro, and Pro 6 were pretty evenly matched in the GFXBench tests, the latter two pull ahead of the Note 4 by 25% in this test. In the case of the Note 3 Pro, the larger portion of its advantage (35%) comes in the first graphics test that focuses on geometry processing.
The Physics test, which is based on the Bullet Open Source Physics Library, runs several multi-threaded simulations on the CPU and is heavily influenced by memory controller performance. The Redmi Note 4 handles this workload especially well, effectively leveraging its 10 CPU cores to pull away from the Redmi Note 3 Pro and the other phones in the second and third subtests that each add additional simulation threads.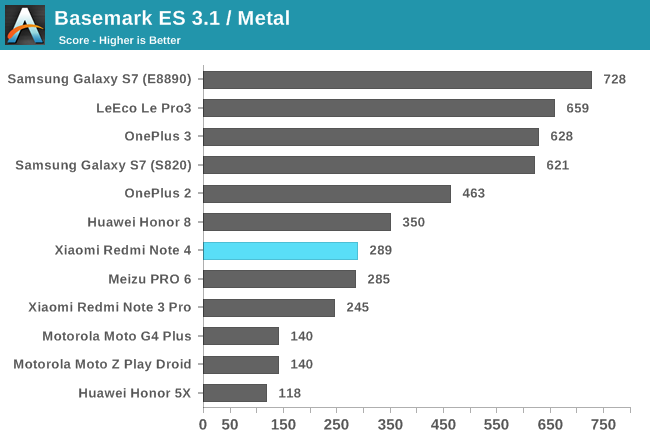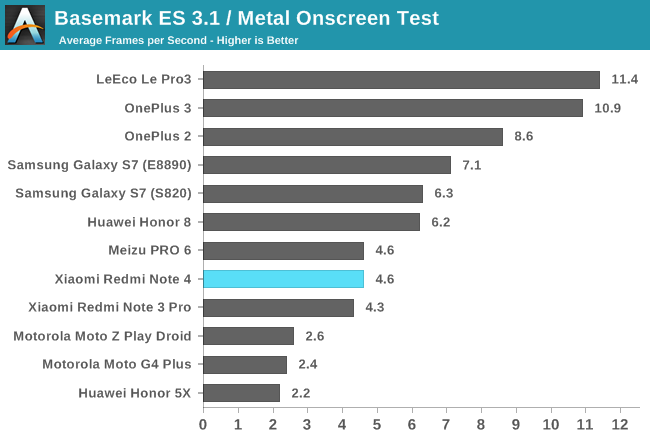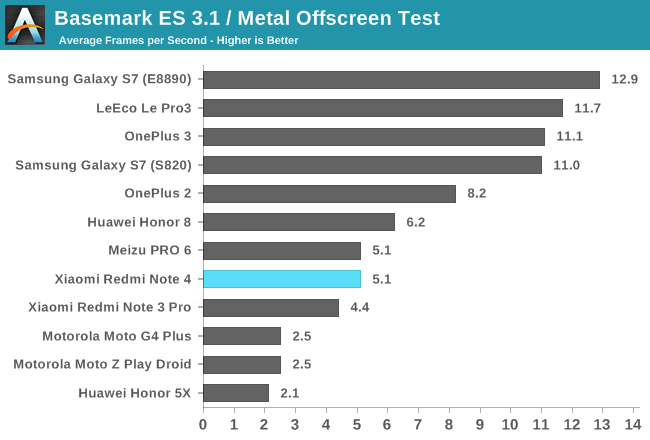 As its name implies, the Basemark ES 3.1 simulation uses OpenGL ES 3.1 on Android. It's a demanding test that uses a number of post-processing, particle, and lighting effects, but does not include tessellation like GFXBench 4.0 Car Chase.
While Qualcomm's Adreno GPUs generally provide better ALU performance than ARM's Mali GPUs at the same price tier, we've consistently seen Mali pull ahead of Adreno in Basemark ES 3.1. In the previous tests, the Redmi Note 4 performed the same as or a little behind the Redmi Note 3 Pro and its Adreno 510 GPU, but here the Note 4 pulls ahead by 7% in the onscreen test.
Most people who list gaming as a priority are probably willing to pay a little extra for a more performant GPU. For phones below the $200 USD mark, like the Redmi Note 4, price/area and power are the motivating criteria. It's no surprise then that the peak GPU performance of Xiaomi's latest Note falls well below the numbers from mid-range phones and even flagships from a couple years ago like Samsung's Galaxy S6; however, its performance is actually quite good compared to the phones it's competing with in its price bracket. It also supports the latest graphics APIs and features, including tessellation, and is still capable of playing the majority of games currently available with acceptable frame rates. There are occasional stutters, however, so it would be nice to see a higher peak GPU frequency to boost performance when needed, but I suspect it's being limited by the Helio X20's 20nm planar process.