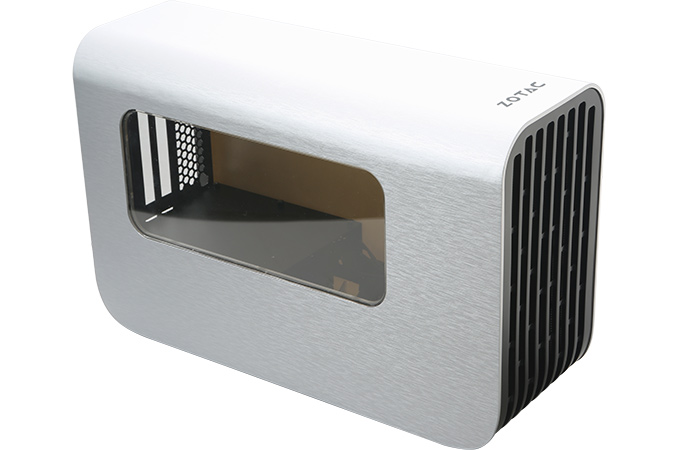 ZOTAC plans to demonstrate a prototype of its external GPU enclosure at CES this week. The eGFX chassis from ZOTAC will target notebooks, AIO and SFF PCs with Thunderbolt 3 interface, will integrate a 400 W power supply and provide additional USB ports. The device will hit the market several months from now and its final specifications are still to be determined.
ZOTAC is the sixth company to announce an eGFX enclosure with Thunderbolt 3 interface, so the market of such devices seems to be getting crowded (and we expect several more companies to introduce their eGFX solutions too). Apart from ultra-thin laptops with a TB3 port (and support of eGFX through BIOS and TB3 firmware), the usual target market for this kind of devices, ZOTAC is going to position its external GPU chassis as a solution to upgrade its upcoming SFF ZBOX PCs featuring Thunderbolt 3 interface with high-end external graphics cards.
At present, ZOTAC's external graphics dock (the company does not have a brand for this product just yet, so it uses a neutral name for now) is still in development, which is why the manufacturer shares only the basic details about this device. Just like competing eGFX boxes, ZOTAC's chassis will feature one Thunderbolt 3 port (40 Gbps) outside and one PCIe x16 electrical slot inside (operating in PCIe x4 mode, of course). As for power, it will integrate a 400 W PSU in a standard form-factor (it is unclear whether we are dealing with a shortened ATX or an SFX PSU here) that will power the video card inside. As Thunderbolt 3 can transfer up to 100 W of power, the same PSU could also power a notebook or even a miniature PC. The enclosure looks spacy enough for additional fans, but ZOTAC does not say how many of them will be pre-installed in the final product. In any case, a 400 W PSU and an additional cooler are going to provide certain potential for GPU overclocking for those who need it.
ZOTAC eGFX Chassis Preliminary Specifications
Max Video Card Size
Double-Wide, 12.2" Long
(312 × 170 × 44 mm)
Max Video Card Power
over 300 W
Connectivity
1 × Thunderbolt 3 (~40 Gbps via active cable)
Chassis Size
Unknown for now, but enough to accomodate a FLFH graphics card
Internal PSU
400 W (80 Plus Gold?)
Cooling
Integrated fans
GPU cooling system
Extras
3 × USB 3.0 ports
1 × USB 3.0 port with Quick Charge
System Requirements
Thunderbolt 3 eGFX Certified PC
Thunderbolt 3 w/Active Cable (included)
Windows 10
Compatible Graphics Cads
AMD Radeon RX-series and later
NVIDIA GeForce GTX 10-series and later
Shipping Date
Q2 2017
Price
Unknown
Since many ultra-thin notebooks as well as miniature PCs do not have a lot of spare USB 3.0 ports, ZOTAC's dock will offer four additional USB 3.0 headers (with one port supporting Quick Charge 3.0). For now, ZOTAC's dock does not support internal SATA connector for an extra 2.5" storage device (which might be needed to store games, as many PCs do not have capacious SSDs), but remember that the eGFX chassis is still in development.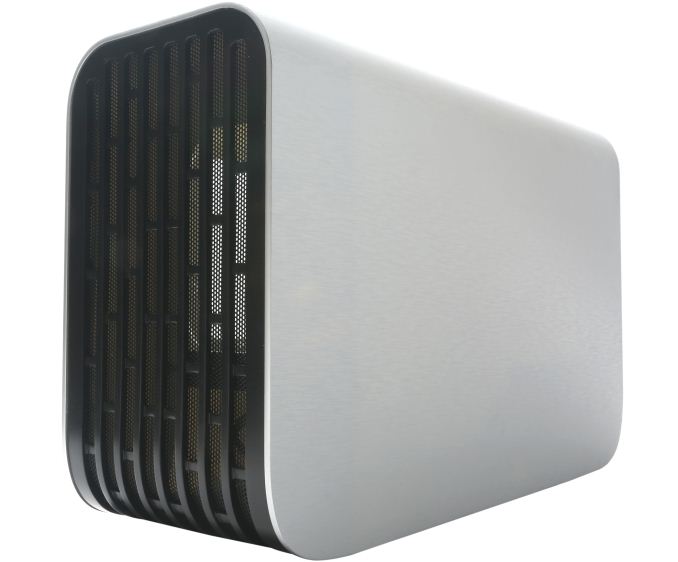 At CES, ZOTAC plans to demonstrate its external graphics dock in action, therefore, things like electronics and firmware of the product are ready and everything works. The final product may be a little bit different than the one showcased at the trade show, but not radically (it may get LED lighting, grill instead of glass on the side, etc.).
Comparison of Thunderbolt 3 eGFX Chassis
ASUS ROG XG Station 2
AKiTiO
Node
PowerColor
Devil Box
Razer
Core
ZOTAC
eGFX Dock
Chassis Dimensions
Length
45.6 cm
17.95 in
42.8 cm
16.85 in
40 cm
15.748 in
34 cm
13.38 in
unknown
Height
27.8 cm
10.94 in
22.7 cm
8.94 in
24.2 cm
9.52 in
21.84 cm
8.6 in
Width
15.8 cm
6.22 in
14.5 cm
5.71 in
17.2 cm
6.77 in
10.5 cm
4.13 in
Max Dimension of Compatible Graphics Card
Length
31.2 cm
12.2 in
Height
(PCB+Cables)
over 14 cm
over 5.51"
17 cm
6.7 in
14 cm
5.51 in
15.2 cm
5.98 in
14 cm (?)
5.51 in (?)
Width
4.4 cm
1.73 in
5
1.96 in
4.4 cm
1.73 in
4.4 cm
1.73 in
Maximum GPU Power
500 W (?)
300 W (?)
375 W
300+ W (?)
PSU
Wattage
600 W
400 W
500 W
400 W
Form-Factor
internal proprietary
SFX
internal proprietary
internal
Cooling Fans (mm)
3 × 80
120
unknown
3 × 80
present
Connectivity
Thunderbolt
1 × TB3
1 × TB3
1 × TB3
Ethernet
1 × GbE
-
1 × GbE
-
USB
4 × USB 3.0
1 × USB-B
-
4 × USB 3.0
4 × USB 3.0
SATA
1×SATA 6Gb/s
-
1×SATA 6Gb/s
-
DisplayPort
-
-
-
Availability
1/2017
12/2016
10/2016
4/2016
Q2 2017
Price
$?
$299
$379
$499
$?
At present, ZOTAC's eGFX chassis is a work in progress and at least some of its specifications have not been finalized, which is why the company cannot announce its pricing. Right now, the manufacturer targets Q2 as the launch timeframe, so, we will have to wait a little bit for both the final specs and MSPR.
Related Reading:
Source: ZOTAC