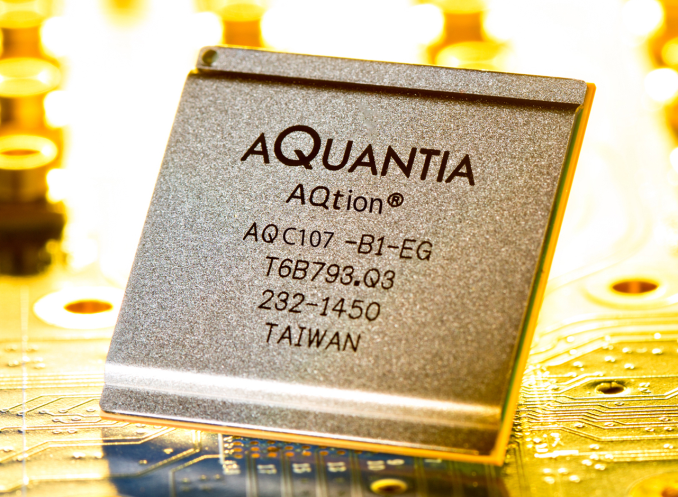 Frequent readers of AnandTech will have recognized that our coverage of higher speed network interfaces over copper, particularly 10G, for the home and business has increased recently. This is perhaps no surprise: 1 Gbit speeds for wired networking have been the norm for fifteen years on consumer level products, but there are certainly some users that require faster network availability in their home/business due to the increased number of devices and size of content, particularly video content, that has exploded this decade.
Arguments aside about external network availability and infrastructure, streaming inside the home or in the office typically comes down to a couple of key factors – the size of the networking backbone and the capability of each device connected to it. For consumer infrastructure that stays on copper, 1Gbit or teamed connections has been the limit for long distance Cat 5a/Cat 6 cabling, which is fairly cheap, and some solutions have moved to the more expensive 10GBase-T solutions which are power hungry, more enterprise focused and simultaneously a lot more expensive by at least an order of magnitude. 10GBase-T also requires Cat 7 cabling for any serious distance requirements.
Back at the Supercomputing 2015 show, there were several talks about the utility of 2.5G and 5G copper networks. These discussions were primarily focused in the data-center and high-performance categories rather than the consumer, and at the time I commented that it was likely where these standards were to stay as it would require a significant step up to drive a 2.5x/5x adoption for the consumer over a 10x adoption. It was expected that the cost of 10G would start to come down, but over 2016 it has remained consistent, much to the chagrin of enthusiasts.
At the time in 2015, the 2.5G/5G standards were not yet ratified by IEEE. There were chips in the market, solely from Aquantia, for enterprise configurations that were happy to go with an evolving standard for their solution. From September 2016 this changed, and the standards have been ratified with Aquantia, Intel, Cisco and others all involved in the specification. Aquantia's earlier generation silicon adhered to the standard, and has been deployed in a number of enterprise backbone deployments to the tune of 5M ports a year. Today's announcement surrounds the launch of two new controllers based on the multi-gigabit standards aimed at more consumer level solutions – specifically 'client connectivity in enterprise, gaming and SMB applications'.
The chips are small, 11x7mm, and use Aquantia's expertise in both MAC/PHY management to produce the AQtion brand (as in, 'Action'), to complement the AQrate ('accurate') currently in the ecosystem. The two AQtion controllers are single channel, single port solutions and differ in their speed support:
AQC107: 100M/1G/2.5G/5G/10G
AQC108: 100M/1G/2.5G/5G
The AQC107 will support 10GBase-T on Cat 6 copper cables, adhering to the 8 02.3an standard, although at a different set of distance limitations. Both chips are targeting a large market of motherboards, routers, office PCs, switches, routers, dongles and anything that a consumer or small/medium business might purchase. This includes add-in PCIe cards. Both chips will support up to PCIe 3.0 x4 connectivity, going down to PCIe 2.0 x1 as required (peak rates will be limited in this mode, obviously).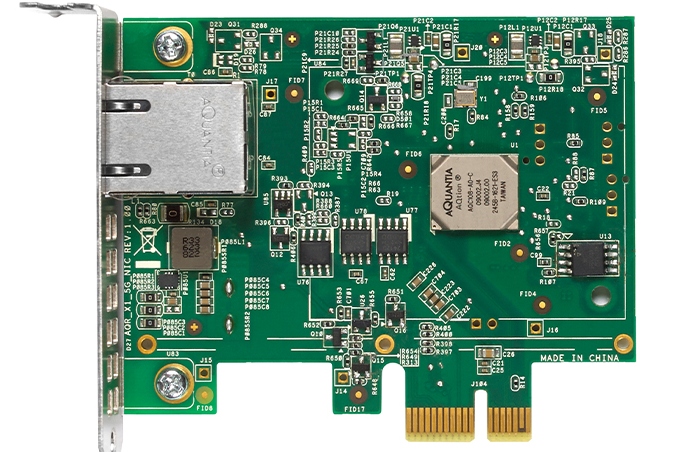 On price comparisons to current gigabit solutions, Aquantia was unwilling to release the information given that individual contracts will govern the price but they were willing to say that a number of partners are already in production of their hardware. Aquantia wanted to make it clear that they will leave it up to their partners to market and promote the feature set of the controller. This will become important, especially as the motherboard PC networking controller market has a number of options.
Currently the big players are Intel and Realtek, using the I219-V/LM and RTL8111E/F families respectively. Certain versions of the controllers have more management functions, or prioritize some capabilities over the others, and key defining elements are both cost and consumer requests (distributors or clients). Rivet Networks is also a significant player with their Killer brand of networking ICs, focusing primarily on the gaming crowd with controller specific QoS features that are promoted to gamers and prosumers, and used extensively with MSI laptops and MSI/Gigabyte motherboards. Technically Realtek has the Dragon brand here, although we've only seen them on one generation of ECS motherboards so far. It's important to note that only the Killer ICs come with any form of default controller software aimed at consumers for QoS and traffic shaping; Intel has management software at a more admin level. We asked Aquantia about additional consumer software, and was told that currently none is bundled but they are aware of the current market.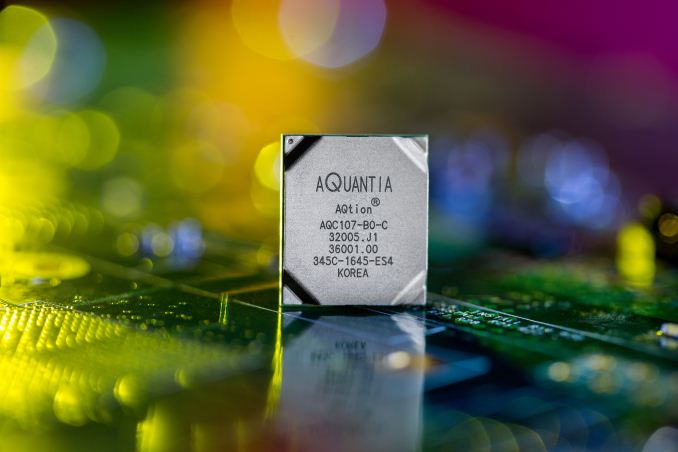 For now, the AQtion 2.5G/5G controllers coming to market look to be a premium component, destined for high-end notebooks/PCs, and if the pricing is right, more expansive than the current array of 10G integrated options. One of the issues Aquantia will have, which they also acknowledge, is the switch problem that currently stops 10G being more widespread – the lack of consumer grade and consumer budget level switches. We were told that there are some enterprise models of 2.5G/5G switches currently for more backbone type of work, and it will be up to Aquantia's partners to spot opportunities in the consumer market. From a personal perspective, the switch side of the equation will be the slowest to change and be a defining aspect for the widespread adoption of this technology. We've seen this with 10G, or the fact that the Killer gaming NICs do not have corresponding switches/routers to assist in a number of features that might become irrelevant in a general network. Publicly Aquantia isn't stating which switch developers they are working with, and as before, leaving those companies to decide/announce their product lines, but I think the switch aspect will be more important to watch over 2017.
On performance metrics, Aquantia have told us that the AQ107 can achieve 9.5 Gbps in each direction in the 10G mode with a CPU utilization of 12-20%, and in 5G mode it can do 4.6 Gbps in each direction with 6-14% CPU use. Due to the higher clock rate of the controller, in 1G mode the controller is quoted as having has lower latency than standard 1G controllers. The AQC107, in 5G mode, will have a typical power consumption around 3W when in use.
We were told that the chips support Wake-on-LAN and Energy Efficient Ethernet standards for power saving (wake-up in the microsecond range), as well as various offloads for reducing CPU use (LSO, LRO, header checksum, receive side scaling). QoS features allow for 32 queues/traffic in each direction, as well as rate shaping capabilities. Drivers will be available for all major flavors of Windows (7 to 10, 32/64-bit), Linux and macOS.
Aquantia stated that they are using their deep contacts at TSMC and GloFo for their product range, but stopped short of stating which process or which node they are using. Behind the scenes we have already have a sniff of upcoming products using Aquantia's solution that are due to be announced over the next few months.
Source: Aquantia