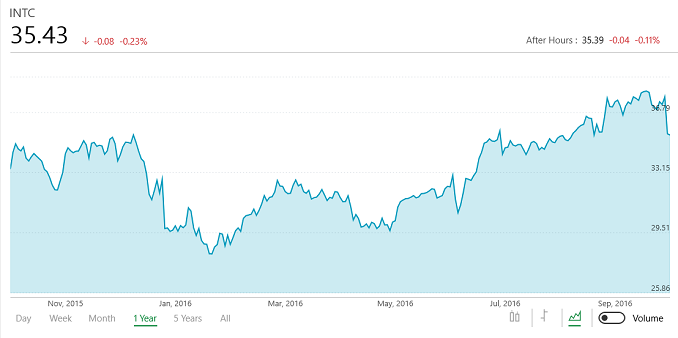 Earlier this week, Intel announced their earnings for the third quarter of their 2016 fiscal year, and the company achieved new records across their business lines, resulting in a record quarterly revenue of $15.8 billion USD, up 9% compared to Q3 2015. Intel achieved margins of 63.3%, up 0.3% year-over-year, and their operating income increased 6% to $4.5 billion. Net income for the quarter was $3.4 billion, up 9%, and earnings per share came in at $0.69.
Intel Q3 2016 Financial Results (GAAP)
Q3'2016
Q2'2016
Q3'2015
Revenue
$15.8B
$13.5B
$14.5B
Operating Income
$4.5B
$1.3B
$4.2B
Net Income
$3.4B
$1.3B
$3.1B
Gross Margin
63.3%
58.9%
63.0%
Client Computing Group Revenue
$8.9B
+18.7%
+5.7%
Data Center Group Revenue
$4.5B
+12.5%
+9.9%
Internet of Things Revenue
$689M
+20.4%
+18.6%
Non-Volatile Memory Solutions Group
$649M
+17.1%
-0.9%
Intel Security Group
$537M
flat
+6.1%
Programmable Solutions Group
$465M
-8.6%
-
All Other Revenue
$44M
+10%
-42.8%
Intel also announced Non-GAAP results, which exclude certain things like acquisition-related adjustments, deferred revenue write-down, restructuring, and more. For a full list, please check out their lengthy explanation on their earnings report. On a Non-GAAP basis, revenue was the same $15.8 billion, margins were up 1.3% to 64.8%, and operating income was up 18% to $5.1 billion. Net income was up 21% to $3.9 billion, and earnings per share were up 21% to $0.80.
Intel's internal divisions are broken down into six groups. The Client Computing Group, which is PCs, tablets, phones, and wired and wireless communication. The Data Center Group focuses on enterprise and the cloud. Internet of Things is retail, transportation, industrial, building, and home use electronics. Non-Volatile Memory Solutions is mostly Intel's SSD efforts. Intel Security Group is security software (McAfee) and new for fiscal 2016 is the Programmable Solutions Group, formed after the acquisition of Altera, and features field-programmable gate arrays and related products.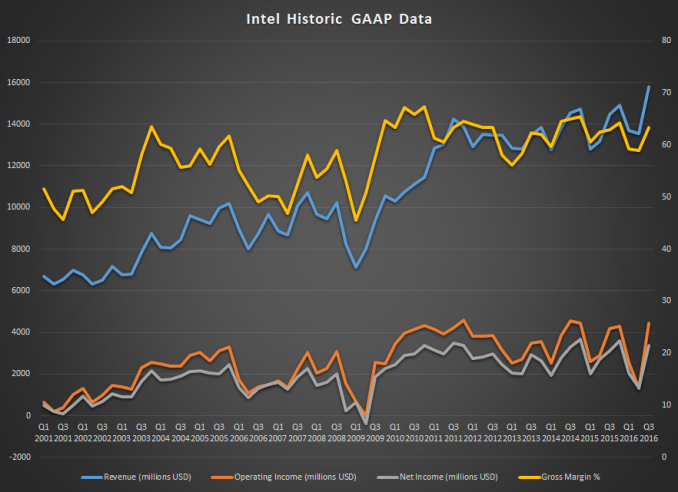 For Q3, the Client Computing Group had revenues of $8.892 billion, which is up from $8.506 billion a year ago. Unit volumes were actually down 4% compared to the same point a year ago, and volumes are down 11% for the year compared to the first three quarters of 2015, but average selling prices (ASP) continue to increase. For this quarter ASP was up 6% compared to a year ago, and is up 12% for the year so far. Breaking it down a bit further, Intel has had 4% growth in notebook platform sales for this quarter (year-over-year) with ASP up 3% in the notebook segment. Desktops dropped 6% in volume, but have kept the same average selling price, and "tablet platform volumes decreased" which is a non-numerical way to say that Intel is getting out of the dedicated tablet market altogether.
The Data Center Group had revenues of $4.542 billion this quarter, up from $4.140 billion a year ago. Unit volumes increased 12% this quarter compared to Q3 2015, and for the year unit volumes are up 9%. Average selling price has decreased though, down 3% this quarter, and down 2% for the year so far.
Intel doesn't break out the numbers as specifically for the remaining groups, but Non-Volatile Memory Solutions had revenue that was more or less flat at $649 million for the quarter, compared to $655 million a year ago. Internet of Things continues to grow, up to $689 million in revenue, compared to $581 million in Q3 2015. The Intel Security Group increased revenue from $506 million to $537 million, and the Programmable Solutions Group had revenue of $425 million, with no comparison to last year since it is a newly acquired product group, but up 6% compared to Altera's numbers from last year.
Intel has made some announcements in this quarter as well. Intel started sampling Stratix 10 in this quarter, which is the only 14 nm FPGA. They also announced they will sell 51% of the Intel Security Group, and establish an independent McAfee security company with the private equity firm TPG. Intel is also shipping "thousands of samples" of their new 3D XPoint to customers, and should have it qualified by the end of this quarter. Speaking of qualified, the Intel 7480 modem was qualified for AT&T this quarter, which is about a year after the 7360 modem got qualified.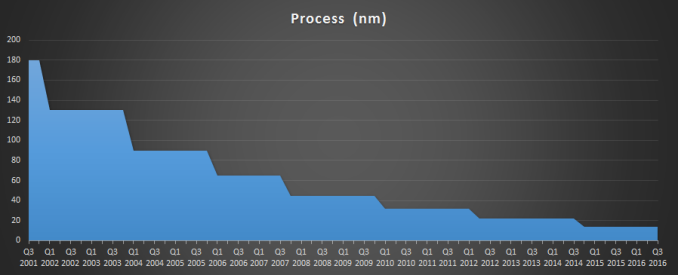 Looking forward, Intel is forecasting revenues for Q4 at $15.7 billion, plus or minus $500 million, and margins of 61%.
Intel has continued to diversify its portfolio, and has been building out other divisions to assist with growth while the PC market continues to decline, and while the Client Computing Group continues to be their largest division, they have had strong growth in other areas like the Data Center Group which had record revenue this quarter, and IoT which continues to grow quickly.
Source: Intel Investor Relations