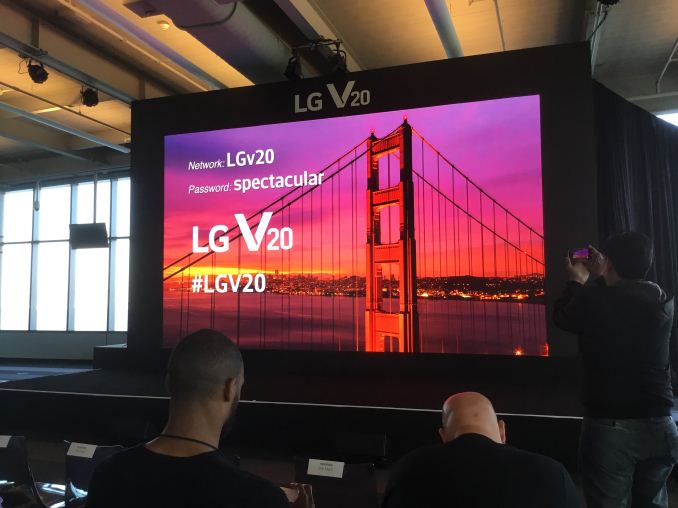 08:51PM EDT - It's currently 10 minutes before 6 PM here in San Francisco and we're currently waiting for the LG V20 event to start.
08:53PM EDT - This is going to be experimenting with iPad Pro 12.9 as the sole liveblog tool for photos and text. This isn't necessarily a huge load but improving the value of tablets means covering use cases like this that would otherwise need a dSLR, Lightroom, miniUSB cable, and a lot of finesse.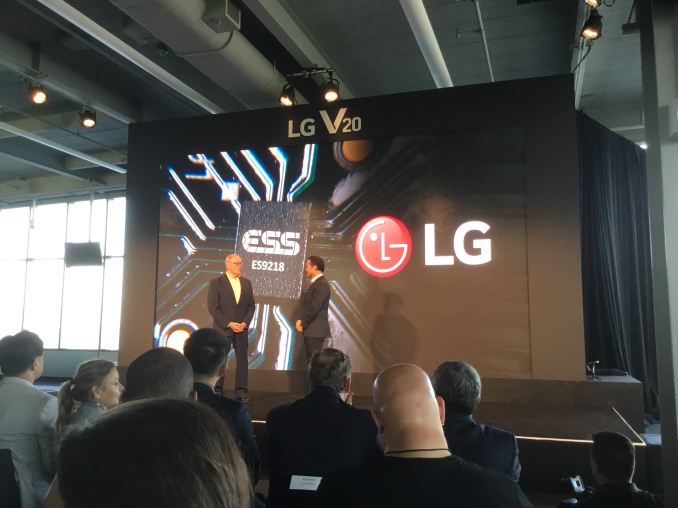 09:01PM EDT - Here we go.
09:01PM EDT - We're currently being treated to Joseph Gordon Levitt playing drums on the subway in public for some reason?
09:01PM EDT - Frank Lee takes the stage.
09:02PM EDT - Discussing LG's focus on innovation for a better life
09:03PM EDT - "Built for storytellers"
09:04PM EDT - The dual display remains but the dual front facing camera is gone. Rear facing is dual camera instead.
09:06PM EDT - Improved video recording stabilization
09:06PM EDT - High quality lossless audio capture, possibly FLAC audio for video similar to HTC 10
09:06PM EDT - Quad, 32 bit DAC as previously mentioned in pre-launch marketing
09:07PM EDT - Design is minimal alu unibody with thin bezels.
09:08PM EDT - Silicon-based polycarbonate is on the top and bottom which looks like RF windows and improved drop resistance
09:08PM EDT - MIL-STD 810G transit drop test passed but don't drop on the glass
09:10PM EDT - Android Nougat includes Vulkan and other improvements across the board, not unique to LG V20 but should be first phone to ship with Nougat
09:10PM EDT - In app search with Nougat as well on the V20
09:10PM EDT - I have to say taking iPad photos is still very obnoxious
09:11PM EDT - Interesting to see LG taking this seriously
09:12PM EDT - Images shifted frame by frame using live sensor capture and also extra post-video processing
09:12PM EDT - Mike Finley on the stage from QCOM to talk about this technology
09:13PM EDT - Other technologies from the 820 SoC utilized by V20 includes 4K video capture and playback
09:14PM EDT - High quality audio on 3.5mm jack and speaker as well, not sure whether the speaker is yet but looks to be downward firing
09:15PM EDT - V20 is future ready with modem OTA updates to improve throughput once operators deploy new tech
09:16PM EDT - Manual Video continues to appear in the V20. ISO, shutter speed, white balance, focus, sound direction capture, etc. Also photo capture during video recording
09:17PM EDT - Apologies, both front and rear cameras are still dual camera. 8 MP rear camera for wide angle 135 degree. Front camera is 5MP 120 degree FOV.
09:17PM EDT - Auto shot on FFC used to detect faces and gesture to trigger a shutter.
09:18PM EDT - Downward firing speaker, 3 mics with wide dynamic range to avoid saturation in loud environments like concert. Can record high quality video and control sound in video recordings.
09:19PM EDT - Partnered with ESS to get 32-bit DAC for V20.
09:19PM EDT - ES9218 design win?
09:21PM EDT - Looking at the liveblog it looks like there's an issue with image uploads. I'll have to see whether I can resolve this later.
09:21PM EDT - 130 dB SNR in this DAC which should eliminate hiss
09:22PM EDT - Headphone amplifier has double voltage of anything else on the market so you don't need an external amp
09:24PM EDT - 5.7" QHD display
09:24PM EDT - B&O headphones included in US as limited time offer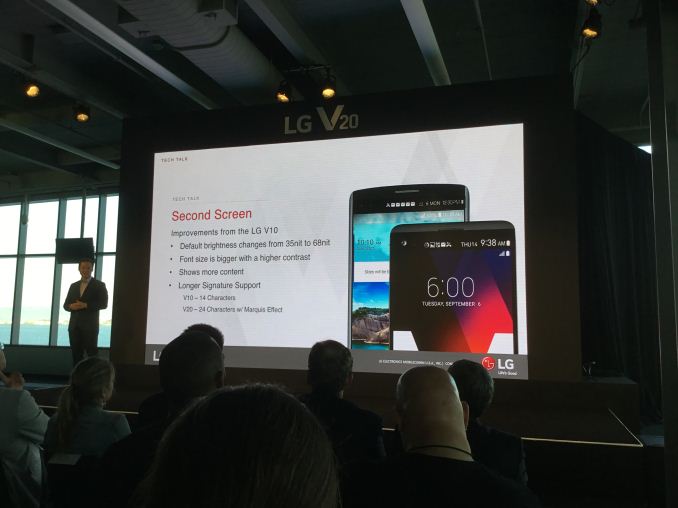 09:25PM EDT - LG UX 5.0+
09:25PM EDT - Removable 3200 mAh battery and USB type C
09:26PM EDT - USB C to A adapter and QC 3.0 charger
09:26PM EDT - Up to 64GB of internal memory internally
09:26PM EDT - Fingerprint scanner for Android Pay and other security such as Content Lock
09:27PM EDT - Available through AT&T, TMOUS, US Cellular, Verizon, and Sprint
09:27PM EDT - Titan and SIlver
09:27PM EDT - That ends this liveblog. Look for hands-on soon.