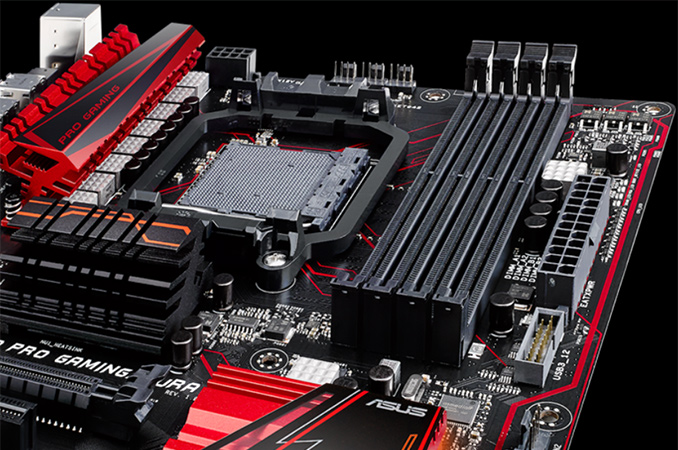 ASUS has introduced its latest motherboard for AMD FX microprocessors that brings up-to-date features to the platform. The ASUS 970 Pro Gaming/Aura belongs to a new class of AMD FX (socket AM3+) mainboards that support USB 3.1 peripherals as well as M.2 solid-state drives. In addition, the platform is also equipped with various gaming-oriented features available on the latest platforms from the company.
The ASUS 970 Pro Gaming/Aura is based on the AMD 970 + SB950 chipset, which is not AMD's top-of-the-range core-logic for the FX processors, but which is pretty affordable for mainstream motherboards. The AMD 970 did not officially support any multi-GPU technology when it was released five years ago. AMD has removed this limitation since then and modern AMD 970-based mainboards, such as the 970 Pro Gaming/Aura, can run more than one video card. The motherboard has two PCI Express slots for graphics cards operating in PCIe 2.0 x8 mode and officially supporting both AMD CrossFire and NVIDIA SLI. In addition, the new mainboard features two PCIe 2.0 x1 and two PCI slots for add-in cards.
AMD 900 Series Chipsets
990FX + SB950
990X + SB950
970 + SB950
Code Name
RD990
RD980
RX980
Released
Q2 2011
Q2 2011
Q2 2011
PCIe Lanes
42 PCIe 2.0 lanes
26 PCIe 2.0 lanes
26 PCIe 2.0 lanes
CrossFire
x16 + x16
x8 + x8 + x8 + x8
x8 + x8
x16 + x4
x8 + x8 + x4
SLI
x16 + x16
x16 + x8 + x8
x8 + x8 + x8 + x8
x8 + x8
x8 + x8
NB TDP
19.6W
14W
13.6W
HyperTransport (MHz)
2600
2600
2400
SATA 6 Gb/s
6
6
6
RAID
0, 1, 5, 10
0, 1, 5, 10
0, 1, 5, 10
USB 2.0
14
14
14
PCI
Yes
Yes
Yes
SB950 TDP
6W
6W
6W
The ASUS 970 Pro Gaming/Aura supports all AMD FX processors in AM3+ form-factor with up to 125W TDP as well as their predecessors, such as the Phenom II, the Athlon II and the Sempron 100-series chips (but advised against using the 220W FX-9000 series). The new motherboard has upgraded 8-phase power delivery and similar to other ASUS designs the 970 Pro Gaming/Aura uses the company's Digi+ custom power controller. The motherboard features four memory slots and supports up to 32 GB of DDR3-2133 memory.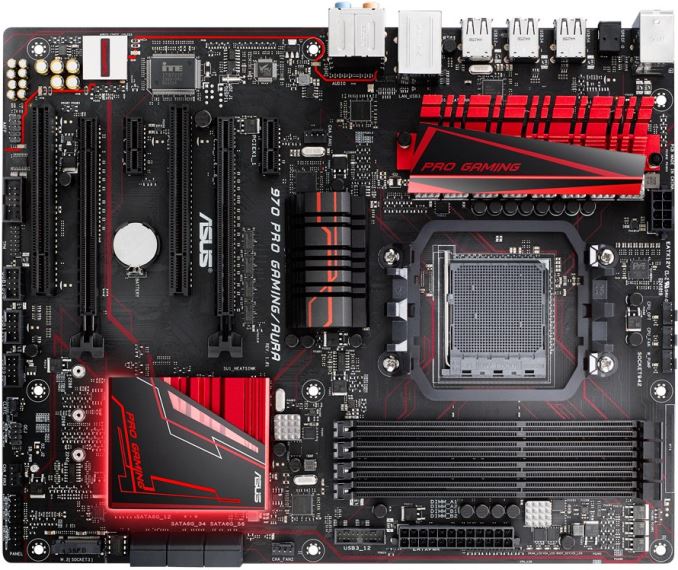 The 970 Pro Gaming/Aura comes with six SATA 6 Gb/s ports with RAID 0, 1, 5 and 10 support as well as an M.2 slot for SSDs (2242/2260/2280 form-factors are supported) that operates in PCIe 2.0 x4 mode and supports data-rates of up to 20 GT/s, making it suitable for drives such as the Samsung XP941. The UEFI/BIOS of the motherboard fully supports NVMe protocol and therefore the platform can take advantage of modern SSDs, such as Samsung 950 Pro. However it is unclear whether the M.2 slot uses PCIe lanes from the AMD970 or the SB950 controller. The platform also comes bundled with RAMcache software to speed up launches of frequently used applications.
Meanwhile for USB functionality the motherboard is equipped with ASMedia's ASM1142 USB 3.1 controller that enables two USB 3.1 type-A connectors on the rear panel. In addition, the mainboard supports two USB 3.0 ports (also using an ASMedia controller) and 14 USB 2.0 ports.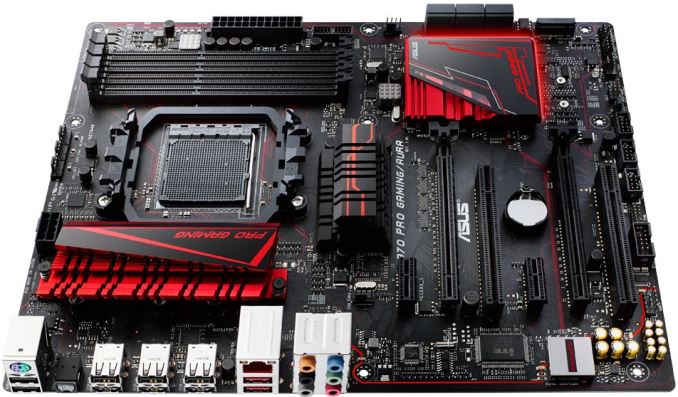 For other functionality we get Intel's I211-AT Gigabit Ethernet controller with the GameFirst software for network traffic prioritization as well as LANGuard ESD and power surge protection. Audio comes through ASUS' SupremeFX, their upgraded Realtek ALC1150 codec solution, with EM shielding, PCB separation of analog/digital signal and support for up to 300 ohms headphones.
The motherboard is designed for low-cost gaming systems, though that hasn't stopped ASUS from adding a set of overclocking features into its BIOS and the components necessary to drive it. The aim is to get a full system price that is competitive. For example, the AMD FX-8320 featuring four Piledriver modules and unlocked multiplier can be purchased for $145, which is comparable to the price of Intel's dual-core Core i3 processors. Once overclocked, the FX-8320 chip can offer rather decent performance for its price (see our results of the FX-8370E overclocked to 4.8 GHz here). The mainboard also supports AMD CrossFireX, NVIDIA SLI, as well as USB 3.1 and M.2/NVMe, which should attract attention of people seeking for the latest technologies and an easy upgrade path (at least, for graphics).
As an added flair for users that are interested, the ASUS 970 Pro Gaming/Aura also features Aura RGB LED on the south bridge, which can produce various lighting effects, such as pulsating, strobing, fading and so on. The motherboard is clearly not the first affordable platform to offer LED lighting, but ASUS just had to include the technology into the package simply because a number of competing offerings come with LEDs. They can also be switched off if needed.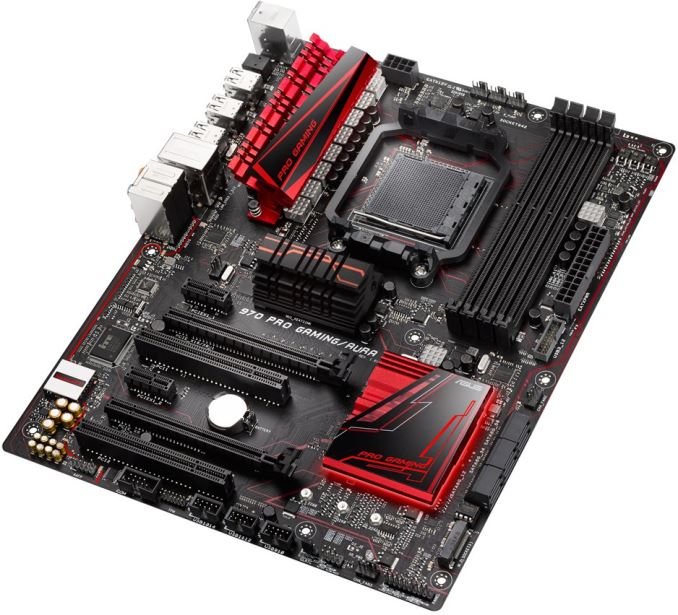 The ASUS 970 Pro Gaming/Aura has not yet reached retailers, however Newegg already has a listing up for $119.99.
Source: ASUS