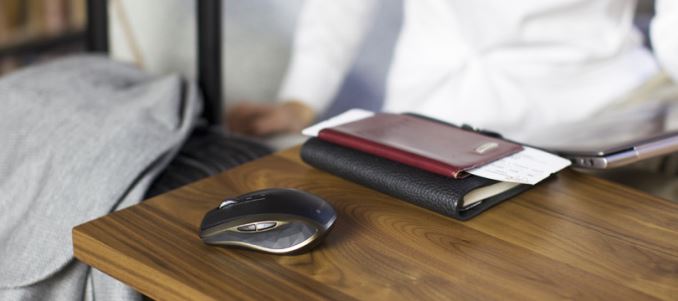 If you are like me, you prefer to use a mouse over a trackpad. Part of this stems back to being comfortable with a desktop PC, and part of it has to do with the inconsistent quality of trackpads over the years. I find myself more productive when I use a mouse, due to the increased accuracy and comfort of using one. There are likely people around who only exclusively use a trackpad, but for those of us who prefer a mouse, having a mouse makes working easier.
This brings me to the Logitech MX Anywhere 2 mouse. This is the second generation of Logitech's travel mouse to feature their DarkField Laser Tracking, and it brings quite a few changes over the original. But let's start with the basics. The MX Anywhere 2 is a right-hand travel mouse, so it is more compact than Logitech's desktop offerings. It is 61.6 mm (2.4") wide, 34.4 mm (1.4") high, and 100.3mm (3.9") in length. Being a travel mouse, weight is important, and the MX Anywhere 2 comes in at just 106 grams (3.7 oz) so it should not be a burden to bring with you.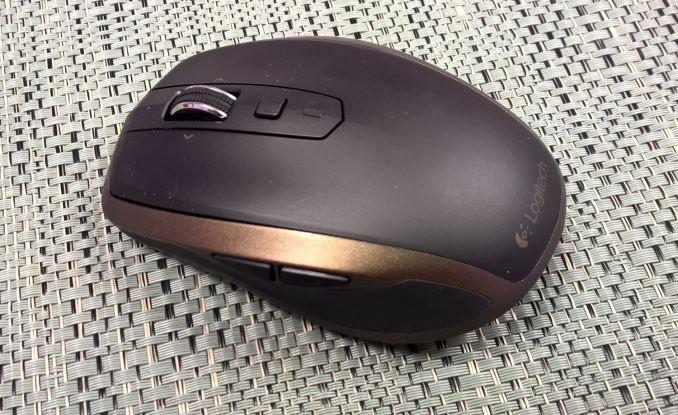 The problem is when you are travelling, you don't have much say on what the surface is you are going to be able to do your work on. Traditional optical mice can struggle to achieve any level of precision on very smooth surfaces since they use the imperfections on the surface to create a map of where they are and what direction they are moving in. Logitech's answer to this is their DarkField laser technology. When used on a normal surface, such as wood or cloth, there is plenty of texture to go on, and one laser is used to light up the surface for the sensor. The smart bit of technology is when you use the mouse on a transparent surface such as glass. A second laser is used which helps illuminate the dust particles on the surface. The transparent surface is seen as black, and the dust is reflected as a bright image, almost making it appear to look like the night sky. Dust and scratches are cast as bright against a dark field, hence the name DarkField.

DarkField Tracking (Source: Logitech Innovation Brief)
The MX Anywhere 2 mouse has some different features compared to the original Anywhere Mouse MX. The new model is much lighter. The original version was 317 grams versus just 106 grams of the new model. Logitech has moved from a AA battery powering the first generation to a rechargeable 500 mAh 5 V battery, and it is charged from a micro USB cable. Considering the ubiquity of these cables, this makes a lot of sense. Logitech says that one minute of charge will give you one hour of use, and a full charge should last up to two months with six hours of use per day. One feature that is missing is a charge indicator on the mouse itself, but you can check the charge state using the Logitech software. There's no way to do an accurate battery life test on this like we do with notebooks and smartphones, but so far I've charged the mouse when I first purchased it in October. Since then I've not charged it, and usually just left it powered on. The standby drain is very good, with the mouse lasting over two months so far on the first charge. I don't use it six hours per day, but so far it appears Logitech has not been exaggerating.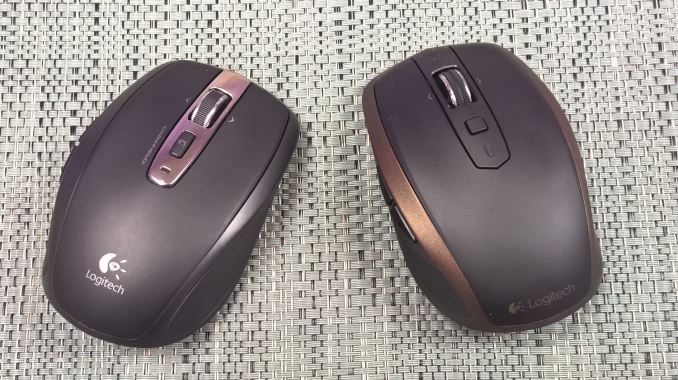 Anywhere MX (left) vs MX Anywhere 2 (right) styling
Another change over the original mouse is the on/off switch. The Anywhere Mouse MX had a great on/off switch which was actually a slide cover which protected the lasers and sensor when closed, and closing this would also turn off the mouse. The new model dispenses with that and resorts to a more traditional switch, but the new one still has a physical sliding switch which is recessed in the underside of the mouse. This should prevent accidentally turning the mouse on in your bag.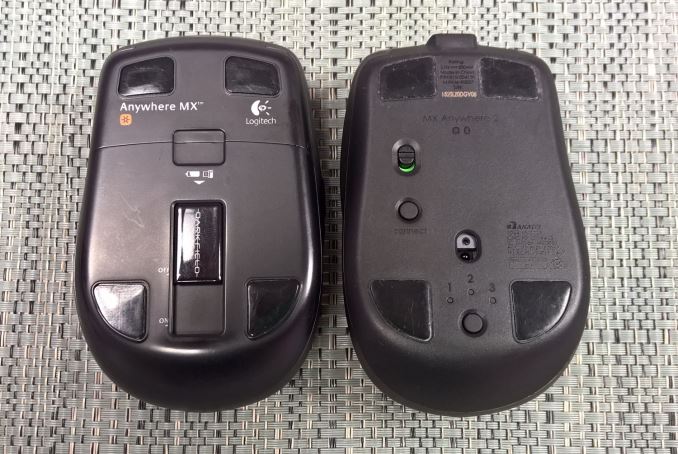 Anywhere MX (left) with sliding on/off cover plate vs MX Anywhere 2 (right) on/off slide switch
The bottom of the mouse also houses another big change. The new mouse can now be paired with up to three devices, and by Bluetooth or an included Logitech unified receiver. This removes one of the biggest issues with the original mouse which was the lack of Bluetooth support. Mobile devices often do not have a lot of extra USB ports to house the receiver 24/7 so adding in the option of Bluetooth is exactly what was needed. Pressing another button on the bottom switches the Bluetooth pairing through the three devices so you can stay paired with whatever devices you need to use this on. It also supports the Logitech unifying receiver, so you can use that if you do not have access to Bluetooth.
Other than those changes, this is definitely an evolutionary upgrade over the original Anywhere Mouse MX. The basic shape and button location has not changed, and it keeps the excellent Logitech scroll wheel which allows you to switch between a traditional stepped scrolling or an almost frictionless HyperScroll which lets you blast through spreadsheets or web pages with one flick of the finger.
So with that out of the way, let's talk about how the mouse works in the real world. The first part of this is the Logitech Options software which can be installed. It is not required, and if you don't install it you just can't customize the buttons, but Logitech has added enough here to make it worthwhile to install. The software is simple to use, and the layout is much better than older Logitech software which I found was cluttered.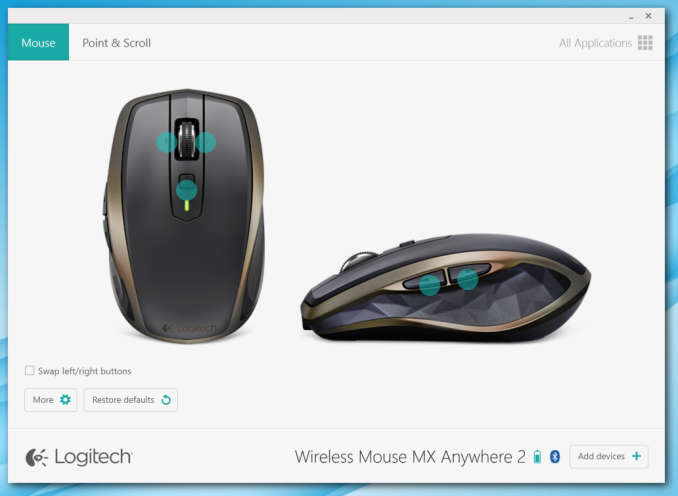 Once installed, you can customize the button layout to basically anything you can think of. One particular feature that I find handy is the ability to map key commands and macros to buttons. For instance, something I need to use a lot is Alt PrtScn and I can map that to one of the side buttons. It is very handy. You can also customize the button layout depending on what application you are in.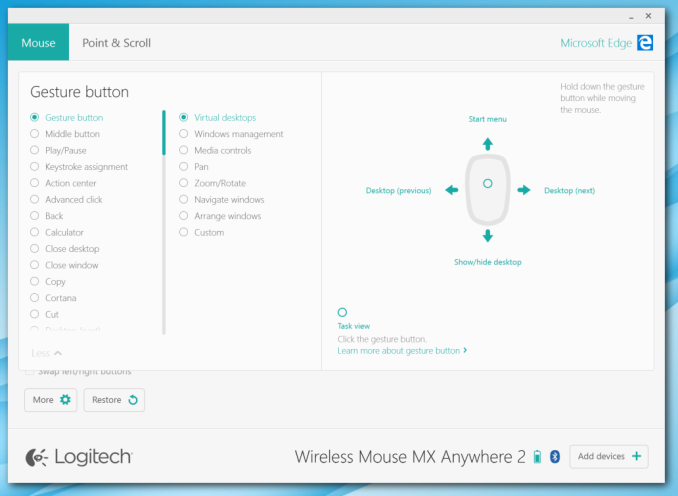 The sensor DPI can be adjusted as well. Out of the box it is set at 1000 DPI, but it can be set anywhere from 400 to 1600 DPI in increments of 200. This is not a gaming mouse, so 1600 DPI is generally plenty in my experience and I prefer closer to 1000 for office tasks anyway.
For such a small mouse, the ergonomics are pretty good, with a nice wide shape and contoured sides for your fingers to rest on. The button placement is perfect for right handed people (sorry lefties), and there is pretty low friction on most surfaces with the smooth plastic feet. The important bit though is how good is this mouse on surfaces that would normally stump an optical mouse. Logitech has been using DarkField for some time now, so I suppose it is no surprise that it has almost no issues on any surface, including glass. On a trip to NYC, the coffee table in the hotel room was glass, and I used it as my desktop with the Surface Pro 3. The Logitech MX Anywhere 2 had zero issues tracking, even on a glass surface.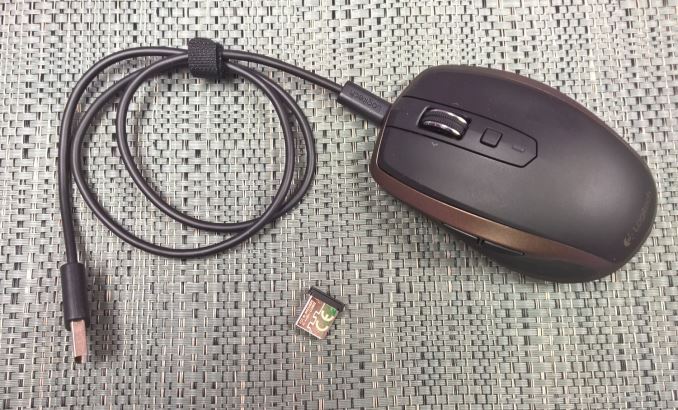 Everything in the box: Micro USB charging cable (yes you can charge and use it), mouse, receiver
I do like the new revision quite a bit, but it's too bad that Logitech has removed some of the features that were so nice on the original mouse. There is no longer a travel pouch included, which would be nice for something that needs to get chucked in a bag. The removal of the sliding door on the bottom as both a protective cover and an on/off switch is also too bad, especially with the pouch also being missed. But I think the inclusion of Bluetooth, with up to three profiles, is a net win for users. The small unifying receiver is great, but on a device like a Surface Pro 3, which has just a single USB port, occupying that port with a mouse seems a bit wasteful. As small as the receiver is, it does of course stick out of the side of the port, where as Bluetooth does not.
I have been very pleased with the Logitech MX Anywhere 2 Mouse, and if you are someone who travels, and wants to use a mouse to supplement a trackpad on a notebook, this mouse is likely the travel mouse to beat. It's small, light, and powerful, with great battery life, quick charging, and most importantly, it can be used practically anywhere.