Lenovo's ThinkPad lineup needs almost no introduction, being one of the most well known business lineups around. The T series has been around for what seems like forever, and it is the premium lined aimed at the business and enterprise segments. The lineup includes both 14 and 15-inch models, and today we have the ThinkPad T450s which is a 14-inch model. The "s" addendum designates that this is the slim version of the T450.
Lenovo calls this an Ultrabook, and although that definition has expanded over the years, the T450s is not your typical ultra-thin notebook. That is not always a bad thing either as we will see later in the review. The T series sits between the thin and light X series and the mobile workstation P series ThinkPads.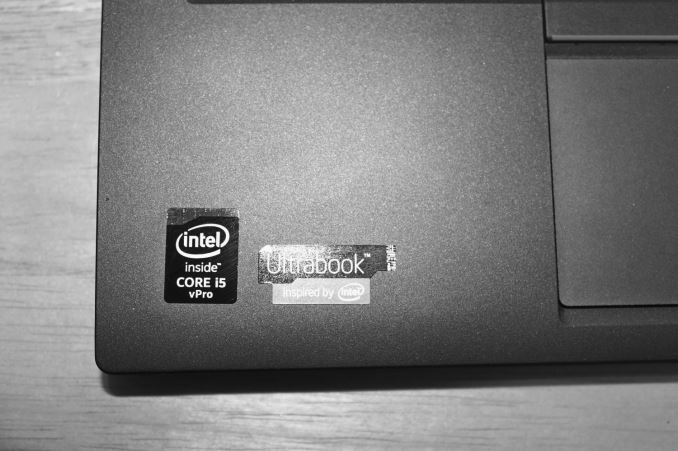 When discussing business notebooks, there are generally a few features added that are not available in your typical consumer grade notebook. These are going to be things like Smart Card readers, Intel's vPro technology, docking connectors, Ethernet connectivity and a durable chassis. Lenovo offers all of this on even their slim model T450s, which is basically as thin as it can be to still include a RJ-45 Ethernet port.
Durability is something that business wants too, since these devices are going to be used as long as they can be before replacement. Lenovo includes a very strong magnesium chassis and uses carbon fibre on the lid with glass fibre used where the radios are to limit attenuation. The keyboard is spill-resistant, and the T450s has been tested against Mil-SPEC 810G testing on things like humidity, temperature, vibration, radiation, and both mechanical and temperature shock. Durability is of course something that we can't test, but having passed these standardized tests should mean that the T450s will perform well for employees over the long haul.
Since this is classified as an Ultrabook, it should be no surprise then that it is powered by the Intel Core U series chips, and Lenovo offers the Core i5-5200U, i5-5300U, and i7-5600U models. Memory includes 4 GB of RAM soldered onto the motherboard and one DIMM slot which can handle up to 16 GB of DDR3L-1600 for a total of 20 GB available on this notebook. Display options are 1600x900, or 1920x1080 with either a matte coating or optional touch. A full list of the specifications are below.
Lenovo ThinkPad T450s
As Tested, Core i5-5300U, 8 GB RAM, 256 GB SSD, 1920x1080 IPS display with Touch
Processor
Intel Core i5-5200U (2C/4T, 2.2-2.7GHz, 3MB L3, 14nm, 15w)

Intel Core i5-5300U (2C/4T, 2.3-2.9GHz, 3MB L3, 14nm, 15w)

Intel Core i7-5600U (2C/4T, 2.6-3.2GHz, 4MB L3, 14nm, 15w)
Memory
4GB onboard, 1 DIMM, 20GB max DDR3L-1600Mhz
Graphics
Intel HD 5500 (24 EU, 300-900 MHz on i5, 300-950 Mhz on i7)
Display
14.0" 1600x900 TN

Optional 1920x1080 IPS
Optional Mult-touch
Storage
500GB to 1TB HDD
128GB SATA SSD
180GB or 256GB SATA SSD with Opal 2 Support
512GB SSD SATA
Networking
Intel Dual Band Wireless-AC 7265 (802.11ac, 2x2:2, 866Mpbs Max, 2.4 and 5GHz)
Intel Gigabit Ethernet I218-LM
Optional Sierra Wireless EM7345 LTE
Audio
Stereo Speakers (downfiring) 1 watt x 2
Dual Array Microphone
Battery
23 Wh Internal Battery
Power Bridge Battery Options:
23 Wh 3 Cell
48 Wh 6 Cell
72 Wh 6 Cell
Up to 95 Wh total
45 Watt charger
Right Side
USB 3.0
VGA
Headset Jack
SD Card Reader
Ethernet
Left Side
2 USB 3.0 Ports
Mini-DisplayPort
Smart Card Reader Slot
Power Connector
Dimensions
331 x 226 x 21.1mm (13.03 x 8.90 x 0.83 inches)
Weight
1.59 kg (3.5 lbs) with 46Wh Battery
Extras
720p Webcam
Backlit Spill-Resistant Keyboard
Fingerprint Reader
Pricing
$950 base
$2200 Max (Core i7, 20GB RAM, 512GB SSD, 1080p w/Touch, LTE Modem)
As Tested: $1500
The ThinkPad T450s is not yet offered with Windows 10, so this review was done with Windows 8.1 Pro installed. Lenovo has some interesting technology available in the T450s including their Power Bridge technology. This is a very smart setup and includes a 23 Wh battery integrated into the front of the laptop, and a removable battery at the rear. The default option is another 23 Wh battery, but Lenovo also offers both 48 Wh and 72 Wh battery options for the rear model as well, so the T450s can be used with a massive 95 Wh of capacity in one charge. The coolest part of the Power Bridge though is that the rear battery is discharged first, and it can be swapped out with the laptop still running so if you have a couple of extra batteries you would be able to work offline for a very long time.
Storage offerings start with mechanical drives, but you can of course opt for solid state storage as well which is always going to be a better experience. Lenovo also offers Opal2 offerings which is going to be popular with a lot of businesses.
The Thinkpad T450s is aimed right at the heart of business, with plenty of features that businesses look for, a well built chassis, and MIL-Spec tested components. Though it is not as thin and light as a lot of Ultrabooks, including Lenovo's own ThinkPad X1 Carbon, there is a lot of laptop here which should be interesting to anyone looking for a 14-inch laptop. Let's start with the design.