Today Intel announced their second quarter earnings, which came in at $13.2 billion. This is down 5% from Q2 2014, but was in-line with Intel's forecast. It actually beat many investors' predictions, with some calling for Q2 to be closer to $13 billion. The trend down is mostly due to declining PC sales now that the XP refresh cycle is complete. Intel also had quite a bit of news to announce which we will get to in a moment.
Taking a look at the comprehensive numbers, Intel lost a couple of points on gross margin as compared to Q2 2014, with the most recent quarter coming in at 62.5%. Operating income was down 25% at $2.9 billion, but net income was only down 3% at $2.7 billion. Earnings per share came in at $0.55 which is flat year-over-year.
Investors received $1.1 billion in dividends last quarter, and Intel used $697 million to repurchase 22 million outstanding shares.
Intel Q1 2015 Financial Results (GAAP)
Q2'2015
Q1'2015
Q2'2014
Revenue
$13.2B
$12.8B
$13.8B
Operating Income
$2.9B
$2.6B
$3.8B
Net Income
$2.7B
$2.0B
$2.8B
Gross Margin
62.5%
60.5%
64.5%
Client Computing Group Revenue
$7.5B
+2%
-14%
Data Center Group Revenue
$3.9B
+5%
+10%
Internet of Things Revenue
$559M
+5%
+4%
Software and Services Revenue
$534M
flat
-3%
All Other Revenue
$715M
+16%
+38%
Now that Intel has merged their mobile group into the Client Computing Group, we have a slightly less clear picture of what all of their products are doing, but it should help push their mobile efforts forward, which is something we saw with the Atom x7 launch, which moved Atom to 14nm before Intel's quad-core desktop parts. It may be repeated at 10nm, but for that we will have to wait until 2017 to know for sure. For the quarter, the Client Computing Group had revenue of $7.5 billion, which is up 2% over Q1 2015 but down 14% over Q2 2014. As I already alluded to, a big part of that is declining PC sales. The decline was stronger than Intel forecasted and inventory levels did not come down as quickly as expected. This will have a lingering effect as OEMs purchase less hardware moving forward until they are able to move through what they have already purchased.
During the quarter, Atom x3, x5, and x7 were announced and are rolling out. We've already had a chance to see the x7 in the Microsoft Surface 3 and the rest of the Cherry Trail stack is ramping up with the SoFIA 3G and 3G-R products. The 4G version of x3, SoFIA LTE, is sampling now for network certification and is expected to ship in volume in the first half of 2016. The CAT-10 7360 LTE modem is on track for shipment this year to customers.
Looking forward to Q3, Intel has announced that the sixth generation of Core Products, code named Skylake, has been qualified for production which means that it should be ramped up for launch in the next while. This is going to be the 14nm tock, and will introduce a new architecture on their 14nm FinFET platform. This, as well as the Windows 10 launch, may help soften the PC sales decline.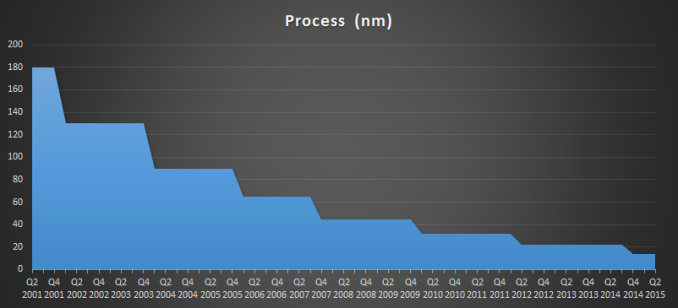 Intel's Data Center Group had revenue of $3.9 billion, which is up 5% over Q1 2015 and 10% year-over-year. Operating income for this group was $1.8 billion, which surpassed the $1.6 billion of the Client group. Intel expects their server infrastructure to continue to grow for the rest of the fiscal year. Though not as stimulating as discussion of Skylake, Intel's growth in this area has been on the back of their high IPC Core lineup and as Johan De Gelas has shown, it's going to be difficult for someone to overthrow Intel in this arena at the moment.
Internet of Things is always a hot topic, and this group had revenue of $559 million, which was up 5% over Q1 2015 and 10% over Q2 2014, so they have seen some small growth in this area. If their plans succeed, they should have a larger piece of this growing pie going forward. At the beginning of June, Intel announced that they are purchasing FPGA specialist Altera. CEO Brian Krzanich discussed this on the earnings call, and Intel sees this as a good opportunity to leverage their advanced process for Altera's FPGA business. The expect to continue to support and develop, as well as increase the install base, of Altera's ARM based products. Brian Krzanich stated: "history tells us that the FPGA vendor who is first to a manufacturing process node enjoys a market segment share advantage over the life of that node" and if Intel can leverage its process advantage for this they should be able to gain some traction in the market. More info with Altera will be brought up on the Q3 earnings call.
Intel's Software and Services group, which includes McAfee, had revenue of $534 million, which was flat sequentially and down 3% year-over-year.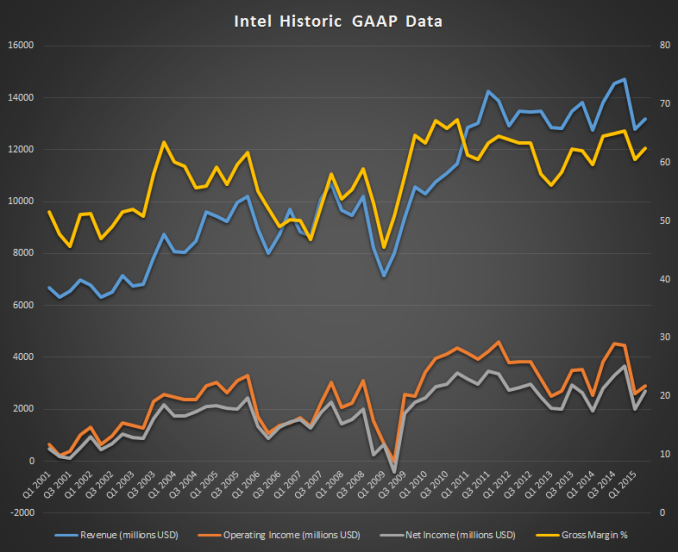 Looking forward, Intel's earnings expectations for Q3 is $14.3 billion, plus or minus $500 million, with a gross margin of 63%. For the full fiscal year 2015, Intel has revised their outlook to be down 1% rather than flat for the entire year.
They also announced a big change in their tick-tock which we will cover in its own piece.
Source: Intel