The Andyson Platinum R 1200W PSU - External Appearance
Visually, the Andyson Platinum R 1200W is not exactly a work of art yet it does have an element of subtleness and can be fairly appealing, depending on your requirements. The long chassis is sprayed with a grainy matte black paint, a circular finger guard covers the cooling fan and a subtle sticker with the company logo has been placed on its side.
A decorative sticker covers the right side of the chassis, facing towards the windowed side panel if the PSU is installed with the fan facing upwards. If the PSU is installed with the fan facing downwards, the sticker will be facing the right panel of the case and it will be upside down.
The left side of the PSU is almost entirely plain, with the exception of a series logo printed at the lower right corner of the chassis. This logo will be upside down if the PSU is installed with the fan facing downwards.
The rear of the PSU is a little interesting, with the AC cable receptacle and the on/off switch placed on a different, white metallic frame that covers nearly half of the surface. The other half is perforated for the cooling air to escape to the exterior of the case.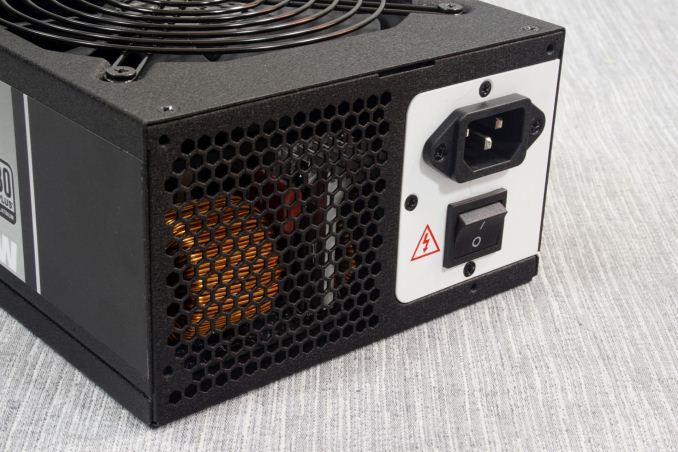 A large number of connectors for the modular cables take up most of the space at the front of the unit. The rest of the surface is covered by a sticker, serving as a legend for the connectors and as a warning label. Funnily, it advises against the removal of the PSU cover and warns that the warranty will be void if the seal is broken, yet this cover cannot be removed and there is no warranty sticker to be found anywhere.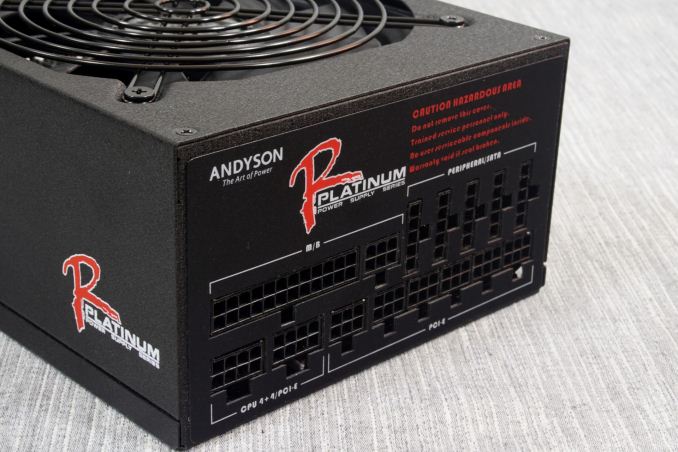 The sticker with the electrical specification of the PSU can be found at the top of the chassis.