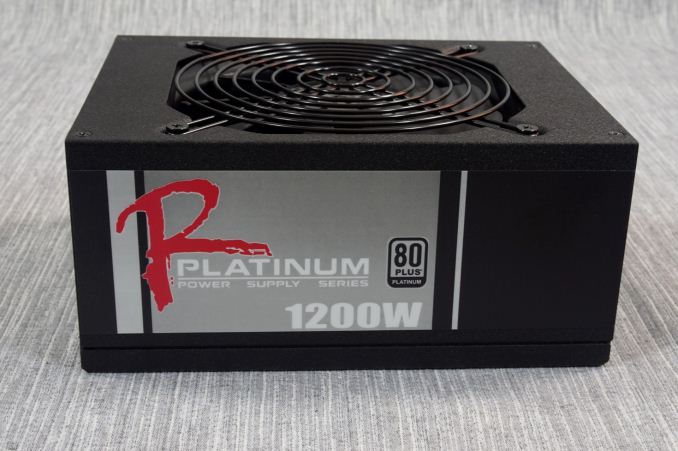 When it comes to high performance >1 kW computer power supplies, almost every reputable OEM has released at least one design to serve as their flagship. This is not necessarily because the companies expect high revenue because they are well aware that this segment of the market is very small and overly saturated. They do this because the flagship serves as a symbol of the company's capabilities and competence, enhancing their profile on all fronts in order to produce that halo product, hoping the performance of the high end results in trickle-down sales. In this extremely competitive and saturated market, we have a new contender - Andyson.
Introduction
Andyson is a Taiwanese manufacturer, established in Taipei. Although they are not very well known as some of the other brands, they are neither small nor a new company. Andyson has been around for 18 years nowand they have sufficient production capabilities. Their reputation suffered because of Hiper, a company that shut down years ago, whose products were reported as having very high failure rates. The Platinum R 1200W PSU that we will be reviewing today represents their power supply engineering high end, at least as far as power is concerned, since the company also has four 80Plus Titanium units available.
Andyson currently has nine 80Plus Platinum units on their books, yet only three models (including this particular unit) have an official 80Plus certification. The same goes for their 80Plus Titanium series, where only one model has been officially certified. This tactic is somewhat common among manufacturers, getting only the most powerful unit of the series certified that is.
On paper, the Platinum R 1200W PSU has it all: modular design, very high efficiency, excellent reliability and top performance. Andyson boasts that it is very cost-effective as well, since it has an MSRP of just about $200. However, Andyson is going to have major opposition from brands like Seasonic, Flextronics and Super Flower in that segment of the market. We will see if the Platinum R 1200W has what it takes to meet such opposition head on.
Power Specifications ( Rated @ Unknown °C )
AC INPUT
100 - 240 VAC, 50 - 60 Hz
RAIL
+3.3V
+5V
+12V
+5Vsb
-12V
MAX OUTPUT
20A
20A
100A
3A
0.4A
100W
1200W
15W
4.8W
TOTAL
1200W
Packaging and Bundle
Andyson supplies the Platinum R 1200W PSU in a relatively plain cardboard box. The artwork is very simple and formal, rather uninteresting and unlikely to draw attention if showcased on a store shelf. However, it is very sturdy and the PSU is well protected with polyethylene foam pieces, offering effective protection during shipping.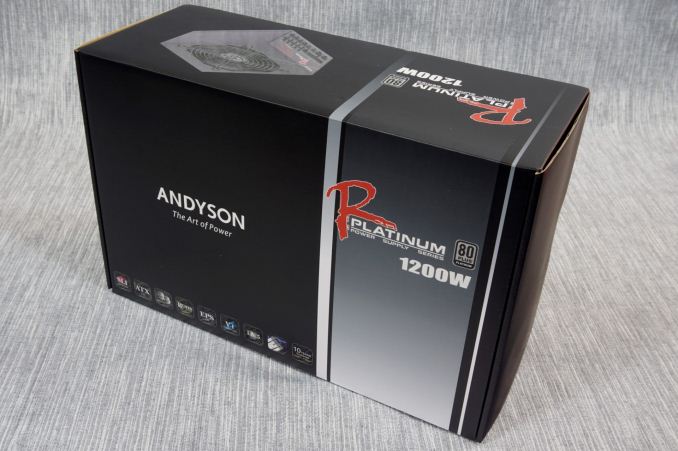 The Platinum R 1200W comes with a broad and very effective bundle. Thumbscrews, regular screws, small and large cable ties, cable straps, an anti-vibration silicon frame, a typical AC cable and a manual are supplied alongside the PSU itself.
The Platinum R 1200W is a fully modular PSU, including the main ATX 24-pin cable. All of the cables are made using only black wires and are covered with black sleeving. They are supplied inside a tall nylon bag. The following table lists the total number of connectors:
| | | |
| --- | --- | --- |
| Connector type | Hardwired | Modular |
| ATX 24 Pin | - | 1 |
| EPS 4+4 Pin | - | 2 |
| PCI-E 6+2 Pin | - | 10 |
| PCI-E 8 Pin | - | - |
| SATA | - | 9 |
| Molex | - | 6 |
| Floppy | - | 2 |