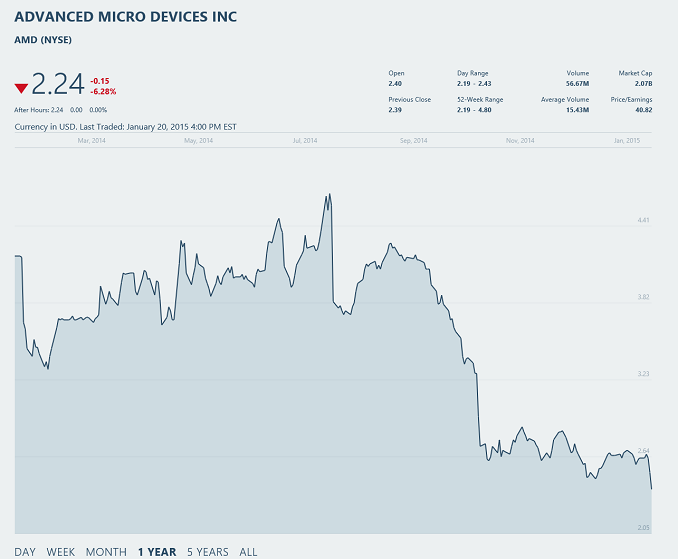 AMD president and CEO, Dr. Lisa Su, announced the company's Q4 results, with revenue for the quarter coming in at $1.24 billion, with a gross margin of 29%. Earnings per share based on GAAP results was a loss of $0.47 per share. Compared to Q3, revenue dropped 13%, and year-over-year the drop was 22%. Operating income dropped $393 million from Q3 (623% decrease) and is well down from the Q4 2013 value of $135 million with a posted operating loss this quarter of $330 million. Net income fell from $17 million last quarter and $89 million last year to a $364 million loss, which is a pretty substantial change.
AMD Q4 2014 Financial Results (GAAP)
Q4'2014
Q3'2014
Q4'2013
Revenue
$1.24B
$1.43B
$1.59B
Operating Income
-$330M
$63M
$135M
Net Income
-$364M
$17M
$89M
Gross Margin
29%
35%
35%
Earnings Per Share
-$0.47
$0.02
$0.12
AMD had three large reasons for the loss this quarter which hit their GAAP numbers pretty hard. First, they had yet another write down of their SeaMicro and ATI acquisitions, which they attribute to a decline in their stock prices. This cost them $233 million this quarter. Second, they have had to perform a write down for their second generation APU products, which they have listed higher on their balance sheets than they can sell them for now, however they do expect to sell through their inventory. This contributed to a $58 million non-cash charge. Finally, restructuring charges based on layoffs and the departure of their CEO, as well as real estate restructuring charges cost an additional $71 million. As these are all one time charges, AMD has also released Non-GAAP results which exclude these write downs.
On a Non-GAAP basis, operating income was $36 million, which is down 45% from last quarter's $66 million value, and down year-over-year from the $91 million operating income from Q4 2013. Net income equates to $2 million, down from $20 million last quarter and $45 million last year, and Non-GAAP earnings per share is $0.00, which can also be spelled as zero, which missed analyst's expectations of $0.01 per share. The core business is getting to the break-even point, and AMD has said that they have had six consecutive quarters of Non-GAAP profitability, but even that is on a razor's edge with this quarter's numbers.
AMD Q4 2014 Financial Results (Non-GAAP)
Q4'2014
Q3'2014
Q4'2013
Revenue
$1.24B
$1.43B
$1.59B
Operating Income
$36M
$66M
$91M
Net Income
$2M
$20M
$45M
Gross Margin
34%
35%
35%
Earnings Per Share
$0.00
$0.03
$0.06
Full numbers for the year had revenue of $5.51 billion, up from $5.30 billion in 2013, and the GAAP operating loss was $155 million for 2014, down from the $103 million operating income for 2013. GAAP net income for 2014 was down as well, to a $403 million loss, exceeding 2013's loss of $83 million. Non-GAAP values for 2014 were slightly better, with a $235 million operating income and a small profit of $51 million for the fiscal year. Once again, the core business is breaking even, but the heavy write downs are hurting the bottom line.
Looking at individual business lines, the Computing and Graphics segment had a net revenue for Q4 of $662 million, down 15% from Q3 and down 16% from Q4 2013. Lower desktop processor and GPU sales are the blame over last quarter, and desktop processors and chipset sales are called out as the decrease over last year's numbers. Operating loss for the segment was $56 million, as compared to $17 million in Q3 and $15 million in Q4 2013. Lower channel sales were partially offset by lower operating expenses. Average selling price actually increased both sequentially and year-over-year for processors and chipsets, but GPU selling price decreased year-over-year. This is a soft spot for AMD, and they are diversifying their business outside of the traditional PC space in an attempt to keep one weak line from hurting the company so much. In 2012, about 90% of AMD's business was based on the traditional PC industry, and by 2014 it was down to 60%, with the other 40% consisting of professional graphics, semi-custom chips, ARM based server, embedded, and ultra low-power clients. By 2015 they are estimating that 50% of their business will be these new markets.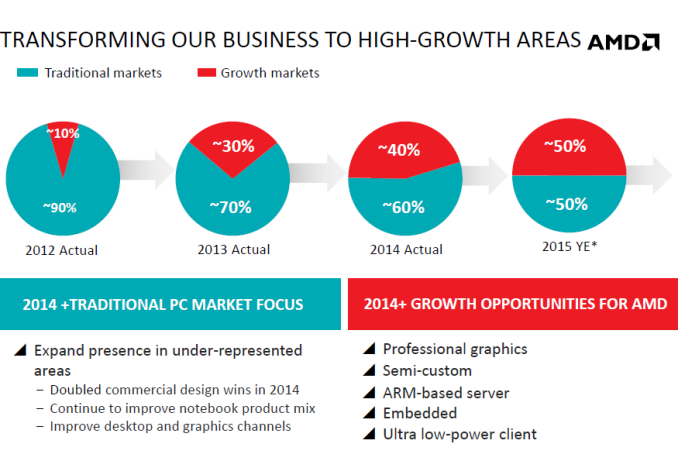 Looking at the Enterprise, Embedded, and Semi-Custom group at AMD, you can see why they are moving that direction. For the full fiscal year, this group contributed $2.374 billion in revenue, and had an operating income of $399 million, both of these are up from 2013 where they managed only $1.577 billion in revenue and $295 million in operating income from this group. Looking at the quarter itself, revenue fell 16% from Q3's $648 million to $577 million, which AMD attributed to a large run-up of chips for the Xbox One and PlayStation 4 in Q3, as Microsoft and Sony built up inventory for the holiday season. Operating income for Q4 was $109 million, down from $129 million Q4 2013 and up slightly from the $108 million last quarter.
The "All Other" category had no revenue for the quarter, but took a $383 million operating loss, which results in a 2014 operating loss of $478 million for the year. This is the category that is taking the write downs we have already discussed.
Looking ahead to 2015, AMD is listing 2015 as "profitable" at least as far as Non-GAAP figures. Q1 2015 guidance is for a 15% drop in revenue, plus or minus 3%. Gross margin should be up 5% to 34%.
AMD has seen some pretty serious competition in the PC segment, which is still their largest single contributor. Intel has just released their 14 nm parts, with a new CPU architecture due out later this year with Skylake. AMD does have a new APU on the horizon though with Carrizo, and they had working prototypes at CES. While CPU performance will likely not stun anyone due to the new CPU being still based on the Bulldozer architecture, GPU performance should be very competitive. These will be 15 to 35 watt parts, so as far as TDP they will compete against the just launched Broadwell-U. For lower power, AMD will have the Carrizo-L based on Puma+ CPU cores for the 10-25 watt range. All of this will still be on 28 nm though, which puts AMD at a pretty significant disadvantage for efficiency. The increased GPU power may be enough to sway some customers, since many people find they are not CPU bound anyway. Time will tell, and we look forward to seeing the new chips show up so we can test them out.
Source: AMD Investor Relations