Market Positioning
Typically our market position examination is done through Newegg, although an issue comes through that the PV38G240C0K kit we are testing is not actually listed. The alternative PV38G240C1K kit, a 2400 C11 2x4 GB kit, retails for $92 at Newegg, but our kit being tested today is more expensive than this when we look elsewhere:
Amazon.com: $116.80
NCIX: CAD$100
Amazon.co.uk: £95.92
If we take the Amazon.com pricing list, when comparing to other 2x4 GB 2400 C10 kits, we get the following:
$72: Team Xtreem LV, TXD38G2400HC10QDC01
$81: G.Skill TridentX, F3-2400C10D-8GTX
$88: G.Skill RipjawsZ, F3-2400C10D-8GZH
$88: G.Skill Trident, F3-2400C10D-8GTD
$92: Patriot Viper III, Black Mamba 2400 C11 (PV38G240C1K)
$107: Avexir Core (Blue), AVD3U24001004G-2CI
$117: Patriot Viper III, Black Mamba (PV38G240C0K)
From this list it would seem that a sub-$75 value would undercut memory kits from G.Skill, but at $117 or even $92, it does price itself out of the market somewhat. $80 would bring it down to $10/GB, whereas $117 means $14.63 per GB. There are better deals when buying 16 GB memory kits, in terms of cost per GB, although it comes with the added expense.
Test Bed
Many thanks to...
We must thank the following companies for kindly donating hardware for our test bed:
Thank you to OCZ for providing us with 1250W Gold Power Supplies.
Thank you to Corsair for providing us with an AX1200i PSU, and Corsair H80i CLC
Thank you to ASUS for providing us with the AMD GPUs and some IO Testing kit.
Thank you to ECS for providing us with the NVIDIA GPUs.
Thank you to Rosewill for providing us with the 500W Platinum Power Supply for mITX testing, BlackHawk Ultra, and 1600W Hercules PSU for extreme dual CPU + quad GPU testing, and RK-9100 keyboards.
Thank you to ASRock for providing us with the 802.11ac wireless router for testing.
'Performance Index'
In our Haswell memory overview, I introduced a new concept of 'Performance Index' as a quick way to determine where a kit of various speed and command rate would sit relative to others where it may not be so obvious. As a general interpretation of performance in that review, the performance index (PI) worked well, showing that memory kits with a higher PI performed better than those that a lower PI. There were a few circumstances where performance was MHz or CL dominated, but the PI held strong for kit comparisons.
The PI calculation and 'rules' are fairly simple:
Performance Index = MHz divided by CL
Assuming the same kit size and installation location are the same, the memory kit with the higher PI will be faster
Memory kits similar in PI should be ranked by MHz
Any kit 1600 MHz or less is usually bad news.
That final point comes about due to the law of diminishing returns – in several benchmarks in our Haswell memory overview performed very poorly (20% worse or more) with the low end MHz kits. In that overview, we suggested that an 1866 C9 or 2133 C10 might be the minimum suggestion, whereas 2400 C10 covers the sweetspot should any situation demand good memory.
With this being said, the results for our kits are as follows: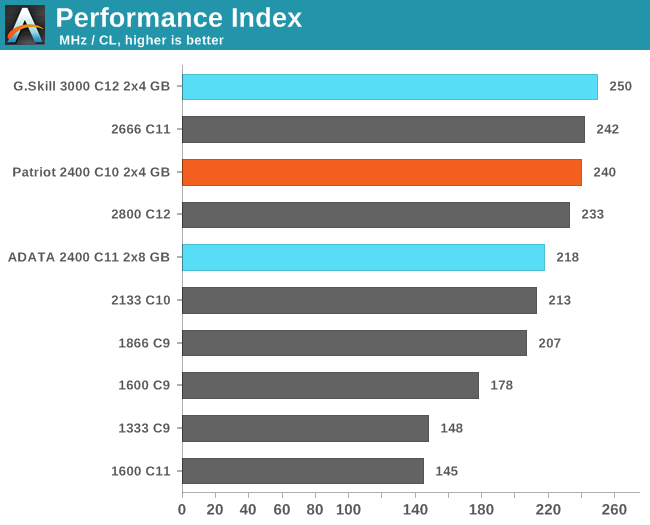 The Patriot kit starts with a very healthy PI of 240, which we mentioned can reach 266 when overclocked.