Introducing the HP EliteBook 8570w
We recently reviewed Dell's top of the line Precision M6700 mobile workstation and found that the overall design left something to be desired compared to HP's high end EliteBooks, but that the price was definitely right for the performance. The M6700 is likely to remain a good value for the enterprise sector (much as Dell's desktop workstations continue to be), and the 10-bit PremierColor display uses a similar LG panel to the ones HP employs in their DreamColor displays. Can we get something like that in a smaller form factor, though?
As it turns out, theoretically at least, we can. We have an HP EliteBook 8570w on hand for review, and the 15.6" 1080p DreamColor display threatens to hit the sweet spot for productivity, with a smaller chassis footprint than larger workstations like the M6700 and EliteBook 8760w/8770w. But is the 8570w able to hit the same value propositions as Dell's mobile workstations, can it offer similar performance, or is our memory of the HP EliteBook line a little rosier than reality?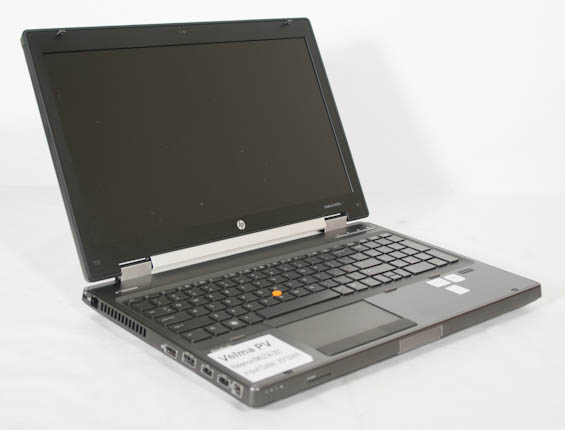 The HP EliteBook 8570w is pretty much as high end as you can get in a 15.6" form factor; the only competition comes from Dell's Precision M4700 and Lenovo's ThinkPad W530, and unfortunately neither of these notebooks can be ordered with a 10-bit full gamut IPS panel like the 8570w can. Invariably someone is going to mention Apple's MacBook Pro, but it must be said that the MBP does not necessarily compete in the same markets as these mobile workstations do. If a user has need of a professional, workstation-class GPU, the MBP is immediately ruled out.
With all that in mind, let's see how the EliteBook 8570w we were sent is configured.
HP EliteBook 8570w Notebook
Processor
Intel Core i7-3720QM
(4x2.6GHz + HTT, 3.6GHz Turbo, 22nm, 6MB L3, 45W)
Chipset
Intel QM77
Memory
4x4GB Elpida and Hynix DDR3-1600 (expandable to 4x8GB)
Graphics
AMD FirePro M4000 1GB GDDR5
(512 GCN cores, 675MHz/4GHz core/memory, 128-bit memory bus)
Display
15.6" LED matte DreamColor 10-bit IPS 1080p
LGD0220
Hard Drive(s)
Hitachi TravelStar 7K750 750GB 7200-RPM SATA 3Gbps HDD
Optical Drive
HP UJ160 BD-ROM/DVD+-RW
Networking
Intel 82579LM Gigabit Ethernet
Intel Centrino Advanced-N 6205 802.11a/b/g/n 2x2
Bluetooth 4.0
Audio
IDT 92HD81B1X HD Audio
Stereo speakers
Mic and headphone jacks
Battery
8-Cell, 75Wh
Front Side
Latch
SD/MMC card reader
Right Side
Headphone and mic jacks
2x USB 3.0
SmartCard
Optical drive
VGA
Left Side
Ethernet
Vent
DisplayPort
eSATA/USB 2.0 combo port
2x USB 2.0
4-pin FireWire
ExpressCard/54 slot
Back Side
Modem
AC adapter
Operating System
Windows 7 Professional SP1 64-bit
Dimensions
15" x 10.1" x 1.59"
382mm x 257.5mm x 40.4mm
Weight
6.94 lbs / 3.1 kg
Extras
DreamColor display
Flash reader (SD/Mini SD, MS/Duo/Pro/Pro Duo)
USB 3.0
Optional WWAN
Fingerprint reader
Backlit keyboard
Trackpoint
Warranty
3-year parts and labor
Pricing
Starts at $1,399
As configured: $3,360 ($2,688 after e-coupon)
Taking it from the top, the HP EliteBook 8570w is able to cram most of what you want in a mobile workstation into a slightly smaller form factor than the typical 17.3" monster, but there are definitely some sacrifices. While our larger Precision M6700 review unit could support Intel's fastest mobile processors, the 8570w is only able to go up to the Intel Core i7-3840QM, and our own review unit ships with the i7-3720QM. That chip sports a 2.6GHz nominal clock speed, able to turbo up to 3.4GHz on all four cores or 3.6GHz on a single core. The i7-3920XM and i7-3940XM and their 55W TDPs are just too much for this cooling system to handle, and you'll see even the i7-3720QM's 45W TDP can be a bit much sometimes.
HP was able to include a healthy amount of memory and storage capacity, though. The 8570w includes four DIMM slots for up to 32GB of DDR3, and there's an mSATA bay to go along with a single 2.5" storage bay; the optical drive bay can also be converted to host a second 2.5" drive. Our review unit comes with 16GB of DDR3-1600 split between two vendors (oddly), but the mSATA bay goes unoccupied and we have to make do with a single 750GB 7200-RPM mechanical hard disk from Hitachi. HP is still behind the curve with mSATA; the only configuration option on their site is a 24GB caching drive.
Handling workstation graphics duties, the 8570w's base configuration calls for an AMD FirePro M4000 with 1GB of GDDR5. The 1GB of video memory feels small for a workstation, but the M4000 is a 28nm, GCN-based part, the workstation equivalent of a desktop Radeon HD 7750. That means 512 GCN cores and a 128-bit memory bus attached to the GDDR5; the core itself is clocked at 675MHz while the GDDR5 runs at an effective 4GHz. Reviews of AMD's FirePro hardware are generally mixed, with drivers being the primary issue, but our review unit handled our benchmarks just fine and Maya users in particular will want to note that the FirePro can be a particularly good value. Moving to an NVIDIA Kepler-based Quadro K1000M (with slow DDR3 memory) adds another $100 to the price tag of the 8570w, and the K2000M (also with slow DDR3) adds $300.
Connectivity on the 8570w is frankly pretty impressive. A total of five USB ports (two USB 3.0, one combo with eSATA, and one charging port), coupled with a 4-pin FireWire port, a full-size DisplayPort, and even an old school dial-up modem. Our review unit also enjoys a combo BD-ROM/DVD+-RW drive.
Finally, the big selling point the 8570w has over the competition is the ability to upgrade to a 1920x1080, 10-bit IPS DreamColor display. This is something that will probably never not be worth upgrading to, although HP smartly includes a 1600x900 TN panel display as standard. DreamColor is a $525 upgrade, but on the 8570w it's plainly one of the best-looking screens I've seen on a notebook if not the best.