Introducing the HP Envy 14 Spectre
It's interesting, we recently met up with HP in San Francisco to see what they have planned for the future (and they do have some very compelling stuff in the pipeline), but one of the quirkier things I noticed was a shift in branding. For a while now, HP has had three lines in the consumer range: G series, Pavilion, and Envy. Envy was their absolute top of the line, but now it's being essentially decremented for the more-premium-than-premium Spectre. Our HP Envy 14 Spectre review system is the first of this new line, but it won't be the last.
A 14" ultrabook that almost looks like it's cribbing from Apple's iPhone design, HP's Envy 14 Spectre is nothing if not eyecatching and a testament to the American PC industry's increasing understanding that performance isn't everything. Featuring a 900p screen, backlit keyboard, and a healthy amount of scratch-resistant glass, the Envy 14 Spectre is premium through and through and commands a premium price. But is it worth the expense, or has HP misfired?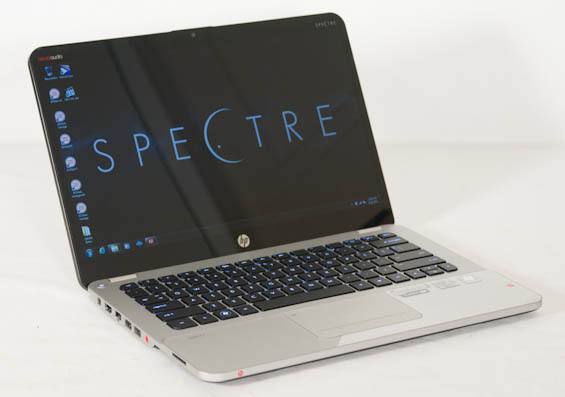 Usually when I test hardware I have a pretty good idea of who it's intended for, but I'll admit the Envy 14 Spectre is one of the few times when I've been at least a little bit perplexed. HP's engineers may be liberally lifting from some of Apple's design language, but there's a lot to the Spectre that's wholly new. It's one of those products where you can trace it's lineage reasonably well but you're still perplexed as to how it was the result. That's not necessarily a bad thing—we like innovation—but it's a curiosity to be sure.
HP Envy 14 Spectre Specifications
Processor
Intel Core i7-3667U
(2x2GHz + HTT, Turbo to 3.2GHz, 22nm, 4MB L3, 17W)
Chipset
Intel HM76
Memory
4GB Samsung DDR3-1600 (Maximum 1x8GB)
Graphics
Intel HD 4000 Graphics
(16 EUs, up to 1.15GHz)
Display
14" LED Glossy 16:9 900p
LGD0306
Storage
2x 128GB Samsung PM830 mSATA 6Gbps SSD
Optical Drive
-
Networking
Realtek RTL8168 PCIe Gigabit Ethernet
Intel Centrino 6235 802.11a/b/g/n 2x2
Bluetooth 4.0
Audio
IDT 92HD91BXX HD audio
Stereo speakers
Combination mic/headphone jack
Battery
4-cell, 56Wh
Front Side
Speaker grills
Right Side
Mute button
Volume dial
Beats Audio shortcut button
Kensington lock
AC adapter
Left Side
Mini-DisplayPort
HDMI
Ethernet
USB 3.0
USB 2.0
Mic/headphone combo jack
SD/MMC card reader
Back Side
Vent
Operating System
Windows 7 Home Premium 64-bit SP1
Dimensions
12.8" x 8.7" x 0.79"
325mm x 221mm x 20mm
Weight
3.98 lbs
1.8kg
Extras
Webcam
USB 3.0
Card reader
Beats audio
Backlit keyboard
SSD
NFC radio
Warranty
2-year limited hardware
Pricing
Starting at $1,399
As configured: $1,849
The Intel Core i7-3667U processor in our review unit sits at the top of Intel's ultra-low voltage food chain. Based on Intel's 22nm Ivy Bridge architecture, it starts at a nominal 2GHz but is able to turbo up to a very respectable 3GHz on both cores and 3.2GHz on a single core. As with all of Intel's 3rd generation mobile Core processors, it includes the HD 4000 integrated graphics part, which runs at a 350MHz clock speed but can also turbo up to 1.15GHz as needed. Intel's made great strides with the HD 4000 IGP, but I feel like we're going to be waiting until Haswell before we really stop feeling the pinch that results from not having dedicated graphics.
Now here's something interesting about our review unit. HP only advertises the Envy 14 Spectre as being available with either a 128GB SSD or 256GB SSD, yet ours is equipped with two 128GB Samsung SSDs. Both AIDA64 and Intel's own Rapid Storage Technology confirm this with two different serial numbers for the drives. The PM830 is a very respectable piece of hardware, and while the storage capacity isn't going to knock your socks off it's definitely going to be at least adequate for most users. It's interesting that HP opted to use a pair of 128GB drives instead of a single 256GB drive...but then didn't configure them in RAID.
The rest of the Envy 14 Spectre is fairly respectable, though the memory is unfortunately confined to a single channel just like the Folio 13. A second DIMM slot would've occupied roughly the same amount of space as a second mSATA drive, so I have to wonder what the rationale was behind this trade-off as it definitely negatively impacts the IGP. What may raise some eyebrows is HP's inclusion of a Near-Field Communication radio, and I can tell you it looks like HP is definitely doubling down on this technology in the near future. The applications are impressive; an NFC-equipped smartphone can theoretically transfer photos and data directly to the Envy 14 Spectre with no need for cabling or Bluetooth (which is also included.)