Introducing the SilverStone Sugo SG05
We've been looking at a few mini-ITX enclosures as of late, an interest sparked largely by the surprise success of the Bitfenix Prodigy and the general industry tend towards smaller, more powerful systems. As I've mentioned before, the fact is that this is the direction these things are heading in; unless you need something that can handle multiple video cards, you can get a fairly robust system in a smaller form factor. Ivy Bridge knocked power consumption down substantially, and the raw efficiency of NVIDIA's Kepler has allowed for a massive jump in graphics performance (reviews of the GeForce GTX 680M are impending).
Of course, while Bitfenix's Prodigy is a pretty excellent enclosure, it's also remarkably large for a Mini-ITX case. The Cooler Master Elite 120 Advanced we reviewed recently brings things a bit more in line with the form factor, but its cooling performance left a lot to be desired. Meanwhile, in the background, SilverStone has been campaigning for us to take a look at one of its older cases, the Sugo SG05. They're of the opinion that the SG05 is capable of producing stellar performance while being smaller in volume than the competition. This case has been around for a little while, but was it ahead of its time?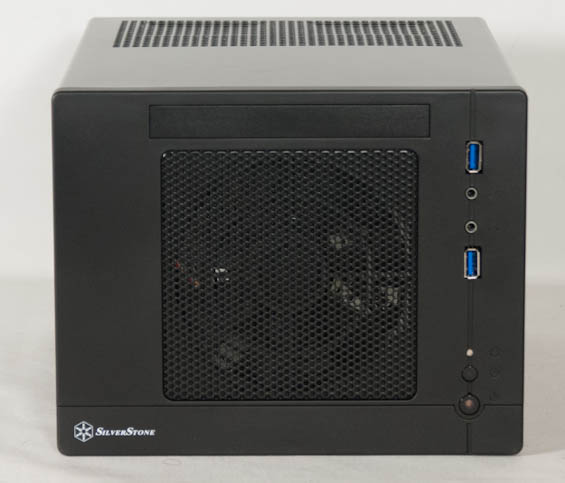 As it turns out, SilverStone hasn't been sitting idle with the SG05. Though it was introduced more than three years ago, SilverStone has incrementally introduced updates; the most recent updates upgrade the front USB ports to 3.0 and add a 450-watt 80 Plus Bronze certified SFX form factor power supply. That's not a regular cheap power supply, either, but a quality SilverStone unit. In short, the SG05 provides very nearly everything you need to produce a modern Mini-ITX desktop.
SilverStone Sugo SG05 Advanced Specifications
Motherboard Form Factor
Mini-ITX
Drive Bays
External
1x Slimline optical
Internal
1x 2.5", 1x 3.5"
Cooling
Front
1x 120mm intake fan
Rear
-
Top
-
Side
-
Bottom
-
Expansion Slots
2
I/O Port
2x USB 3.0, 1x Headphone, 1x Mic
Power Supply Size
SFX (included)
Clearances
HSF
82mm
PSU
SFX form factor
GPU
10" / 255mm
Dimensions
8.7" x 6.9" x 10.9"
222mm x 176mm x 276mm
Weight
7.8 lbs. / 3.52kg
Special Features
USB 3.0 connectivity via internal header
Included 450W 80 Plus Bronze SFX form factor PSU
Price
$116
Keep in mind that our review unit is basically the top of the line for the SG05; there are ever so slightly less expensive models that still use USB 2.0 and/or have a lower power PSU included. Really, though, this is the one you want since SilverStone includes a USB 3.0-to-USB 2.0 adaptor for the internal header and you only save about ten bucks going with the lesser 300W power supply.
What's important to remember as well is that it's honestly very difficult to get much smaller than the SG05 while still integrating the PSU in the enclosure and allowing for any kind of optical drive support. I personally feel at this point that the slimline optical drive is barely worth the added expense (I've been using the blu-ray drive in my desktop to watch The Real Ghostbusters DVDs and that's about it), but thankfully it doesn't take a heck of a lot of space and you can always use the space to just install another 2.5" drive instead. The lack of 3.5" bays is probably going to be a bit of a buzzkill to some users, too, but that's part of the price of admission.