Introducing the Lenovo ThinkCentre M92 Tiny
It's hard not to notice the direction computing is going, both in the enterprise and at home. Notebooks are getting thinner and lighter, tablets are taking off, and on desktops Mini-ITX is becoming less of a niche form factor and more of a legitimate, mainstream option. As CPU and GPU power consumption is gradually brought in line and more features are integrated directly into the chipset, we simply have less of a need for big desktops capable of dissipating mountains of heat and supporting multiple expansion cards.
Part and parcel with this, we've had a chance to check out two small form factor systems from Puget Systems and a completely fanless kiosk-style system from Logic Supply, and today we have on hand from Lenovo their ThinkCentre M92 Tiny. Ours is the entry-level configuration, and Lenovo packs a healthy amount of flexibility into a small chassis along with a couple of wrinkles of their own. Did they get the balance right with the M92, though, or were the wrong compromises made?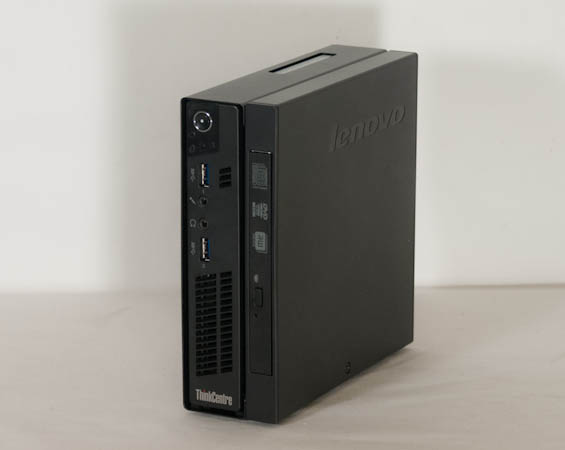 Optical drives are becoming less and less relevant, and that's made abundantly clear just by the removable "cage" that ships mounted to the M92 Tiny. To actually use the DVD writer you need to connect a small external USB cable, but the entire brace is easy enough to remove. That said, the brace also adds VESA mounts to the M92, making it potentially ideal for kiosk duty (much like Logic Supply's LGX AG150), and the system runs below the noise floor of my sound meter even under load. There's a lot to like about the design, but I feel like there are some real omissions here, too.
Lenovo ThinkCentre M92 Tiny Specifications
Chassis
Lenovo Custom
Processor
Intel Core i5-3470T
(2x2.9GHz + HTT, 22nm, Turbo to 3.6GHz, 3MB L3, 35W)
Motherboard
Custom Q77
Memory
1x4GB Samsung DDR3-1600
Graphics
Intel HD 2500 Graphics (650-1100MHz, 6 EUs)
Hard Drive(s)
Western Digital Scorpio Blue 500GB 5400-RPM SATA 3Gbps HDD
Optical Drive(s)
Removable DVD+/-RW Drive
Power Supply
65W External PSU
Networking
Intel 82579LM Gigabit Ethernet
Audio
Realtek ALC662
Headphone and mic jacks
Front Side
2x USB 3.0
Headphone and mic jacks
Top
-
Back Side
AC adaptor
DisplayPort
2x USB 3.0
VGA
Ethernet jack
USB 2.0
Operating System
Windows 7 Professional 64-bit SP1
Extras
Removable VESA/ODD cage
Warranty
3-year
Pricing
Starting at $699
The M92 is a capable machine, but the Intel Core i5-3470T strikes me as being a very unusual choice. This is a dual core Ivy Bridge processor with a 35-watt TDP, and it's presently the only Ivy Bridge dual core desktop processor available. It's certainly capable enough, but it's basically an i7-3520M with a worse IGP and less L3 cache. I feel like Lenovo should've opted for a mobile CPU; the i5-3470T is definitely a money saver, but at a $699 starting price for what are really pretty skint system specs, I'd almost rather see an Intel Core i7-3612QM.
Those skint specs extend to just 4GB of DDR3, a slow 5400-RPM mechanical hard drive, and no wireless connectivity of any kind. These can all be upgraded, mind you, but you'll have to pay for each one. The system itself is next to impossible to actually dismantle, too, so you're stuck ordering these upgrades when you order the system. When we're starting at $699 we should have at least wireless ethernet and Bluetooth standard, especially given just how small and portable the M92 really is.