Introducing the Acer Aspire S5
First generation technology is seldom perfect, and the fruit of Intel's ultrabook initiative was no exception. While vendors came out in force with some fairly impressive pieces of hardware, these first shots at the form factor all came away lacking in some way. Be it thermal performance, general performance, build quality, or display quality, no matter where you looked you were forced to make some kind of compromise. Intel's Sandy Bridge architecture wasn't horribly suited to the tasks, either, but it was also clear that at least another generation of processors would be more ideal to the increased thermal constraints of the platform.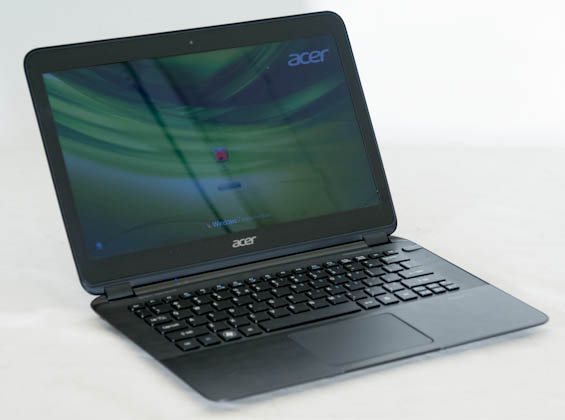 We're now into our second generation of ultrabooks. Vendors have had the opportunity to begin working the kinks out of their initial designs (as well as experimenting with some new ones), and Intel's 22nm Ivy Bridge is much better suited to the form factor. Today we have on hand one of the more premium examples of the second generation of ultrabooks, Acer's Aspire S5. At just 15mm thick, Acer claims it's the thinnest ultrabook yet, but it still comes fairly feature rich and includes Intel's Thunderbolt technology. At $1,399 the S5 doesn't come cheaply, though.
The words "premium" and "Acer" admittedly don't often come together, but the Aspire S5 is an aggressive piece of hardware and has the potential to shake up the higher end of the ultrabook market while Intel relies on price cuts to push the lower end.
Acer Aspire S5 Specifications
Processor
Intel Core i7-3517U
(2x1.9GHz + HTT, Turbo to 3.0GHz, 22nm, 4MB L3, 17W)
Chipset
Intel HM77
Memory
2x2GB DDR3-1333 (Maximum 4GB) soldered to motherboard
Graphics
Intel HD 4000 Graphics
(16 EUs, up to 1.15GHz)
Display
13.3" LED Glossy 16:9 768p
AU Optronics B133XTN01.2
Hard Drive(s)
2x Lite-On 128GB SSD SATA 6Gbps in RAID 0
Optical Drive
-
Networking
Atheros AR5BMD222 802.11a/b/g/n
Bluetooth 4.0+HS
Audio
Realtek ALC269 HD audio
Stereo speakers
Headphone/mic combo jack
Battery
3-Cell, 35Wh
Front Side
-
Right Side
Headphone/mic combo jack
Left Side
Power button
SD/MMC card reader
Back Side
AC adaptor
Exhaust vent
Motorized drop down door for port cluster
2x USB 3.0
1x Thunderbolt
1x HDMI
Operating System
Windows 7 Home Premium 64-bit SP1
Dimensions
12.77" x 8.95" x 0.44"-0.59"
324.4mm x 227.3mm x 11.2mm/15mm
Weight
2.65 lbs
1.2kg
Extras
Webcam
USB 3.0
Thunderbolt
Card reader
Motorized drop down door
Warranty
1-year limited international
Pricing
$1,399
Looking strictly at the specifications, the $1,399 Acer is asking for the Aspire S5 can seem like a bitter pill to swallow. The Ivy Bridge Intel Core i7-3517U processor runs at a nominal 1.9GHz clock speed and is able to punch up to 2.8GHz on two cores or 3GHz on a single core, so at least from a CPU performance perspective the S5 should be a pretty capable machine. Likewise, while I remain skeptical about the idea of configuring a pair of SSDs in RAID 0 as opposed to just using one larger SSD, Acer nonetheless offers a healthy 256GB of SSD capacity and the system is definitely snappy in regular use. Even connectivity is excellent with wireless support for both 2.4GHz and 5GHz bands, Bluetooth 4.0, dual USB 3.0 ports instead of USB 2.0 (courtesy of the newer HM77 chipset), and most impressively, Intel's Thunderbolt.
The big problem is with the S5's display. The dismal 768p screen kills the whole enterprise. We're very much getting to a point with notebooks where vendors are starting to seriously look at quality, high resolution displays, and a screen like this on a $1,399 ultrabook when ASUS is willing to offer a 1080p IPS display in the Zenbook Prime for just $1,099 is inexcusable. At that point you have to ask yourself how much the savings in weight and inclusion of a Thunderbolt port are worth.