Introducing Amped Wireless
The world is full of technology companies, with plenty of long time players as well as smaller newcomers. There are so many facets of the industry to cover that it's basically impossible to know everyone, so when Amped Wireless sent us an email I must admit that other than having seen a couple of their products on Newegg, I knew essentially nothing about them. Let's start with a bit of background information, for those of you who might be in a similar state. While I wasn't particularly familiar with Amped Wireless, it's worth noting that their products are now available at many retail outlets, as well as the big online sources like Amazon and Newegg. You can find Amped Wireless devices at Staples, Best Buy, Walmart, Fry's, Office Depot, etc. and they are now working to extend into Canada.
Amped Wireless was created three years ago as a sub-company of Newo Corporation, which was created around five years back by Jason Owen and offered some interesting computer peripherals (e.g. a personal USB fridge to keep your soda cold). Today, the Newo Corp website redirects to Amped Wireless, so it looks like that's now the primary focus. Mr. Owen serves as the CEO for Amped Wireless, with a background in the wireless networking industry that goes back over a decade; he teamed up with a colleague with a similar background in order to focus on long range WiFi products and "do it correctly".

Besides setting out to create better long range wireless devices, Amped also wants to make sure that customer service is a high priority; there will be no outsourcing of support to another country, and all customer support is US based and trained in-house. Unlike the support side of the equation, engineering is a different story. Amped Wireless has teamed up with engineering resources in Taiwan (and only Taiwan—they mentioned that controlling quality in some other areas can be very difficult), and they have a small team of around 20 that's split about 50-50 doing work on the software/firmware and hardware aspects of their products.
Their very first product to hit the market came out about eighteen months ago, the SR150 wireless repeater. There really aren't many wireless repeaters on the market, and they wanted to target that niche and create something that would be easy to configure for people that don't know much about wireless networking. The product proved to be a success, helping users to extend their wireless coverage to difficult to reach locations—especially for users of all-in-one cable/DSL modem/router boxes that have very poor wireless range. After the initial product launch, they received a lot of feedback from customers who wanted to simply skip the repeater aspect and go straight to Amped for a wireless router; that led to the launch of their first router back in September 2011.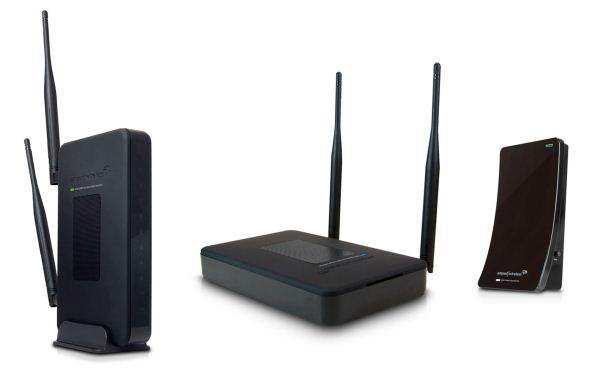 That brings us to today's reviews. We have Amped Wireless' latest and greatest R20000G router, SR20000G repeater, and the UA2000 directional wireless adapter. Like most wireless companies, Amped states that their products work best when used with each other, but we had no difficulties using the router with other adapters, or the UA2000 with various routers. The SR20000G also worked fine in general, with a minor problem encountered with one of our test routers (more on that later). We'll start with a look at the R20000G router, then check out the SR20000G repeater, and finally look at the UA2000 adapter. Once we've covered those areas, we'll wrap up with some performance investigations using several different products and see how the various devices actual work in practice.