Dell XPS 14z: 14" LCD in a 13.3" Form Factor
When we reviewed the XPS 15z early last month, we found a laptop that got a lot of things right, so the hardly-secret follow-up XPS 14z certainly garnered a spot on our radar. Dell agreed to send us a pre-release unit for the official launch, and we received it last week and spent most of the interim benchmarking and testing the laptop. There are plenty of areas where the 14z continues the 15z legacy, and in some ways it's a better laptop. There are also areas where we feel the 14z falls short of what we'd like to see from Dell's XPS brand—areas where it's more like Inspiron than XPS.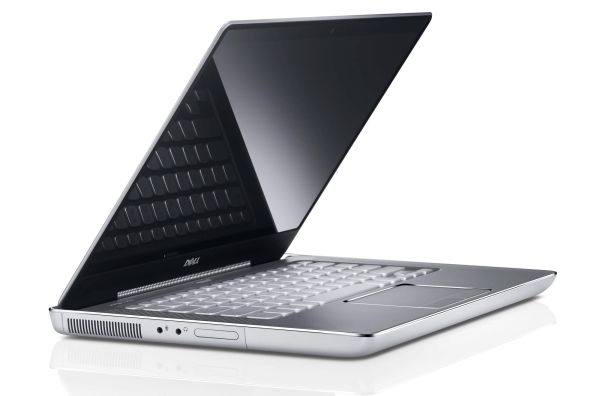 Dell is officially announcing the XPS 14z today, with ordering availability scheduled for November 1 in the US; worldwide availability will occur November 15. There will be four primary configurations available at that point, though we're not sure how much customization will be available. Here's a rundown of the four US-bound configurations with their pricing.
Dell XPS 14z US Launch Configurations
Processor
i5-2430M
i5-2430M
i7-2640M
i7-2640M
Hard drive
500GB
750GB
750GB
256GB SSD
Memory
6GB DDR3
8GB DDR3
8GB DDR3
8GB DDR3
Graphics
Intel HD 3000
NVIDIA 520M 1GB
NVIDIA 520M 1GB
NVIDIA 520M 1GB
Panel
HD
HD
HD
HD
Optical
DVDRW
DVDRW
DVDRW
DVDRW
Wireless
WLAN/BT
WLAN/BT
WLAN/BT
WLAN/BT
Price
$999
$1199
$1299
$1599
We received an early sample of the base $999 model, though the memory configuration changed between the time the system was assembled and the above final specs. Our test unit has 4GB RAM compared to the 6GB that will be shipping; this shouldn't make a difference for normal usage, but it's worth noting. As far as we can tell, all models share the same WiFi, DVDRW, and LCD; the CPU, storage, GPU and amount of memory are where they differ.
The base model comes without discrete graphics, while all of the upgraded versions include NVIDIA's GT 520M. We haven't had a chance to look at that GPU yet, and we're actually interested in testing it as it doesn't seem like it will be much faster than the HD 3000. 48 CUDA cores with a 64-bit DDR3-1600 memory interface (12.8GB/s) is nothing to write home about, and DX11 support is almost meaningless on low end hardware. However, NVIDIA (and AMD) still have better graphics driver support than Intel, so it's something to consider. We hope to get a second 14z with the upgrade GPU and CPU in for testing to see how it fares, and it looks like Dell will charge about $100 extra for the GPU upgrade.
In terms of the review system, here's a full list of the components and specifications:
Dell XPS 14z Specifications
Processor
Intel Core i5-2430M (dual-core 2.40-3.00GHz, 35W)
Intel Core i7-2640M (dual-core 2.80-3.50GHz, 35W)
Chipset
Intel HM67
Memory
4GB (2x2GB DDR3-1333) Pre-Release Sample
6GB (1x4GB + 1x2GB DDR3-1333)
8GB (2x4GB DDR-1333 CL9)
Graphics
Intel HD 3000 Graphics (1.2GHz max clock)
NVIDIA GeForce GT 520M 1GB DDR3 (Optional)
Display
14.0" WLED Glossy 16:9 768p (1366x768)
(LG 140WH6)
Hard Drive
500GB 7200RPM HDD(Seagate ST9500423AS)
750GB 7200RPM HDD
256GB SSD
Optical Drive
8X Slot-Load DVDRW
Networking
Gigabit Ethernet (Atheros AR8151)
802.11n WiFi + Bluetooth 3.0 (Intel Advanced-N 6230)
WiDi 2.0 Ready
Audio
Stereo Speakers
Microphone and headphone jacks
Capable of 5.1 digital output (HDMI)
Battery
8-cell, 58Wh
Front Side
N/A
Left Side
Memory Card Reader
Headphone Jack
Microphone Jack
Exhaust vent
Right Side
Battery Life Indicator
Slot-Load Optical Drive
Back Side
Kensington Lock
AC Power Connection
Mini DisplayPort
HDMI
1 x USB 2.0
1 x USB 3.0
Gigabit Ethernet
Exhaust vent
Operating System
Windows 7 Home Premium 64-bit
Dimensions
13.19" x 9.21" x 0.9" (WxDxH)
(335mm x 234mm x 23mm)
Weight
4.36 lbs / 1.98kg (8-cell)
Extras
1.3MP HD Webcam w/ dual array microphones
80-Key backlit keyboard
Flash reader (SD, MS, MMC)
MS Office 2010 Starter or Home/Student
65W Power Adapter
Warranty
1-year standard warranty
2- and 3-year extended warranties available
Pricing
Review Configuration MSRP: $999
Availability
US: Nov. 1; Worldwide: Nov. 15
Dell packs in pretty much everything most users will need, including a single USB 3.0 Super Speed port on the back. (I'm not sure why they include only one SS port, given the second USB port is right next to it.) The inclusion of an optical drive in such a thin laptop also warrants mention. Our test unit is the base model, so we don't have the GeForce GT 520M added to the mix, but that upgrade is available should you want it. Display connectivity is also reasonable, with a mini DisplayPort and a full size HDMI port on the back of the laptop.