Introducing the Sony VAIO S
You asked for it, you got it: in house, a review of Sony's longstanding 13.3" road warrior S series. It's light, has a matte screen, switchable graphics, a mainstream Sandy Bridge processor, and the potential to last all day (and then some) on the battery. From the outside, at least, the Sony VAIO S looks like a winner at nearly any level. But did Sony cut any corners to get the VAIO S' price down, or should it be on any traveller's short list?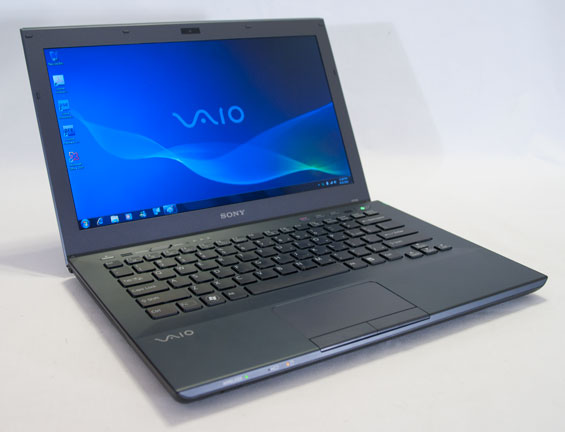 Before we get to the meat of the review, first a word about naming conventions. The actual laptop we're reviewing is technically the Sony VAIO VPCSB190X CTO (CTO = Configure To Order), but it's part of the VAIO S line and so we'll simply call it the VAIO S. There are lower end models (usually SB) and higher end offerings (SA), so bear in mind that what we're reviewing may have the same shell as other VAIO S laptops, but the LCD and other components (and thus performance) can vary.
Say what you will, I've always been a fan of Sony's styling and it's a rare pleasure to get one of their more portable VAIO notebooks in house for review. This may not be the Z series you were hoping for (we're working hard to get one of those in), but the S series has an awful lot to recommend it in and of itself. The svelte 13.3" chassis boasts an internal battery (user-replaceable), new Sandy Bridge graphics, and Sony continues to employ switchable graphics, this time with an AMD Radeon HD 6470M. To top it all off, you can even get the VAIO S with a matte screen. Here's how our specific test sample came equipped.
Sony VAIO SB Specifications
Processor
Intel Core i5-2410M
(2x2.3GHz + HTT, 32nm, 3MB L3, Turbo to 2.9GHz, 35W)
Chipset
Intel HM65
Memory
4GB DDR3-1333 soldered to motherboard, one empty DIMM slot
Graphics
AMD Radeon HD 6470M 512MB DDR3 (switchable with Intel HD 3000)
(160 stream processors, 800MHz/1.8GHz core/memory clocks, 64-bit memory bus)
Display
13.3" Matte 16:9 1366x768
(SNY05FA Panel)
Hard Drive(s)
Hitachi Travelstar 5K500.B 500GB 5400RPM HDD
Optical Drive
Matshita DVD-RAM
Networking
Realtek PCIe Gigabit Ethernet
Intel Wi-Fi Link 1000 802.11b/g/n
Bluetooth v2.1 + EDR
Audio
Realtek ALC275 HD Audio
Stereo speakers
Headphone jacks
Battery
6-Cell, 11.1V, 49Wh battery

Optional sheet battery:
6-Cell, 11.1V, 49Wh battery
Front Side
Wireless toggle
Left Side
Headphone jack
Optical drive
Right Side
MS/MSPro reader
SD reader
Kensington lock
VGA
HDMI
UVAIO S 3.0
2x UVAIO S 2.0
Ethernet
AC adaptor
Back Side
Exhaust vent
Operating System
Windows 7 Home Premium 64-bit SP1
Dimensions
13.04" x 8.84" x 0.95" (WxDxH)
Weight
3.8 lbs. (5 lbs. with sheet battery)
Extras
Webcam
Backlit keyboard
Flash reader (SD/Mini SD, MS/Duo/Pro/Pro Duo)
Switchable graphics
Extended sheet battery
Warranty
1-year limited warranty
Pricing
Starting at $899
Priced as configured: $1,134
The configuration for the Sony VAIO S that Sony sent us is actually pretty close to their entry level; only the processor and hard drive have been upgraded (barely), and they opted to include the sheet battery for us to test as well.
By now Sandy Bridge processors should be pretty familiar to you; our VAIO includes the lowest i5 chip, the Intel Core i5-2410M, but it's still a beefy processor, sporting two Hyper-Threaded cores running at 2.3GHz and capable of turbo'ing up to 2.6GHz on both or 2.9GHz on a single core. That's certainly more than adequate for most tasks. Alongside it is one of the more interesting parts of the VAIO S' design: there's only one DIMM slot in the notebook, and it's open. The other memory channel is occupied by 4GB of DDR3-1333 soldered to the motherboard. In fact, you can actually see the RAM chips right below the open slot. This means that our review unit is running at a slight disadvantage, with only a single memory channel populated instead of running dual-channel.
Where things get a little perplexing is the AMD Radeon HD 6470M with 512MB of DDR3. Even 1GB of video memory would be excessive for this GPU, with just a 64-bit memory bus and 160 shaders. The 800MHz core clock and 1.8GHz effective memory clock help even things out a little, but this is still one of AMD's weakest GPUs. Sony also doesn't use AMD's troubled dynamic switchable graphics technology (we'll have a look at that in the near future), opting instead to use what seems to be a mux-based hardware switch to toggle the dedicated graphics on and off. Given what we already know of the 6470M's performance, it really bears asking...what's the point? Intel's HD 3000 graphics are roughly 70% as fast in most games, and we're at the entry level anyhow. Sony does offer an upgrade to the AMD Radeon HD 6630M with 1GB of DDR3, though I have concerns about just how well a chassis this thin can handle a GPU like that.
Unfortunately, where things get pretty dire is the hard drive: it's not a bottom rung Toshiba or Fujitsu, but as you'll see later the 5400RPM Hitachi Travelstar really bogs this system down. You can upgrade to a 7200RPM drive (or even an SSD in the premium model) and I can't stress this enough: pay for the upgrade.
Finally, our review unit also included the extra sheet battery which plugs snugly into the bottom of the notebook and adds a little more than a pound of heft, bumping the VAIO S up to a still reasonable five pounds. In exchange, you get basically double the battery capacity, a development that gets all the more impressive later on when you see our battery life results. Sony was only willing to lend us the VAIO for two weeks, and about a day into my battery testing I began to feel...a little rushed.