ASUS U30Jc: Thin and Light Meets Arrandale
ASUS has been making great strides in the laptop designs over the past couple of years. It used to be that an ASUS laptop meant good performance with generally poor battery life at a reasonable price, but that all started to change with the launch of the original Eee PC. With the Eee PC, ASUS managed to usher in a whole new genre of laptop, the netbook, and with the dawn of the netbook expectations for what a laptop could deliver changed. No longer was it good enough to provide decent performance with little regard for price or battery life; today's laptops need to offer a lot more in order to entice potential customers away for $300 netbooks. To that end, ASUS has reworked the design and features of their U-series and put together a well-rounded package that includes good CPU performance, Optimus graphics, and an aesthetic that makes us think someone is listening to our complaints about glossy plastic laptops.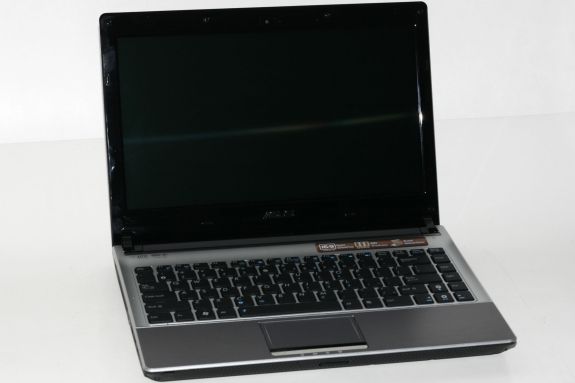 The Core i3-350M CPU will make for an interesting comparison point against the HP ProBook 5310m, which uses a Core 2 Duo SP9300 (in our review model). That means the two CPUs share the same clock speed, though there are obviously other differences. Optimus 310M graphics will certainly help in the GPU department when you need extra graphics performance, although with the new Intel HD Graphics we would argue that 310M might be a bit too low on the performance scale. We'll see what the 310M can do when we get to gaming benchmarks, but it should come as no surprise that 325M and 335M equipped laptops leave it in the dust. The LCD also remains glossy, along with the LCD bezel, which is unfortunate for a laptop that could very well spend most of the day outside and untethered. Here's a quick look at the full laptop specifications.
ASUS U30Jc-A1 Specifications
Processor
Intel Core i3-350M
(32nm, 2x2.26GHz + Hyper-Threading, 3MB L3, 35W)
Chipset
Intel HM55
Memory
2x2GB DDR3-1066
Max 2x4GB DDR3-1066
Graphics
NVIDIA GeForce 310M Optimus
Intel HD Graphics
Display
13.3" LED Backlit Color-Shine WXGA (1366x768)
(AU Optronics AUOB133XW01-V0)
Hard Drive
320GB 5400RPM 8MB cache
(Hitachi Travelstar 5K500.B HTS545032B9A300)
Optical Drive
8x DVDRW Super Multi
(Matshita DVD-RAM UJ890AS)
Networking
Atheros AR8131 Gigabit Ethernet
Atheros AR9285 802.11bgn
Audio
HD Audio (2 speakers with combo headphone/mic jack)
Battery
8-cell 5600mAh, 84Wh
Front Side
Flash Reader (SD, MMC, MS/Pro)
Speaker grilles
Left Side
Headphone and Microphone jacks
2 x USB 2.0
HDMI
VGA
Cooling Exhaust
Kensington Lock
Right Side
DVDRW
1 x USB 2.0
Gigabit Ethernet
AC Power Connection
Back Side
None
Operating System
Windows 7 Home Premium 64-bit
Dimensions
13.12" x 9.52" x 0.80-1.20" (WxDxH)
Weight
4.80 lbs (with 8-cell battery)
Extras
0.3MP Webcam
86-Key Keyboard
Multitouch Touchpad
SD/MMC/MS Pro Flash reader
Warranty
2-year global warranty
1-year battery warranty
30-day LCD Zero Bright Dot guarantee
Pricing
Online starting at ~$900
All of the above features are standard fare for this price range, with a few omissions that may or may not matter depending on your needs. ASUS lists Bluetooth support as "optional" on their site, but at present there are no plans for a Bluetooth equipped model in the North America market; the same goes for a 6-cell 63Wh battery version. eSATA and FireWire are also missing, and there's no USB 3.0 either. If you like using a variety of external devices with the above interfaces, you're out of luck, and there's no ExpressCard slot to alleviate the pain. Dustin tends to place a higher weight on such connectivity options, while personally the omissions are only a minor concern.
The Arrandale CPU is of the i3 variety, which means slightly lower clock speeds and no Turbo Boost (as opposed to the i5 processors). Like all current Arrandale processors, there's a limit of 8GB RAM, which the U30Jc fully supports if you want to spend the money to upgrade. Unlike the previous generation UL30Vt, the U30Jc adds an optical drive and weighs about one pound more, but performance (outside of gaming) will be quite a bit higher.
Why is gaming performance an exception? Because the GeForce 310M is really no different from the 210M. It has a 625MHz core clock and 1530MHz shader clock with 790MHz (1580MHz effective) memory. In contrast, the GeForce 210M (in the UL80Vt) has a 606MHz core clock, 1468MHz shader clock, and the same 790MHz RAM clock. Technically the 310M would be up to 4% faster, but that's hardly worth worrying about. We would have loved to see a GT325M or GT335M in the U30Jc, as that's the only area preventing this from being an Alienware M11x killer. And speaking of the M11x, we should also note that Dell has new beta drivers out, version 179.12, which addresses (for the time being) our concern with outdated GPU drivers. The long-term driver support prospect is still far better for Optimus laptops, but in general the M11x remains the superior small gaming laptop.
Taken as a complete package, the U30Jc has a lot of good features. The LCD quality is still mediocre (i.e. low contrast like 99% of consumer laptops), but with a large 8-cell battery you can expect up to nine hours of battery life (about eight hours of Internet surfing). We understand there's a CULV version of the U30Jc coming, the UL30Jc, but the CPU will be far slower (even with Turbo Boost), and we've heard that it will only increase battery life by around one hour at best. We would rate the current U30Jc as being equal to or superior to the old UL series of laptops in every important metric (outside of battery life where the old CULV design could last up to 14 hours). Build quality is better, the aluminum surfaces are a great upgrade, and the Arrandale CPU makes this a fast system when you need it. If you don't need a beefier GPU and you're okay with the size (about one pound heavier than most ultraportables), the U30Jc is an excellent laptop.