The Fermi cards have now been out (and only just available) for the just over a month. Like the AMD 5xxx series, the first cards used reference PCBs and reference coolers - the only way you could distinguish between the different companies was by the branded sticker on the large chunky cooler. Given time, and knowledge of the system, custom coolers were just around the corner. This is what we see in the new Inno3D GTX 470 Hawk.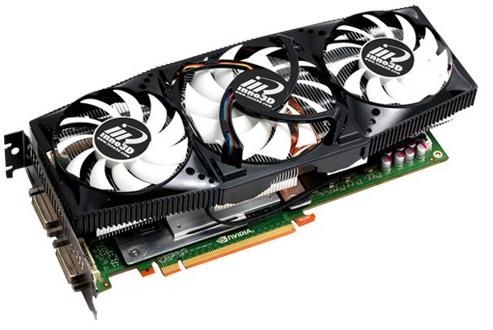 What we have is essentially an Arctic Cooling Accelero Xtreme cooler on top of a GTX 470 chip - three PWM controlled fans that run from 900 to 2,000 RPM on top of aluminium fins in a five-heatpipe design. Inno3D claim the Hawk gives a maximum noise level of 30dB, and is 22ºC cooler than the reference design. Two DVI-D connectors and a HDMI with integrated audio port are provided as standard.
This is, in our opinion, a bit of an ugly card (at least compared to the Galaxy 470 reported on earlier), that won't be taking home many beauty awards. By taking up three PCI slots with a massive cooler, the Hawk may annoy those wishing to run other peripherals that require slots, or even running 2 or 3 in SLI, as the layout of most motherboards gives two slot spaces between PCI-E 2.0 x16 connectors. The last caveat is that this card comes out the box at stock speeds, however, with any luck, Inno3D will also market a pre-overclocked version.
No word of exact release date or pricing at this time, but expect to pay the cost of a normal GTX 470 + $30~50 on top.