In our last article we took a second look at Hitachi's new
Deskstar 7K1000
and provided some RAID 0 performance results while proclaiming it to be the best 7200rpm SATA drive that has passed through our labs. We still think highly of this drive but our article seemed to have raised more questions than answers in our look at RAID 0 performance in general.
We are back today for a quick look at RAID 0 performance and hopefully our second round of results will answer more questions than it raises. However, we cannot guarantee this will happen based upon the numerous comments, suggestions, concerns, and heritage questioning emails we received on the subject matter. The vast majority of correspondence requested that we test additional RAID modes, stripe/allocation sizes, hardware RAID controllers, various chipsets, and different programs. We plan on providing the majority of this information over the coming weeks but for today's article we are going to concentrate on requests that seemed to resonate in the emails and comments we received.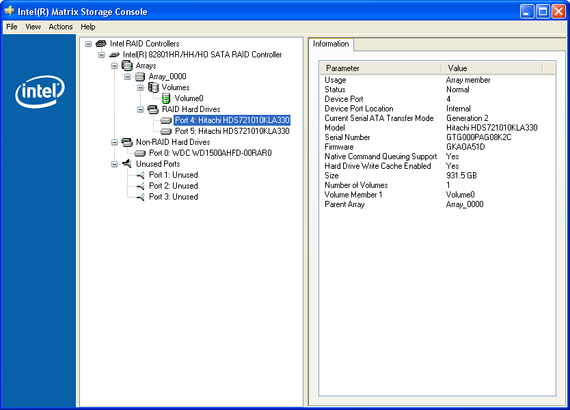 Outside of additional testing, the number one request was that we update our test platform. The thought process being that any true differences between RAID 0 and single drive performance were masked due to our test platform being both CPU and GPU limited. The other concern is the perceived lack of performance with the NVIDIA chipset in RAID operation due to what appears to be an artificial cap on sustained transfer and burst rates. Fortunately for us, as stated in the last couple of storage articles, we were already working on implementing a new test bed.
Our new test bed is based on the Intel QX6700 Quad Core CPU and the DFI Infinity 965-S motherboard featuring the Intel P965 and ICH8R chipsets. Along with one of the fastest motherboard/CPU combinations available we also added 2GB of PC2-9200 memory from OCZ and a liquid cooled 8800GTX from MSI. The balance of components utilized is available later on in the article. We found during testing over the past few weeks that this particular system should provide enough performance to ensure the majority of our tests are not CPU or GPU bound for the near future.
Our tests today are very limited in scope and only provide results from our Hitachi Deskstar 7K1000 and Western Digital WD1500 Raptor drives. The reason for this is that we are currently retesting our other drives on the new test platform and will fully roll out our expanded benchmark test suite in the upcoming 500GB+ roundup. However, the test results today should give a very good performance indication of RAID 0 without CPU or GPU limitations. There were a couple of surprises with the new test platform but overall you will find our opinion about RAID 0 did not change that much.
Our technical briefing on RAID 0 can be
located here
. Let's see how the Hitachi Deskstar 7K1000 drives perform in RAID 0 with a new test platform and a couple of revised benchmarks.