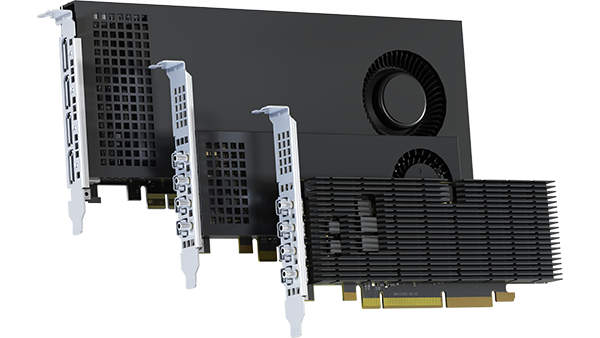 While they've long since given up developing GPUs, Matrox has remained a notable player in the video card industry for over four decades. These days, the company has settled into a modest role of providing graphics cards based on other vendors' GPUs for use in niche or boutique use cases, where Matrox can differentiate based on their software and support. And while their sales volume as a whole is limited, there's a certain degree of validation that comes from Matrox tapping a vendor's GPUs for their latest video cards.
To that end, Intel this week has finally earned their tip of the hat from the oldest of the video card vendors, with the announcement of a new series of multi-monitor display cards built around Intel's Alchemist architecture GPUs. Matrox's new Luma series graphics cards are based on Intel's Arc A310 and A380 graphics hardware, with the niche video card maker looking to tap into the Alchemist's class-leading video decoding and encoding capabilities, as well as the display output features and flexibility that are critical for a multi-display card.
Matrox Video's Luma family of graphics boards includes three products: the full-sized single-slot Luma A380 based on the Arc A380 (ACM-G11 with 1024 stream processors) with 6GB of memory; the low-profile single-slot fanless Luma A310 based on the Arc A310 (ACM-G11 with 768 stream processors) with 4GB of memory; and the low-profile single-slot Luma A310F that is equipped with a active cooling system.
All three Matrox Luma graphics cards have four DisplayPort 2.1 UHBR10 (40Gbps) outputs and thus can drive four 4Kp144/5Kp60 monitors (uncompressed, 4:4:4) or two 8Kp60 or 5Kp120 displays using two of such ports for each displays. As for features, they offer the same capabilities as other Intel Arc A310/A380-based offerings, including support for DirectX 12 Ultimate, OpenGL 4.6, Vulkan 1.3, and OpenCL 3.0 APIs, as well as encoding and decoding of H.264, H.265, VP9, and AV1 video streams. As an added bonus, they retain support for Intel's oneAPI for compute tasks, as well as the Intel Distribution of OpenVINO toolkit for AI development.
All of the Luma graphics cards consume no more than 75W and can be powered entirely via a PCIe slot without any auxiliary power connectors, and the A310-based offerings are intended to fit into the most compact PCs that are out there. Furthermore, their single-slot design means that upwards of several cards can be installed into a single desktop PC for systems that need to drive eight, 12, or more monitors.
Meanwhile, it's interesting to note that while Matrox has not announced the discontinuation of their previous generation cards for these product segments – the NVIDIA based D-series and AMD-based M-series – in terms of specifications these new Intel cards should supplant the older cards in every way. Intel's DisplayPort 2.1 capabilities are likely the driving factor given Matrox's intended niche, with NVIDIA in particular being boxed out by not including DisplayPort 2.1 functionality with their Ada Lovelace generation GPU architecture.
Matrox Video's Luma boards are aimed primarily at the medical, digital signage, control room, video wall, and industrial markets. The cards come with a base three-year warranty, which can be further extended and a guaranteed lifecycle of seven years, which is important for some of the markets that they are intended for.
Other advantages Matrox's Luma board offer include support for Matrox's PowerDesk software developed to handle exotic multi-display configurations.
Matrox did not announce prices of the boards, though given their orientation on commercial, professional, and industrial applications, they will be priced accordingly.
Source: Matrox (via SH SOTN)