Visual Inspection
The EVGA X570 Dark follows a very similar design to its Intel-based Z590 Dark model. This includes a primarily black aesthetic, with RGB LEDs integrated into the rear panel cover, making the X570 Dark logo pop nicely. The EVGA X570 Dark has plenty of weird design traits compared to a conventional desktop model, with perhaps the most notable design characteristic is the transposed CPU socket. This is designed for extreme overclockers allowing for much better LN2 pot mounting compatibility without providing hindrance or access to the top-mounted PCIe 4.0 x16 slot.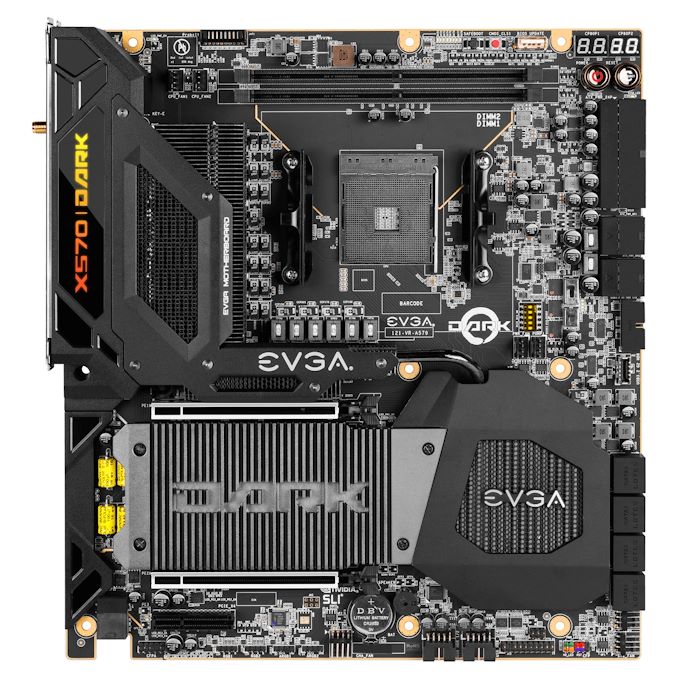 Looking at PCIe support, the EVGA X570 Dark has two full-length PCIe 4.0 slots with metal reinforcement that can operate at x16 and x8/x8, with one half-length x4 slot. Sandwiched in-between the PCIe 4.0 slots are two PCIe 4.0 x4 M.2 slots, which are both covered by a large Dark themed M.2 heatsink. To the right of this is a passively cooled chipset heatsink, which many newer X570S chipset boards now feature. Other storage options include eight SATA ports with six of these supporting RAID 0, 1, and 10 arrays, and the other two coming via an ASMedia ASM1061 SATA controller.

Moving the two DDR4 memory slots across the top from the top right-hand corner allows for more access to the CPU socket area and is also designed to make insulation for sub-zero cooling easier. The EVGA X570 Dark supports DDR4-4800 out of the box when overclocked, with a maximum combined capacity of up to 64 GB across both slots.

As expected on a model focused on overclocking, the EVGA X570 Dark has plenty of hardware-level features for enthusiasts. This includes a Probelt header for real-time voltage monitoring, including CPU VCore, VDIMM, VDDP, SoC, and PLL. Also present is a clear CMOS button, a Safeboot button, dual two-digit LED debuggers, a dedicated USB port for BIOS flashing, a power button, and a reset button.

Another space-saving element while on sub-zero, although the complete opposite for daily use, is the right-angled power connectors and front panel headers. This includes a 24-pin 12 V ATX motherboard power input, two 8pin 12 V ATX CPU power inputs, as well as all of the board's front panel USB and 4-pin fan headers. Overclockers like to keep these out of the way when actively monitoring a system, although daily users will need to find chassis that fit the E-ATX as well as the cables coming from the board. Touching more on cooling, EVGA includes eight 4-pin headers with two dedicated to CPU fans, two for water pumps, and four for chassis fans.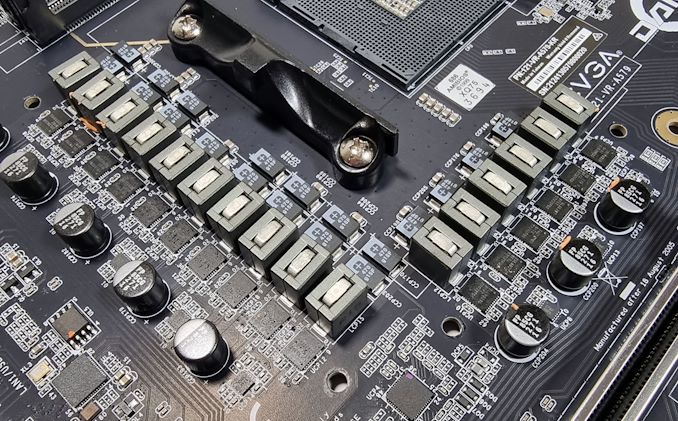 Focusing on the power delivery of the EVGA X570 Dark, it has a very premium 17-phase design with a Renesas RAA 229004 PWM controller operating in a 14+2+1 configuration. Looking at the CPU section, the X570 Dark uses fourteen Intersil ISL99390 90A power stages with a maximum current of 1260 amps to the CPU. Despite including no integrated graphics support, the small SoC section includes two Intersil ISL99390 90 A power stages operating with one Intersil ISL6617A doubler. The CPU section also uses seven Intersil ISL6617A doublers, which means the core and SoC part of the power delivery is running in a 7+1 configuration. Providing power to the power delivery is a pair of right-angled 8-pin 12 V ATX CPU power inputs, which can be found on the right-hand side of the board.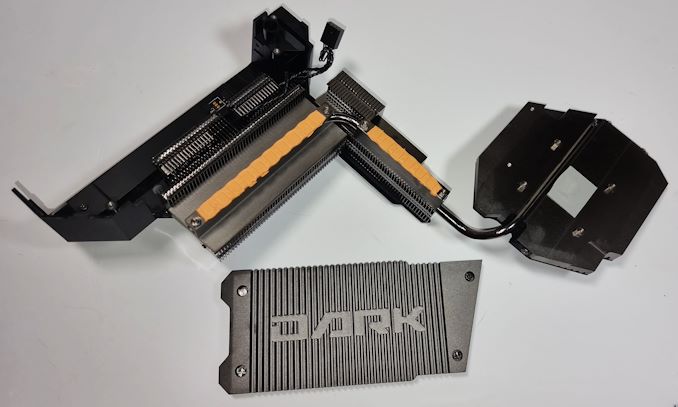 Keeping the power delivery cool is a vast and elaborate actively cooled heatsink. The main two sections feature large aluminum fin arrays, which sit quite high and forms an L-shape, with a single S-shaped heat pipe connecting it to the large chipset heatsink. EVGA includes two small cooling fans, which, when ramped up, do make a bit of a whine on an open test-bed. The large dual M.2 heatsink comes in one solid piece and includes a sizeable Dark series logo with a good number of fins to help pick up passive airflow when installed into a system.

For onboard audio, EVGA is using the Realtek ALC1220 HD audio codec at the heart of its audio solution. An EVGA NU audio SV3H615 headphone amplifier assists the audio, which adds an extra element of quality. Unlike other vendors in terms of audio capacitors, EVGA equips the board with four large and yellow Bennic Bi-Polar high impedance audio capacitors.

On the rear panel of the X570, the Dark has a modest selection of input and output. In terms of USB connectivity, the rear panel includes one USB 3.2 G2 Type-C, four USB 3.2 G2 Type-A, and two USB 3.2 G1 Type-A ports. The preinstalled I/O shield has honeycomb ventilation to allow the two power delivery cooling fans to vent out hot hair from the rear. For networking, the X570 Dark includes two Intel I225-V 2.5 GbE controllers and an Intel AX200 Wi-Fi 6 wireless interface that supports BT 5.2 devices.
EVGA has decided to opt for the Realtek ALC1220 HD audio codec assisted by an EVGA NU SV3H615 headphone amplifier and powers the five 3.5 mm audio jacks and S/PDIF optical output. Finishing off the rear panel is a PS/2 keyboard and mouse combo port and a small red clear CMOS button.
What's in The Box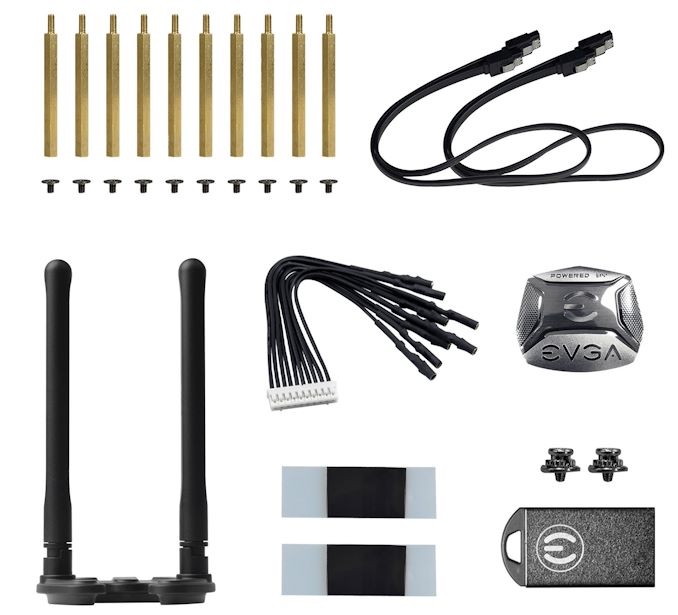 Some of the most notable accessories supplied with the EVGA X570 Dark include a small USB stick with all of the board's drivers, four black SATA cables, three M.2 thermal pads, two Probelt cables for voltage monitoring, and a Wi-Fi 6 antenna.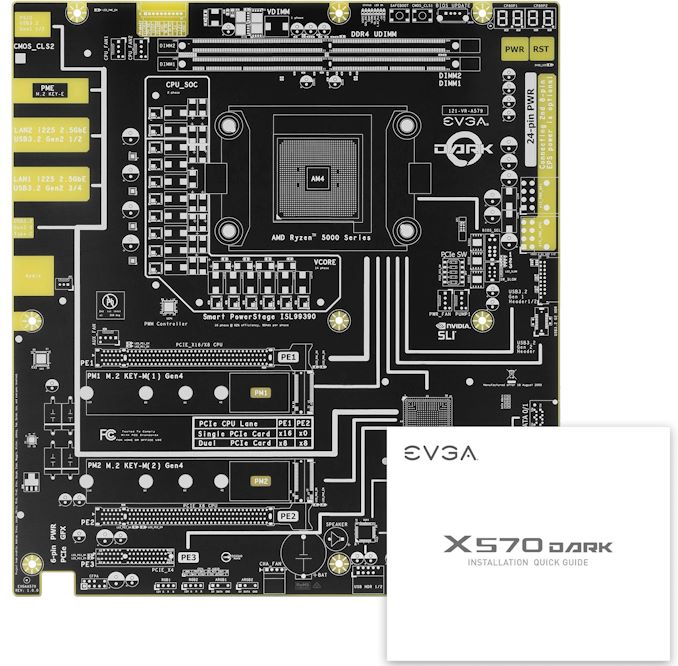 Also included within the accessories bundle is an EVGA X570 Dark branded bench stand, which not only allows users to combine this with the ten long standoffs to be used as a test bench of sorts, but it also provides a hardware map of the board printed onto it.
Quick installation guide
Bench table stand
10 x standoffs and screws
Intel WI-Fi 6 antenna
Driver installation USB drive
4 x SATA cables
3 x M.2 thermal pads
2 x Probelt OC cables
EVGA sticker