Visual Inspection
The GIGABYTE X570 Aorus Xtreme is an E-ATX motherboard with plenty of premium controllers and componentry, with a very clean looking and subtle all-black design. It wouldn't be 2019 without multiple areas with integrated RGB LEDs which allows users to create a unique look, or if preferred, users can switch them off altogether. Looking at the general aesthetic, GIGABYTE has gone with an all-black design with its metal thermal reactive armor which covers the vast majority of the rear section of the PCB.

One of the most interesting design implementations on the X570 Aorus Xtreme is the right-angled 24-pin 12 V ATX motherboard power connector which is designed to improve overall cable management, as well as fit in with its clean stylings. Right-angled 24-pin connectors are ultimately nothing new, but integrating it in this way with an 'armor' is different.
Across the board, GIGABYTE has included customizable RGB LED zones which include the rear panel cover, the Aorus falcon branding, the audio PCB cover, and the chipset heatsink. Users looking to expand beyond this can make use of the two addressable RGB headers, with a further two standard RGB LED headers also present.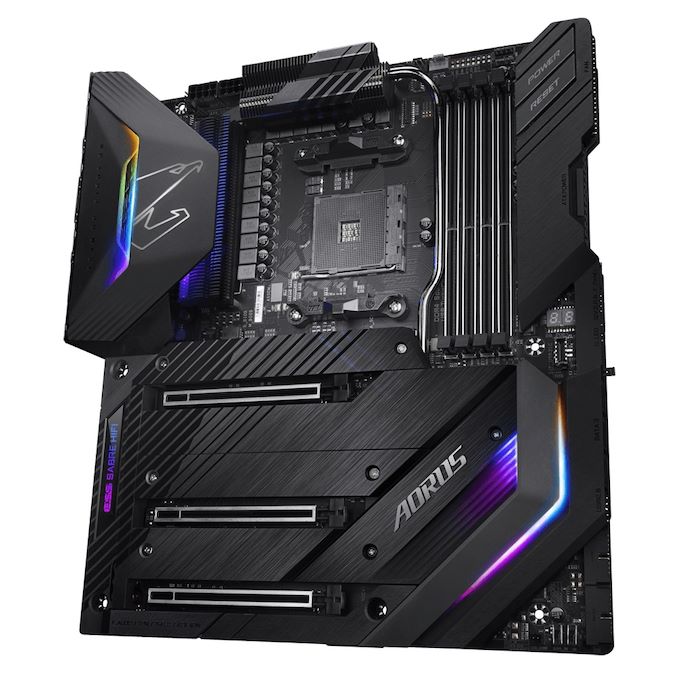 As the thermal armor covers the majority of the PCB, GIGABYTE has had to get creative with the header placement. In the middle at the right-hand side of the board is a two-digit DEBUG LED which is handy for troubling shooting POST issues, as well as identifying possible overclocking related issues. In the bottom right-hand corner is a dual BIOS switch. As with most overclocking friendly motherboards, the X570 Aorus Xtreme has included a power and reset switch, but unlike the usual bottom-mounted position on most boards, these are located in the top right-hand corner next to the memory slots. Other connectors include a front panel audio header powered by the Realtek ALC1220-VB HD audio codec, eight 4-pin headers which consist of one for a CPU fan, one for a water pump, and six for chassis fans. For extreme overclockers, there is an OC PEG power connector which allows more power to be delivered to the PCIe 4.0 slots.

Touching on the memory support on the X570 Aorus Xtreme, there are four memory slots with support for up to DDR4-4400 and allows users to install up to 128 GB. Both the use of non-ECC and ECC memory is supported, but only unbuffered ECC memory is supported.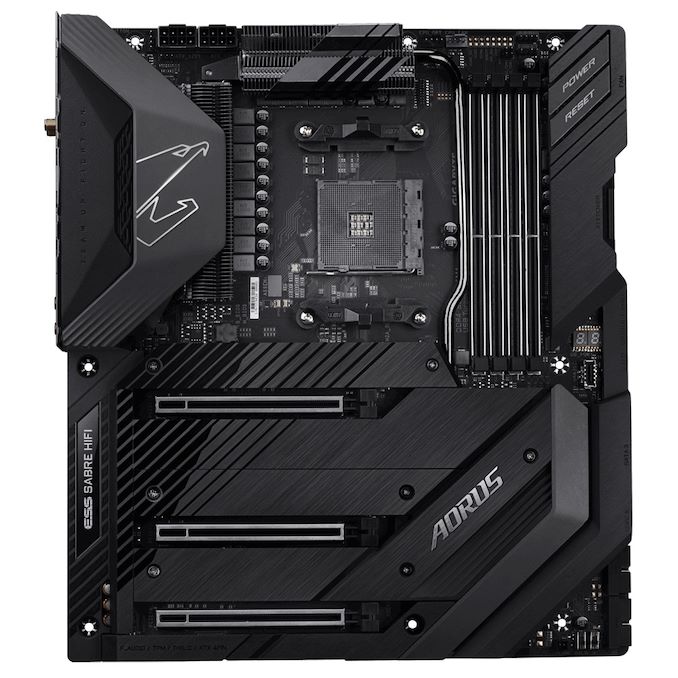 The GIGABYTE X570 Aorus Xtreme uses two full-length PCIe 4.0 slots which run at x16, and x8/x8. There is also third full-length PCIe 4.0 slot fromt he chipset which is locked down to x4. While the board has no PCIe 4.0 x1 slots, its space has been used to include three PCIe 4.0 x4 M.2 slots which also feature support for SATA drives. Each M.2 slot has a separate M.2 heatsink. The top-mounted PCIe 4.0 x4 M.2 slot is driven directly from the CPU, while the other two PCIe 4.0 x4 M.2 slots are controlled directly from the X570 chipset. There are also six SATA ports with support for RAID 0, 1, and 10 arrays, but it should be noted that the bottom-mounted PCIe 4.0 x4 M.2 slot and two of the SATA ports share bandwidth and cannot be used at the same time.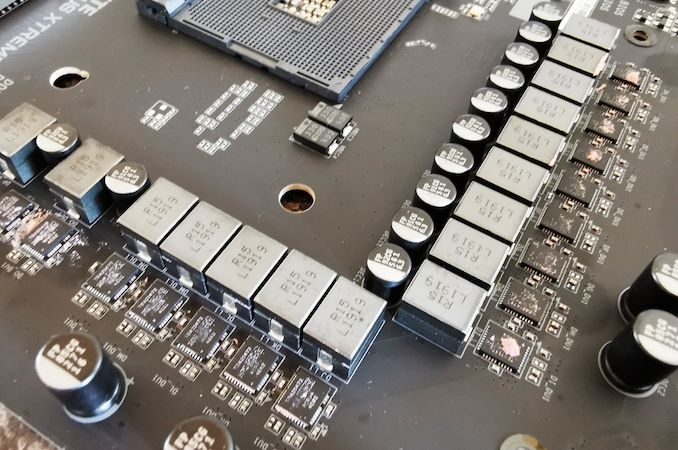 A lot of emphasis on the X570 chipset has been put into its power delivery configurations and when compared with previous generations of AM4 boards such as X370 and X470. In general, vendors have gone with more up-to-date and powerful VRM solutions with these boards expecting to power the 16-core Ryzen 9 3950X when it launches. The GIGABYTE X570 Aorus Xtreme is one shining example of its power delivery implementation, and uses a comprehensive design. The CPU VCore section is using a true 14-phase design with fourteen Infineon TDA21472 70 A power stages. Controlling the power delivery is Infineon's new 16-phase XDPE132G5C digital PWM controller which is operating in 14+2 mode. On the SoC side, the X570 Aorus Xtreme is using a standard 2-phase design which utilizes two TDA21472 70 A power stages. This includes two 8-pin 12 V CPU power inputs which give the CPU extra headroom to draw more power from the power supply when required. The power delivery on the X570 Aorus Xtreme is perhaps one of the best we have seen from a desktop motherboard in recent years and coupled with the impressive power delivery heatsink, this could be the perfect motherboard for overclockers and enthusiasts looking to push the Ryzen 3000 series of CPUs to its limits.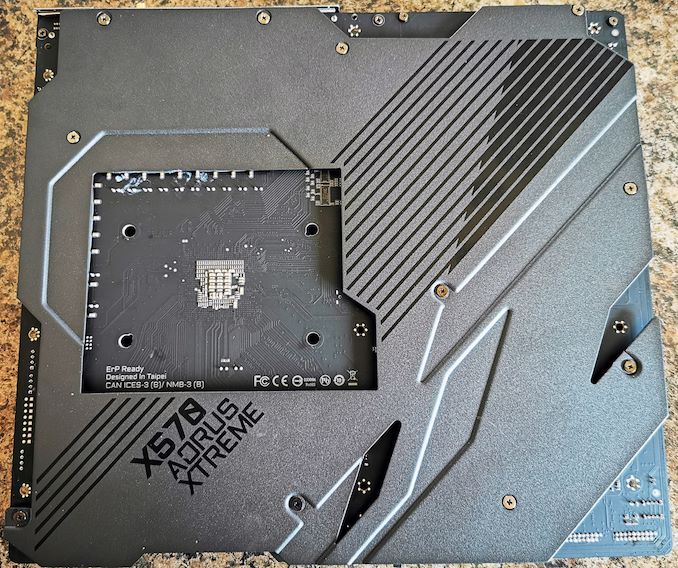 Adding extra to the weight of the nearly all-metal frame of the X570 Aorus Xtreme is a large Aorus branded backplate. Not only is this designed to make the board more durable and add extra reinforcement to avoid PCB warping, but is also designed to provide extra cooling properties. This backplate is coated with a thin layer of nanocarbon which GIGABYTE state is designed to lower backside PWM component temperatures by 10%.

Focusing on the audio PCB, and GIGABYTE as usual with its premium models has provided an upgraded solution which includes basic PCB separation from the rest of the motherboards componentry. The Realtek ALC1220 HD audio codec is assisted by five Japanese gold audio capacitors, while the ESS Sabre ES9218 DAC which enhances the overall quality of the audio up to and including the 130 dB signal to noise ratio it supports. The ES9128 DAC is supported by four WIMA audio capacitors.

On the rear panel of the GIGABYTE X570 Aorus Xtreme is a varied selection of inputs including an impressive number of USB connections. The X570 Aorus Xtreme features a pre-attached rear I/O shield and includes five USB 3.1 G2 Type-A, one USB 3.1 G2 Type-C, two USB 3.1 G1 Type-A, and four USB 2.0 ports. To the left-hand side is a pair of buttons including a clear CMOS and Q-Flash Plus switch, and there are two antenna ports for the Intel AX200 Wi-Fi 6 802.11ax wireless interface; this also gives users BT 5.0 connectivity. In addition to the Intel AX200 wireless interface is a pair of Ethernet ports powered by an Aquantia AQC107 10 GbE NIC, while the second port is controlled by a basic Intel I211-AT Gigabit NIC. For the onboard audio, there are five gold plated and labelled 3.5 mm audio jacks, with an S/PDIF optical output which are all controlled by a Realtek ALC1220-VB HD audio codec. This is assisted by an ESS Sabre ES9218 DAC.
What's in the Box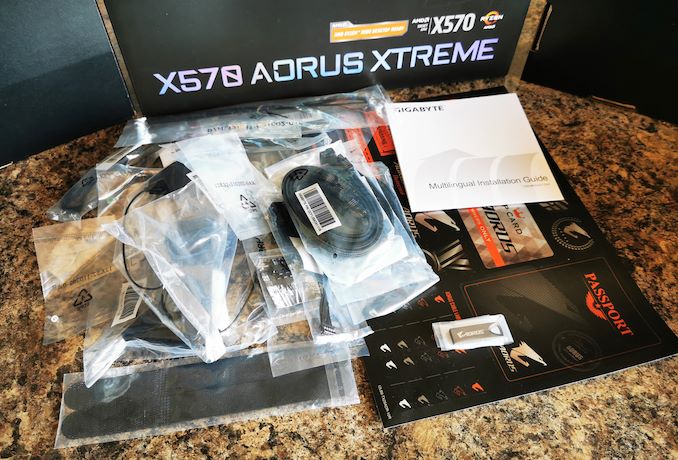 Inside of the large and premium box is a wide variety of accessories and also features the functional Aorus RGB Fan Commander. Also included in the box are six premium braided SATA cables, the Intel AX200 Wi-Fi antenna, two thermal probes, a G-connector, a USB stick containing all of the drivers, a pair of RGB LED extension cables, an audio cable for detecting the dB, a case badge, and a pair of Aorus branded velcro straps.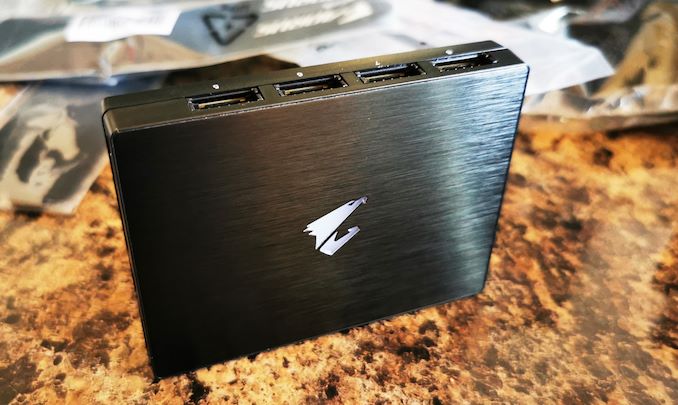 The Aorus RGB Fan Commander comes in a within the packaging and allows users to use up to eight more 4-pin chassis fans with eight separate RGB LED headers via the use of extension cables; these are included in the Commander accessories bundle. With the eight 4-pin headers already available on the X570 Aorus Xtreme's PCB, with the Aorus RGB Fan Commander users can use up to sixteen fans which is great for enthusiasts who want extra cooling options. The Aorus RGB Fan Commander comes supplied with its own plethora of cables including RGB LED splitter cables for RGB fans, and extension cables to connect 4-pin fans to the Commander itself.
6 x Black braided SATA cables
RGB LED extension cable
ARGB LED extension cable
Intel AX200 antenna set
2 x Thermal probes
Aorus RGB Fan Commander
Installation manual
Quick Start Guide
3 x M.2 Installation screws
USB Driver/Software installation drive
Front panel G-Connector
Front Panel splitter cable