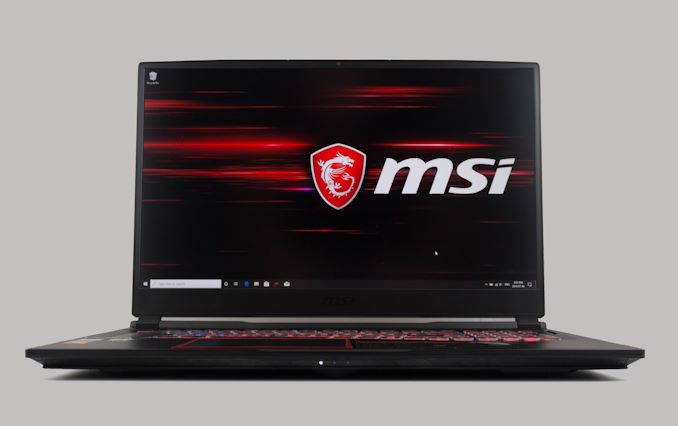 MSI went heavily into developing gaming products several years ago, and although the company's laptop lineup isn't exclusively gaming, that is by far the biggest portion of their portfolio, and as such we've seen some impressive laptops from MSI that offer both performance and quality ahead of their competition. Today we are looking at the latest in their "enthusiast" level of laptops with the MSI GE75 Raider. The GE range isn't quite at the top end of MSI's lineup – a spot that is occupied by the GT series – but it still offers prodigious portable performance without being as tied to the desk as a typical GT laptop would be.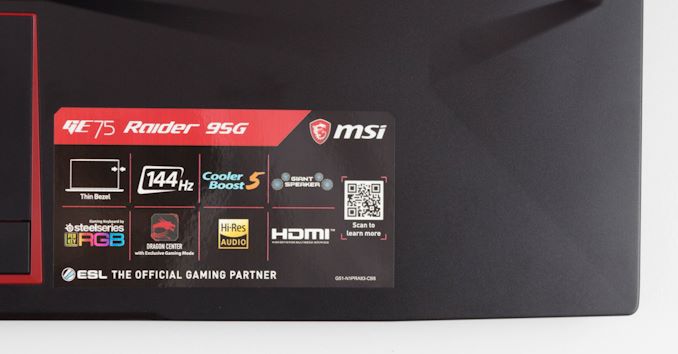 The GE75 Raider lineup is a pretty wide range of prices and performance in the 17.3-inch gaming laptop class, offering three GPU choices with the NVIDIA RTX 2060, RTX 2070, and RTX 2080 scaling up the pricing and performance, and CPU ranging from the hex-core Intel Core i7-9750H up to octa-core Intel Core i9-9880H depending on the model. MSI offers up to 64 GB of DDR4 RAM and 2 TB NVMe storage as well. There's no shortage of choices here with enough range to please anyone in this market.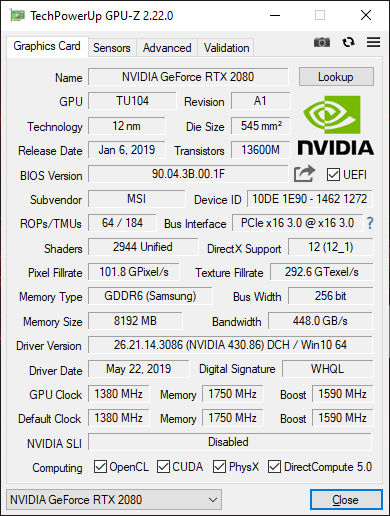 All the GE75 Raider models ship with a 17.3-inch IPS display. Although the resolution is just 1920x1080, the refresh rate is 144 Hz. Some may lament the lack of a UHD option, but in the laptop space, even the mighty RTX 2080 can still struggle to game at UHD without turning down some of the settings, and for those that haven't had a chance to try gaming on a high-refresh display, the added smoothness makes for a better experience than higher resolution, at least in my experience. If you really prefer UHD, MSI would be happy to have you step up to their GT range with the GT76 Titan offering such a display.
MSI GE75 Raider
Component
Low
Mid
High
Model Tested: Core i9-9880H RTX 2080 32GB DDR4 1TB NVMe
CPU
Intel Core i7-9750H
6C/12T 2.6-4.5GHz
45W TDP
Intel Core i7-9750H
6C/12T 2.6-4.5GHz
45W TDP
Optional
Core i9-9880H
8C/16T 2.3-4.8GHz
45W TDP
GPU
NVIDIA RTX 2060
1920 CUDA Cores
6 GB GDDR6 192-bit
26T RTX-OPS
NVIDIA RTX 2070
2304 CUDA Cores
8 GB GDDR6 256-bit
31-38T RTX-OPS
NVIDIA RTX 2080
2944 CUDA Cores
8 GB GDDR6 256-bit
37-53T RTX-OPS
Memory
16-64 GB DDR4-2666
2 SODIMM Slots
Storage
512GB-1TB NVMe
Optional 1TB HDD
Optional 2 x 1TB NVMe
Display
17.3-inch 1920x1080 IPS
144 Hz Refresh Rate
No G-SYNC
Networking
Killer N1550i 2x2:2 802.11ac Wireless
Killer E2500 Ethernet
Bluetooth 5
I/O
USB Type-C Gen2 x 1
USB Type-A Gen2 x 2
HDMI 2.0
Mini DisplayPort
SD Card Slot
SPDIF (ESS Sabre HiFi)
Headphone jack
Keyboard
SteelSeries per-Key RGB
Anti-Ghosting
Speakers
3W x 2 Woofers
3W x 2 Subwoofers
Battery
51Wh
180W AC Adapter
51Wh
280W AC Adapter
65Wh
280W AC Adapter
Dimensions
397 x 268 x 27.4 mm
15.63 x 10.57 x 1.08 inches
Weight
2.61 kg / 5.75 lbs
MSRP
$1,799
$1999-$2899
$2499-$3399
The GE75 Raider packs all of this performance into a 17.3-inch chassis that weighs 5.75 lbs, which by no means makes it an Ultrabook, but still provides a level of portability that makes it easy to move from desk to desk. As part of this tradeoff for portability, MSI has chosen to provide NVIDIA Optimus support, meaning the NVIDIA GPU can be turned off when not needed and the laptop runs off the integrated Intel GPU, but the downside to that is the lack of G-SYNC, because G-SYNC requires the display be direction connected to the NVIDIA GPU. There is a solution to this which Acer outfitted in the Predator Triton 500 we reviewed, which is a user-selectable multiplexer to choose which GPU the display connects to, and giving the user the choice of G-SYNC or Optimus, but unfortunately MSI has not gone this route.
Other notable features of the MSI GE75 Raider are both Gigabit Ethernet and 802.11ac wireless in the form of the Killer E2500 and Killer N1550, the latter of which is based on the Intel 9260 and therefore features wide-channel support and up to 1.73 Gbps maximum connection speed, assuming your router supports the wider channels. MSI also outfits the GE75 Raider with speakers they brand as "Giant Speakers" which offer two 3W speakers with two 3W subwoofers. There's the typical selection of USB ports with two Gen 2 and one Gen 1, as well as a USB Type-C with Gen 2 support, but somewhat surprisingly no Thunderbolt 3 support.
MSI offers some interesting aspects in their design, so let's dig into that now.