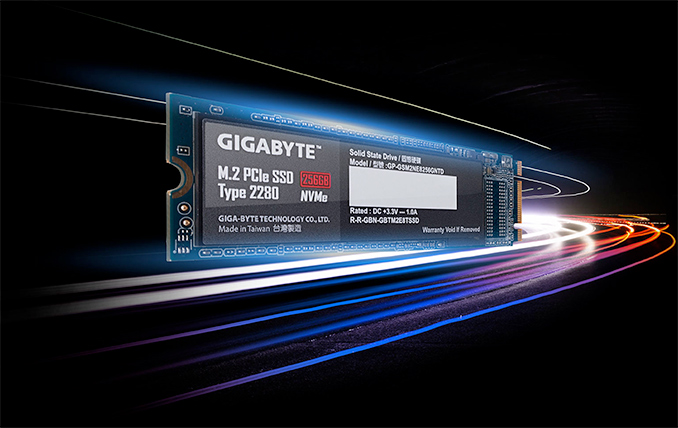 A press release sent out by GIGABYTE on Friday said that the company would demonstrate one of the industry's first SSDs featuring a PCIe 4.0 interface at Computex next week. The company says that its drive will offer maximum sequential read/write speeds of up to 5 GB/s. when used with AMD's upcoming Ryzen 3000-series platform supporting PCIe 4.0.
GIGABYTE is a rather new player on the SSD market and at present the company only offers drives based on controllers from Phison. Therefore, it is more than likely that GIGABYTE will showcase a PCIe 4.0 x4 SSD based on Phison's PS5016-E16 controller that the chip developer demonstrated earlier this year at CES 2019. Keep in mind though that GIGABYTE has not officially confirmed use of the Phison controller.
The Phison PS5016-E16 processor has 8 NAND channels with 32 CE targets that supports interface speeds of up to 800 MT/s. Featuring Phison's 4th Gen LDPC ECC engine, the controller can support both 3D TLC and 3D QLC NAND flash memory. To ensure high performance, it can also support a DDR4-1600 DRAM buffer.
One interesting thing to note about the SSD that GIGABYTE plans to demonstrate is that it was published as that it will offer up to 5 GB/s read/write speeds 'in low temperatures', which suggests that this drive will require a sophisticated cooling to show all of its advantages. It is also noteworthy that 5 GB/s speeds will likely be hit by high-capacity drives only given 8 NAND channels at 800 MT/s featured by the controller.
It is noteworthy that back in January a prototype SSD powered by the PS5016-E16 could only offer 4/4.2 GB/s read/write speeds. Given GIGABYTE's performance figures, it is evident that Phison has managed to significantly boost performance of SSDs based on its controller in less than half of a year.
Computex 2019 trade show will take place in Taipei, Taiwan, from May 28 to June 1, 2019.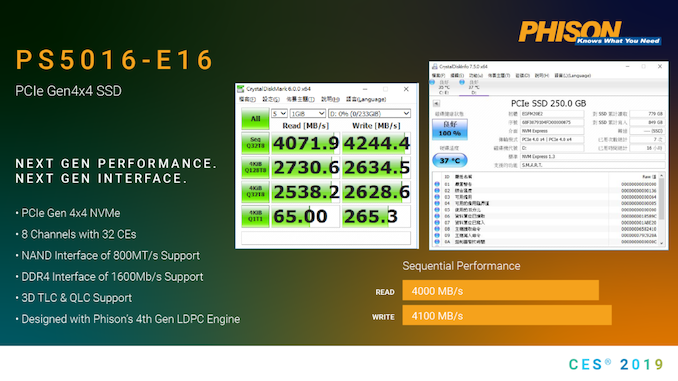 Related Reading:
Source: GIGABYTE
Want to keep up to date with all of our Computex 2019 Coverage?

Laptops

Hardware

Chips
Follow AnandTech's breaking news here!