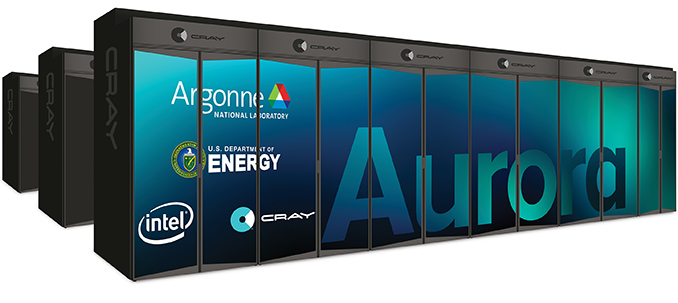 Intel this week announced that its processors, compute accelerators, and Optane DC persistent memory modules will power Aurora, the first supercomputer in the US projected to feature a performance of one exaFLOP. The system is expected to be delivered in about two years, and goes beyond its initial Xeon Phi specification released in 2014.
The US Department of Energy, Intel, and Cray have signed a contract under which the two companies and DOE's Argonne National Laboratory will develop and build the Aurora supercomputer capable of a "quintillion" floating point computations per second. The deal is valued at more than $500 million, the system is expected to be delivered sometimes in 2021.
The Aurora machine will be based on Intel's Xeon Scalable processors, the company's upcoming compute accelerators based on the Xe compute architecture for datacenters, as well as a next-generation Optane DC persistent memory. The supercomputer will rely on Cray's 'Shasta' architecture featuring Cray's Slingshot interconnect, that was announced at Supercomputing back in November. The system will be programmed using Intel's OneAPI and will also use the Shasta software stack tailored for Intel.
Around two years ago the DOE started its Exascale Computing Project to spur development of hardware, software, and applications for exaFLOP-class supercomputers. The organization awarded $258 million in research contracts to six technology companies, including AMD, Cray, Hewlett Packard Enterprise, IBM, Intel, and NVIDIA. As it turns out, Intel's approach was considered as the most efficient one for the country's first Exascale supercomputer.
It is noteworthy that ANL's Aurora supercomputer back in 2014 was supposed to be based on Intel's Xeon Phi codenamed Knights Hill produced using the company 10 nm process technology. The plan changed in 2017, when Intel canned the Knights Hill in favor of a more advanced architecture (and the fact that its Xeon processors were approaching a Xeon Phi-like implementation). Apparently, Intel and its partners are confident in the new chips to proceed with the project now.
The Aurora supercomputer will be able to handle both AI and traditional HPC workloads. At present, Argonne National Laboratory says that among other things this machine will be used for cancer research, cosmological simulations, climate modeling, discovering drug response, and exploring various new materials.
"There is tremendous scientific benefit to our nation that comes from collaborations like this one with the Department of Energy, Argonne National Laboratory, industry partners Intel and Cray and our close association with the University of Chicago," said Argonne National Laboratory Director, Paul Kearns. ​"Argonne's Aurora system is built for next-generation artificial intelligence and will accelerate scientific discovery by combining high-performance computing and artificial intelligence to address real world problems, such as improving extreme weather forecasting, accelerating medical treatments, mapping the human brain, developing new materials and further understanding the universe — and those are just the beginning."
Related Reading:
Sources: Intel, Intel, Argonne National Laboratory