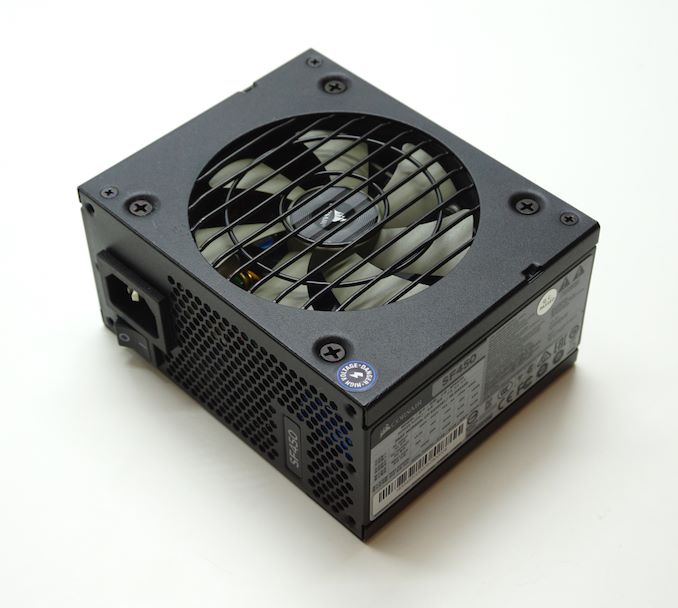 As high-performance entertainment and gaming PCs are gaining ground, manufacturers are placing greater effort on the development of better and more efficient small form factor (SFF) parts. These days it's possible to build an advanced gaming PC that rivals gaming consoles in terms of size, at least so long as you have an appropriate SFX power supply unit (PSU) capable of delivering enough current to a power-hungry graphics card.
Not more than a few years ago, it would have been very difficult (and costly) to purchase a high performance SFX PSU. As the market demand for such units increased, some companies jumped on the opportunity and added a couple of SFX units into their product lineups. Although their overall performance was much better than the average run-of-the-mill SFX PSU, their cost was relatively high and their performance was not quite comparable to that of regular ATX units, especially when it came to acoustics. The market matured quickly though and this year we are seeing a number of new SFX PSU platforms appearing, promising performance comparative to that of advanced ATX units.
Corsair is one of the first companies that released advanced SFX PSUs into the market. Their SF PSU series used to be one of the very few choices that advanced users had when building a system requiring an SFX PSU. Corsair usually upgrades their PSUs without renaming them or their series, and this month the company decided to give their SF series a revamp. The new SF series units now come with an 80Plus Platinum efficiency certification and very impressive electrical specifications.
In this review we are having a look at the SF450, the less powerful model of the series that has a maximum power output of 450 Watts. The SF450 has an MSRP price of $99 and seemingly is a quite cost-effective solution for an advanced PSU powering a single graphics card SFX gaming system.
Power specifications ( Rated @ 50 °C )
AC INPUT
100 - 240 VAC, 50 - 60 Hz
RAIL
+3.3V
+5V
+12V
+5Vsb
-12V
MAX OUTPUT
15A
20A
37.5A
2.5A
0.3A
100W
450W
12.5W
3.6W
TOTAL
450W
Packaging and Bundle
We received the SF450 in a medium-sized cardboard box with the same yellow/black artwork that the company has us used to over the past several years. The artwork is simple and clean, with the front focusing on a subtle picture of the unit itself and the detailed information moved to the rear and sides of the box. Inside the box, we find the unit well packed, protected between foam paddings and inside a reusable nylon pouch.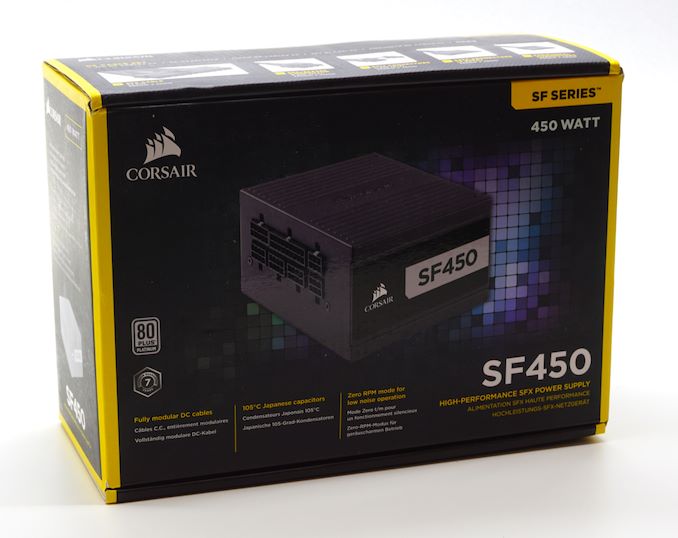 The bundle of the SF450 is relatively rich for a PSU. Corsair supplies the typical AC power cable, black 3M mounting screws, a very thorough multilingual manual, a case badge, a few short cable ties, and a couple of cable straps. The company also supplies an SFX to ATX case adapter that will certainly be useful to users who upgrade or fiddle with their systems often.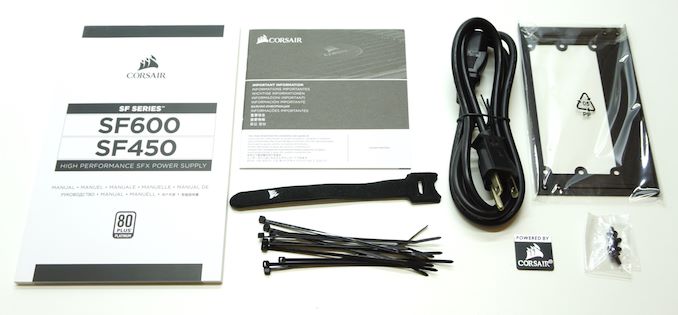 The new SF450 SFX PSU is fully modular. Its stock cables are a little shorter that those of a standard ATX PSU, which may cause compatibility problems when trying to install the unit inside a large ATX case. Corsair does offer longer cable versions but at an additional cost. All of the connectors and cables are black, with individually sleeved wires. This creates a unique aesthetic effect and does not make the cables as stiff as we thought they would be. Flat ribbon-like cables would probably be a little better for very tight spaces, as they are more flexible and take up less space.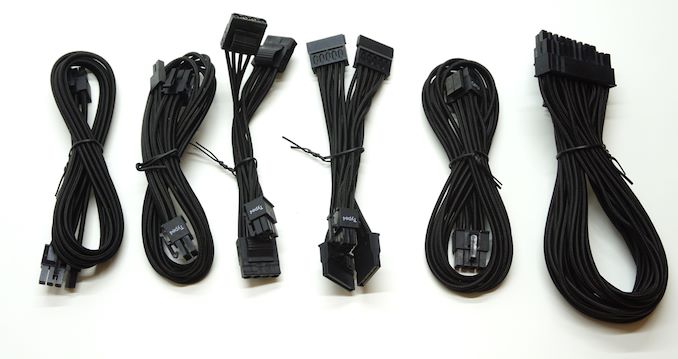 Corsair SF450 2018
Connector type
Hardwired
Modular
ATX 24 Pin
-
1
EPS 4+4 Pin
-
1
EPS 8 Pin
-
-
PCI-E 6+2 Pin
-
2
PCI-E 8 Pin
-
-
SATA
-
4
Molex
-
3
Floppy
-
-