EVGA Z390 Dark
There has been somewhat of a cloud over what EVGA is currently doing, and whether or not they intended to release any new Z390 motherboards to the market. For the Z370 chipset EVGA announced and released a total of three models, which consisted of two ATX boards, the Z370 Classified K & Z370 FTW, and a smaller mATX offering, the Z370 Micro ATX.
Teased over social media from a couple of sources which include veteran extreme overclocker Vince Lucido (Kingp1n) and other EVGA personnel. The teasers depict a mystical looking motherboard with a right-angled set of 24pin and dual 8-pin ATX 12 power inputs: Well we have the scoop on what the new board is, what's on the surface and what we think of the outlandish, yet interesting design of the incoming EVGA Z390 Dark. The other board from EVGA looks to be a refresh of the Z370 FTW with a newer Z390 FTW version also seemingly in the pipeline.
EVGA Z390 Dark
The EVGA Z390 Dark looks to be one of the only Z390 motherboards that EVGA has been working on and if true, it would mean that most of their chips are rolled into this particular model; we haven't been able to confirm if EVGA plan on releasing any more Z390 boards, but we will certainly keep users up to date on what we know, when we know it.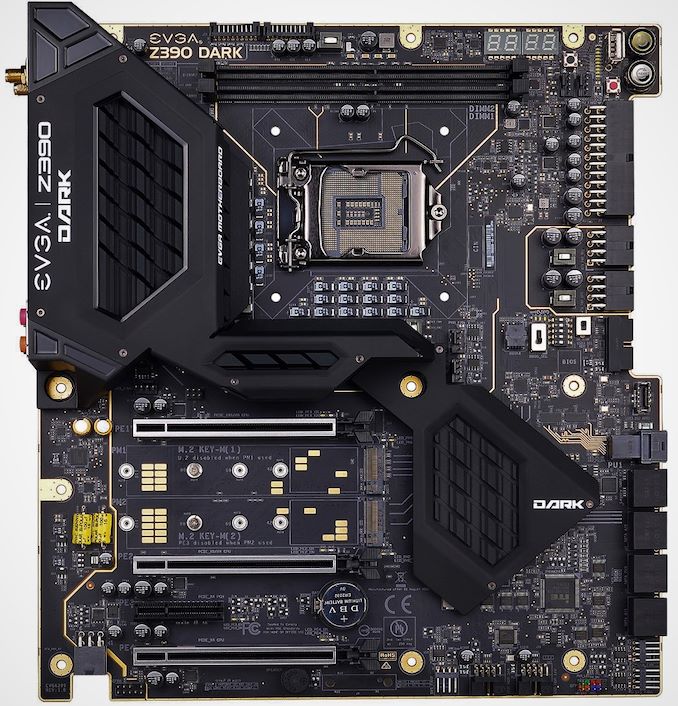 On the surface, the EVGA Z390 Dark has a total of three PCIe 3.0 full-length slots with metal slot protection and it's expected that these slots will operate at x16, x8 and x4 with dual graphics card setups operating at x8/x8. There's also a PCIe 3.0 x4 slot in between the two bottom full-length slots and above these are dual M.2 PCIe 3.0 x4 slots which are uniquely placed together on the PCB. We can tell that the EVGA Z390 Dark has a single U.2 port and it also looks as if though there are a total of eight SATA ports which will support RAID 0, 1, 5 and 10 arrays.
One of the most interesting aspects to the EVGA Dark Z390 is the decision to rotate the socket to a 90-degree angle. This is generally a trait found on server boards in which the design purpose is to provide directional air cooling. My take on it is that it could be easier to mount a CPU pot for extreme overclockers, as it's clear that this motherboard is designed primarily for performance. Located at the top of the board are a pair of RAM slots which we now know to feature a newly designed memory trace layout for the best memory overclocking potential; more will be revealed when the official specifications eventually land. The power inputs on the board which consist of two 8-pin 12 V ATX CPU power inputs and a 24-pin ATX motherboard power input are all featured on the right-hand side of the board and very interestingly, the connectors are aligned together with right-angled connectors making the EVGA Z390 Dark stand out as this is the only Z390 motherboard to feature this type of connector.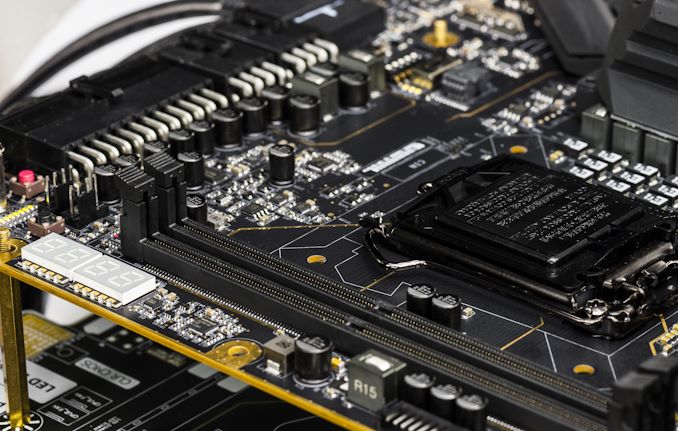 As a result of the rotated CPU socket, the power delivery is now occupying the PCB space between the socket itself and the top full-length PCIe 3.0 x16 slot. This could mean an increase of temperatures around this specific area when a beastly graphics card such as the NVIDIA GTX 2080 Ti is installed, but this design trait has allowed EVGA to create an extended heatsink which emanates from the rear panel cover and stretches all the way to the Z390 chipset itself. The specifics on the power delivery are unknown but EVGA has informed us that the Z390 Dark will feature a 16-phase set up with the configuration and spec currently unknown at this time. The top right-hand corner of the board has a power, reset and what looks to be a reset CMOS switch with a pair of LED Debugs located to the left of these; this is another indicator that I believe this board will be targeted to performance users such as extreme overclockers, much in the same way that the ASUS ROG Maximus XI Apex is.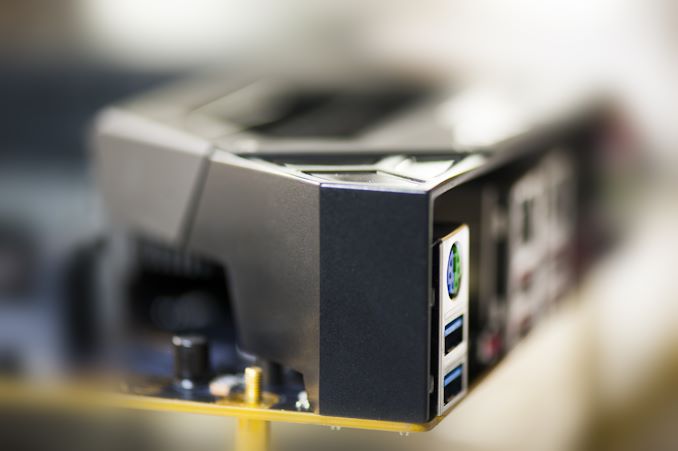 At this time, we have received no clear shots of the rear panels so we won't speculate what's going to be on there, but we can tell that the board will include 802.11ac Wi-Fi support, what looks possibly like dual LAN and a PS/2 combo port. There is currently no pricing information available, but from what we have been told the EVGA Z390 Dark will likely be landing towards the end of October or possibly in November sometime.
Updated 10/09:
Thanks to an email earlier this morning, we now know that the EVGA Z390 Dark will have a 17-phase design with support for both the current Intel 8th and new 9th generation processors. The rear panel as we currently now know includes dual Intel Gigabit LAN and looks to use a Creative based audio codec along with a mini-DisplayPort. The PCB includes an onboard Clear CMOS, a reset and power button and dip switches which allow users to disable individual PCIe 3.0 slots.
As we speculated, we know the EVGA Z390 Dark is confirmed to include extreme overclocking features including onboard temperature and voltage monitoring, dual EVGA Probe-It connectors, three BIOS chips for triple BIOS and a slow mode switch which locks the CPU multiplier down to the processors minimum core frequency to allow for real-time switching for enhanced stability during sub-zero benching runs.