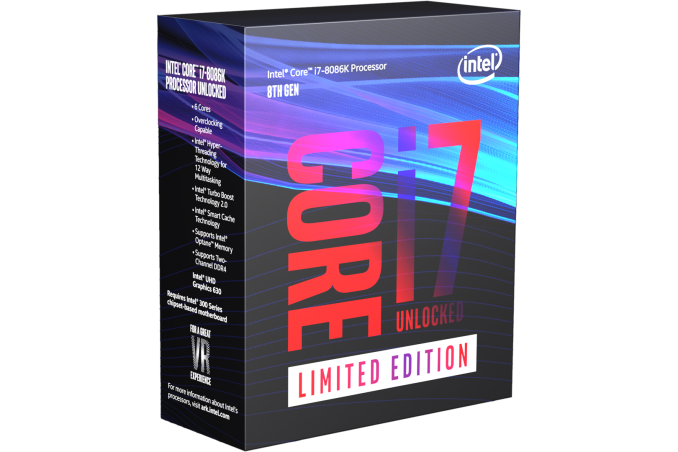 While Intel's other 5GHz processor has turned out to be greatly exaggerated, Intel's original 5GHz chip, the Coffee Lake-based Core i7-8086K, is very much real. And right on schedule, Intel has rolled it out to retail.
As unexpectedly published in the Intel 8086K giveaway terms & conditions, the retail price on the chip is indeed $425. This makes for what's essentially a $75 premium over Intel's once and future king, the Core i7-8700K. As a reminder only 50,000 units of the 8086K are being released – minus 8,086 for the giveaway – so while this is technically Intel's fastest 6-core CPU, it isn't going to be a permanent fixture like the 8700K.
Intel 8th Generation 'Coffee Lake' Core i7 Desktop Processors
i7-8086K
i7-8700K
i7-8700
i7-8700T
Cores
6C / 12T
Base Frequency
4.0 GHz
3.7 GHz
3.2 GHz
2.4 GHz
Turbo Boost 2.0
(Single Core)
5.0 GHz
4.7 GHz
4.6 GHz
4.0 GHz
L3 Cache
12 MB
DRAM Support
DDR4-2666
Integrated Graphics
GT2: 24 EUs
IGP Turbo
1.20 GHz
PCIe Lanes (CPU)
16
TDP
95 W
95 W
65 W
35 W
Price (tray)
$425?
$359
$303
$303
While we're still waiting to get the individual per-core turbo levels of Intel's special edition chip, officially its base clock and single-core turbo clock are both 300MHz higher than the 8700K, or about 6-8% faster than its non-special counterpart. And we expect the other turbo levels to be similar. Ostensibly the TDP remains at 95W, however as Intel defines this as power consumption under load at the base clock, power consumption with turbo – particularly multi-core enhancement, which I know you're all going to run anyhow – will definitely be higher.
The CPU is available from Amazon, Newegg, and a few other retailers while supplies last.