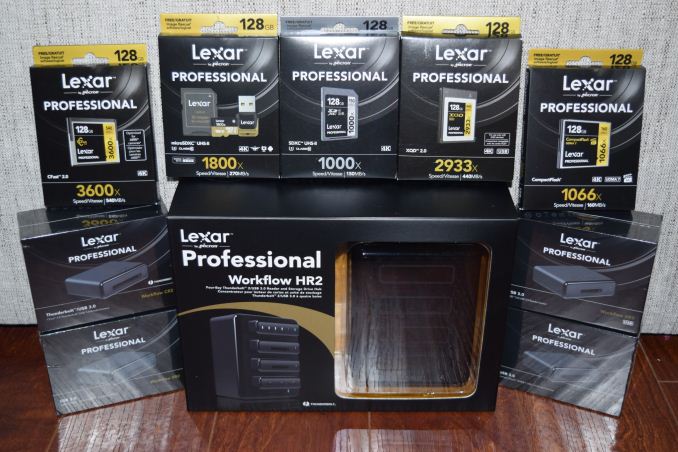 ​Content creators in the field often have to deal with large amounts of data spread over multiple flash media. Importing them into a computer for further processing has always been a challenge. Casual users can connect the cameras directly to a PC, while some might prefer taking the card out and using a card reader for this purpose. There are a multiple options available in the card reader market. However, professionals who value cutting down the media import time need to opt for readers with a USB 3.0 and/or Thunderbolt interface. Lexar has a range of card readers and a 4-bay hub (the Lexar Professional Workflow HR2) to go with them. In this review, we take a look at the hub in action. The process also allows us to create a framework for reviewing flash-based storage media for non-PC applications.
Introduction
Lexar is a division of Micron Technology, and caters to the consumer memory market. Their product lines include memory cards, USB flash drives, card readers, and external SSDs. The main target market is content creators who work primarily in the field. As digital photography took hold, two main memory card formats gained prominence - CompactFlash and SD. However, as bandwidth requirements increased with the advent of high-resolution video, other memory card formats such as CFast and XQD are also getting a toehold in the market.
​Lexar's approach to the card reader market is very interesting. Most of their readers come in a standard size and have an appropriately located USB 3.0 Type-B female port in the rear. The hub we are reviewing today (HR2) has four slots into which these readers can be inserted. The slots have a USB 3.0 Type-B male port inside, allowing four different readers to be linked to a single backplane. The CFast 2.0 reader is a bit different, though. In addition to the USB 3.0 port that allows it to communicate through the hub, it also sports a Thunderbolt 2 port. However, the Thunderbolt port is not used when the reader is accessed via the hub.
The Lexar Professional Workflow HR2 is sold as a pure 4-bay hub and does not come with any readers (or, cards - but, that is obvious). For the purpose of our review, the following Lexar Professional components were used:
Workflow HR2 4-bay Thunderbolt 2 / USB 3.0 Hub
Workflow CR2 CFast 2.0 Thunderbolt / USB 3.0 Reader
Workflow SR2 SDHC / SDXC UHS-II USB 3.0 Reader
Workflow CFR1 CompactFlash UDMA 7.0 USB 3.0 Reader
Workflow XR2 XQD 2.0 USB 3.0 Reader
3600x CFast 2.0 128GB Card
1800x microSDXC UHS-II U3 Class 10 128GB Card
1000x SDXC UHS-II U3 Class 10 128GB Card
2933x XQD 2.0 128GB Card
1066x CompactFlash UDMA 7 128GB Card
The readers and cards allowed us to put the hub to extensive use and also helped in developing a framework for performance evaluation of the cards.
The Workflow HR2 package comes with the main unit, a Thunderbolt 2 cable, a USB 3.0 Type-B male to Type-A female cable, and a 60W adapter (12V @ 5A) along with adapter plugs for various locales.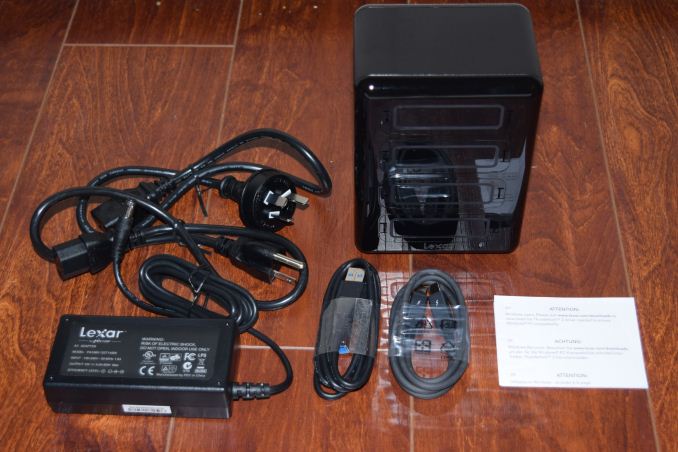 On the rear, we have a USB 3.0 Type-B female port and the power adapter inlet. There are two Thunderbolt 2 ports, allowing the hub to be part of a daisy-chain configuration. The bays are protected by faceplates that are easy to take out, as shown in the gallery below. The card readers come with the appropriate cables and also a dust cover.
The readers can be used standalone, and are bus-powered. Note that the CFast 2.0 reader's Thunderbolt interface is utilized only when it is used standalone, and not as part of the hub. The hub acts as a USB 3.0 to USB 3.0 / Thunderbolt bridge, while supporting various other Thunderbolt features. The bandwidth part, unfortunately, is restricted to what the USB 3.0 interface can support - an issue for some of the CFast 2.0 cards that claim read speeds of 540 MBps.