MSI Z270 SLI Plus Board Features
As we mention in our introductory section, MSI's designers have been trying to implement on the Z270 SLI Plus as many practical features as possible with a motherboard that needs to retail for under $140. Compromises had to be made and thus there is no Thunderbolt support and no native U.2 ports - adding these would have pushed the cost higher and into a more premium category. The use of U.2 drives is still possible though, with appropriate adapters on the M.2 slots.
MSI Z270 SLI Plus
Warranty Period
3 Years
Product Page
Link
Price
$133
Size
ATX
CPU Interface
LGA1151
Chipset
Intel Z270
Memory Slots (DDR4)
Four DDR4
Supporting 64GB
Dual Channel
Up to 4133 MHz
Memory Slots (DDR3L)
None
Video Outputs
HDMI 1.4
DVI-D
Network Connectivity
Intel I219-V
Onboard Audio
Realtek ALC1220
PCIe Slots for Graphics (from CPU)
2 x PCIe 3.0 (x16/x0, x8/x8)
PCIe Slots for Other (from PCH)
1 x PCIe 3.0 x4
3 x PCIe 3.0 x1
Onboard SATA
Six, RAID 0/1/5/10
Onboard SATA Express
None
Onboard M.2
2x PCIe 3.0 x4 or SATA, RAID 0/1, NVMe
Onboard U.2
None
USB 3.1
1 x Type-A on back panel, ASMedia ASM2142
1 x Type-C on back panel, ASMedia ASM2142
USB 3.0
4 x Rear Panel
4 via headers
USB 2.0
2 x Rear Panel
4 via headers
Power Connectors
1 x 24-pin ATX
1 x 8-pin CPU
Fan Headers
1 x CPU (4-pin)
1 x Pump (4-pin)
4 x CHA/SYS (4-pin)
IO Panel
1 x Combination PS/2
2 x USB 2.0
4 x USB 3.0 (USB 3.1 Gen 1)
1 x USB 3.1 Type-A
1 x USB 3.1 Type-C
1 x Network RJ-45
HDMI 1.4
DVI-D
Audio Jacks
Other Features
COM/Parallel Port Header
TPM Header
Front Audio Header
RGB LED Connector
Using the Realtek ALC1220 will be a plus here, especially in comparison to the ASRock. When going cheap on a board, some vendors choose Realtek for network controllers, but most motherboard manufacturers now see added value in choosing the Intel chipset. It is worth noting that there is also no optical SPDIF out jack, which can be quite the issue for people using sound devices that rely on such a connector.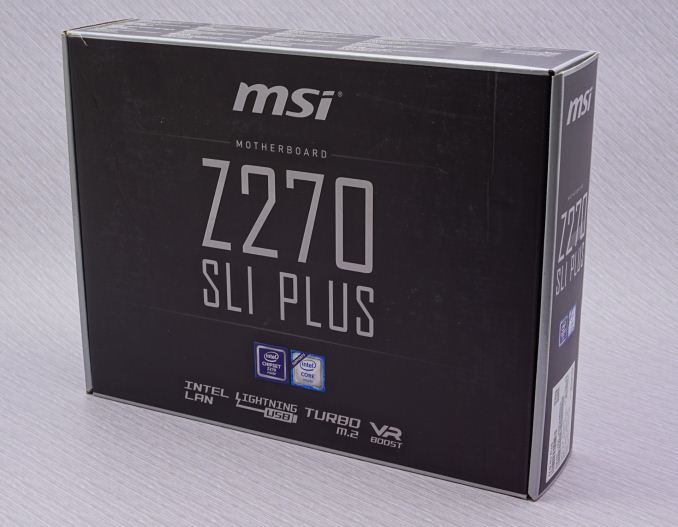 In The Box
We get the following:
Driver Disk
Manual
Rear I/O Shield
Two black SATA cables (one straight, one with a 90° connector)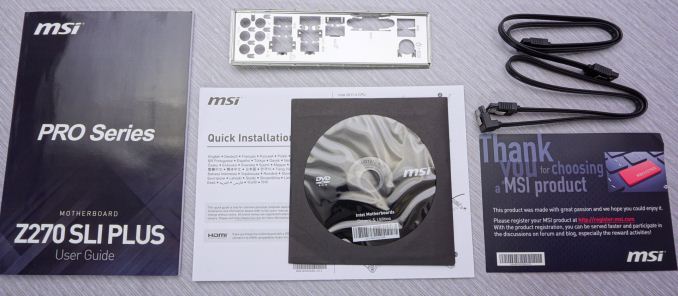 The bundle of the MSI Z270 SLI Plus is frugal, with the company obviously trying to keep the retail price of the motherboard below $140 without sacrificing any of its features. There is a single, detailed user's manual that is printed only in English, a DVD with the drivers and other software, a typical I/O shield, a basic quick installation leaflet, a registration card and, finally, just two black SATA cables. We did not find as much as a case badge included, let alone front panel attachments and/or Type-C cables, or other "premium" items. Considering the retail price and listed features of the motherboard, we were not surprised that MSI had to stick with the absolute basics here.
Visual Inspection
The company's designing efforts were mostly focused on making the Z270 SLI Plus a functional board but they did not neglect aesthetics while at it. The Z270 SLI Plus is an all-black board, with black heatsinks that feature silver trim designs. White LEDs have been installed at the back of the motherboard, illuminating the system area surrounding it. There is a header for RGB strips that the company dubs the "Mystic Light", which are controllable via the provided software, but the user will always be stuck with white lighting on the motherboard itself. Nevertheless, the onboard LEDs can be switched off if the user wants to. MSI also implemented "shielding" on the PCIe and DIMM slots, in the form of a metal brace. The metal brace assists in rigidity, preventing wrapping and damage due to excessive force, weight, or the combination of the two. It can be highly practical for users who transport their system or change cards/DIMMs often. MSI decided not to install such a shield on the third PCI-E 3.0 ×16 slot, quite possibly because the company does not expect a heavy, high performance GPU card to be installed there.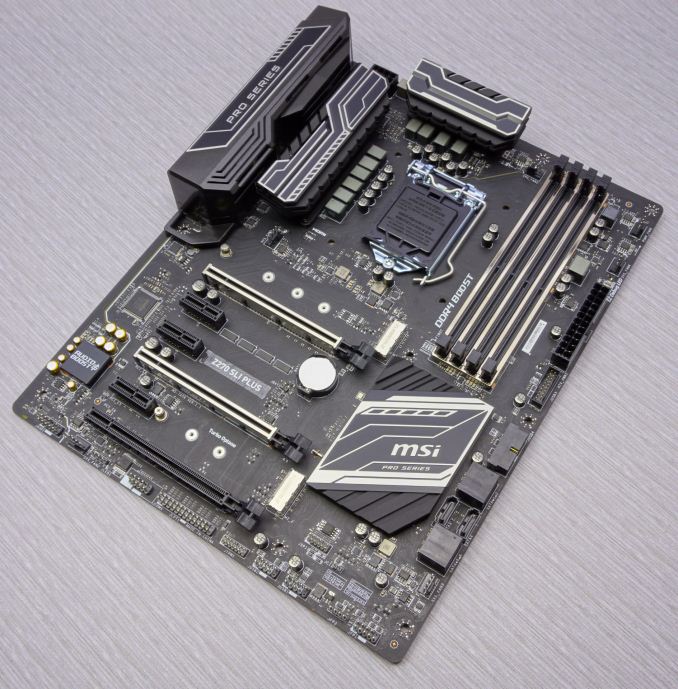 The general layout of the motherboard is simple, clean and functional, with the designer placing nearly all of the headers across the bottom edge of the motherboard. This includes a TPM and the RGB LED strip headers. Only the headers for the four USB 3.0 ports can be found next to the ATX power connector, which is reasonable considering that these will most likely be used by corresponding front panels that will be installed at the front of the case. There is no code display but MSI did implement a simple debug LED system that can be effectively used for troubleshooting.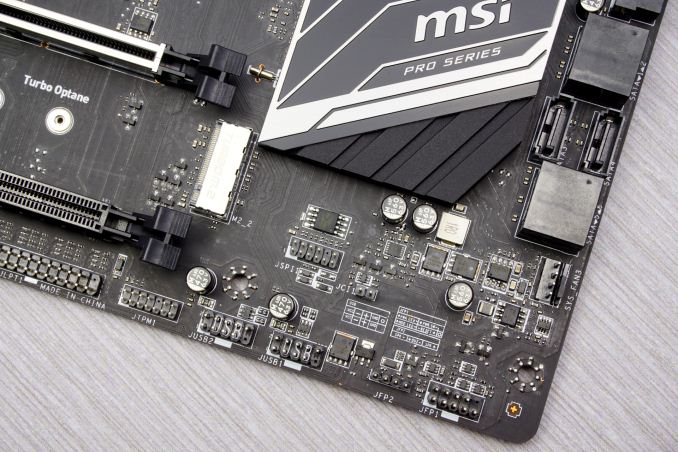 The designer also expanded the space between the two primary PCI-E ×16 slots, allowing better cooling when up to two double-slot cards are installed. The M.2 drive slots have been placed above the first PCI-E ×16 slot and below the second PCI-E ×16 slot. Depending on the size and type of the CPU cooler, the top M.2 slot can be accessible when the system is fully assembled. If a second GPU is installed, it is highly unlikely that the bottom M.2 slot will be accessible without the card removed. The top M.2 slot supports devices up to 110 mm long (22110 type) but the bottom is limited to devices up to 80 mm long (2280 type). Six SATA ports can be seen grouped together next to the chipset heatsink. Two SATA ports face upwards, the other four are angled and face towards the right side of the motherboard.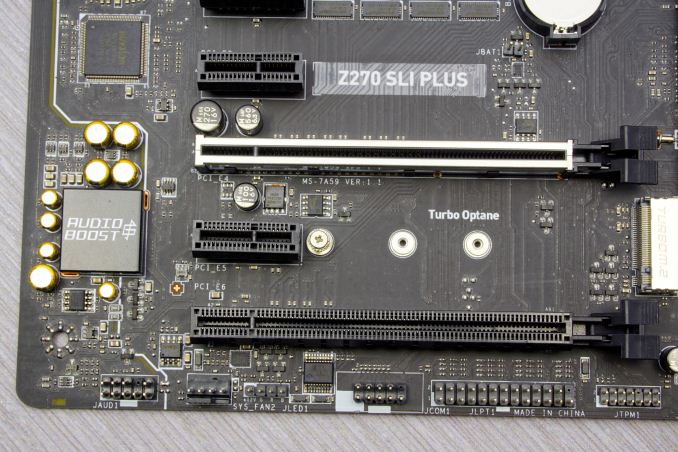 There are five fan headers, plus an extra header for a pump. The CPU fan header is next to the CPU socket but the designer moved the pump header to the top right corner of the motherboard, after the DIMM slots. The four system fan headers are found next to the ATX power connector, to the middle left side of the motherboard above the M.2 slot, to the bottom left corner between other headers, and to the bottom right of the motherboard, just under the SATA ports.
A look at the rear of the MSI Z270 SLI Plus reveals one significant shortcoming - despite the use of a good audio chipset, the motherboard has no optical SPDIF out port. This limits the compatibility of the motherboard in terms of sound significantly, virtually preventing it from digitally connecting to any audio device that depends on a digital connection, such as the majority of home cinema and living room audio systems.
There are two display ports, one DVI-D and one HDMI 1.4a. The HDMI port is limited to 30Hz @ 3840 × 2160 or 24Hz @ 4096 × 2160 but we do not consider that to be a real issue as the Intel HD Graphics GPUs that are found inside the Kaby Lake processors cannot be used for gaming at such resolutions. We feel that the practical purpose of having HDMI/DVI-D connectors on these motherboards is only to allow for the user to still have a usable system when the discrete GPU card(s) have been temporarily uninstalled, e.g. if damaged and being returned or between upgrades, or to drive a secondary monitor that will be used for simple tasks.
We can also see a PS/2 combo port, two USB 2.0 ports, one USB 3.1 Type-C and one USB 3.1 Type-A ports, four USB 3.0 ports (MSI dubs these as USB 3.1 Gen 1) and six 3.5 mm analog audio jacks.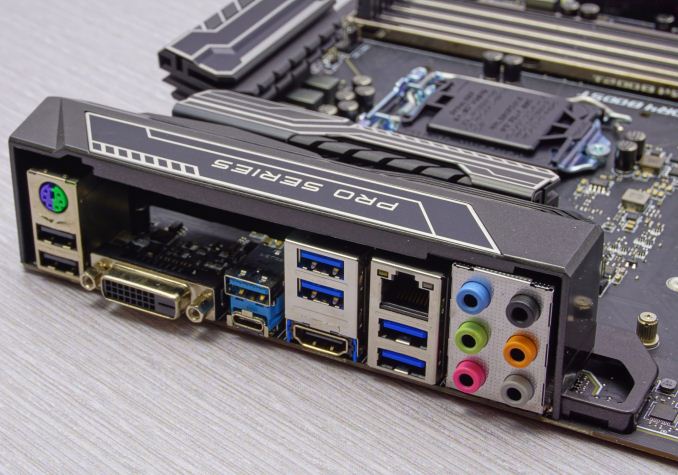 The chipset heatsink is making very strong contact with the chipset core, with the thermal pad very strongly adhered onto it. It was very difficult to remove the heatsink, to the point that we were afraid that the core got irreparably damaged once we forced it off the motherboard. Our sample's chipset ultimately survived, but we advise extreme caution if for any reason the chipset heatsink has to be removed. In terms of cooling, we do not feel that anyone will actually have to remove the heatsink in order to upgrade it, as the Z270 chipset has low cooling requirements and the heatsink is exceptionally well seated onto it.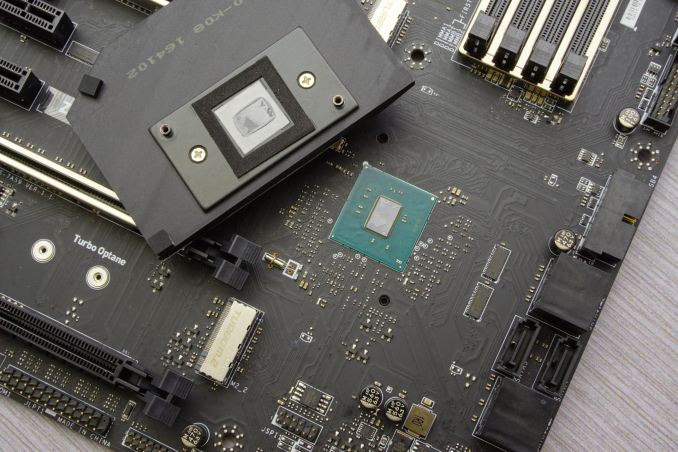 Identifying most of the passive components on the MSI Z270 SLI Plus is quite the challenge as the company has rebranded most of them. We have "Titanium chokes", "Low ESR Dark Caps" and low temperature "Dark chokes", all of which supposedly meet the "highest quality standards", but we can only guess who the OEM behind these parts really is. We do not feel that there is a reason to be alarmed regarding their quality here, it is quite likely that a reputable Japanese OEM is behind the manufacturing of these parts.
The VRM circuit is a 10-phase design, with the phases distributed to the four different input voltages that the modern 1151 CPUs require (Core, I/O, Graphics and System). We could not identify the controllers as they had their markings erased but we can clearly see that Niko semiconductor MOSFETs are being used everywhere, including for the RAM modules. It overall appears to be a design reasonably good for serious CPU overlocking that will please any overclocker looking to build an everyday system.